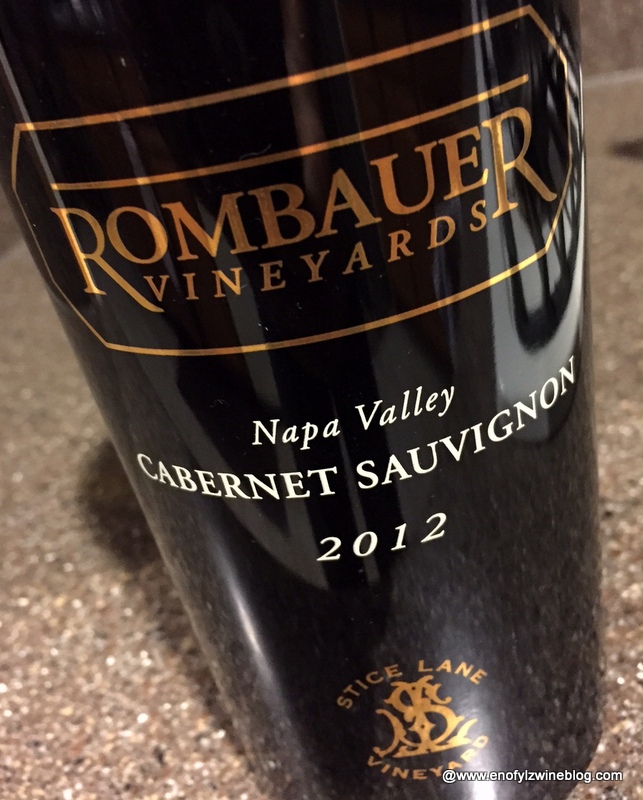 Fruit for this wine was sourced from the Rombauer Vineyards's estate Stice Lane Vineyard in the St. Helena AVA .  A former river bed, the site's gravel deposits provide ideal soils for growing concentrated full-bodied Cab.   Sustainable farming practices were utilized throughout the growing season.   The vineyard is  Napa Green/Fish Friendly Farming certified.  Fruit for this wine was sourced from the D Block, planted in 1995.   From the near perfect 2012 vintage, all fruit was picked and sorted by hand.  After de-stemming, the grapes were optically sorted.  The wine was barrel-fermented and basked pressed before being racked to French oak barrels for fermentation and aging.  100% Cabernet Sauvignon.  Aged 18 months in 100% new French oak.
The wine pours a dark purple-red color with very appealing black and red fruits, tobacco, nutmeg, and violet aromas. On palate it's full-bodied, fresh and harmonious with well-integrated, polished tannins. It shows cassis, blackberry, black cherry, licorice and vanilla flavors and a long satisfying finish. Approachable now, but will benefit from further aging. (Outstanding; 91-92 pts)   
Pair with  Steak au Poivre, or Becker Venison Medallions from  Joy of Cooking by Irma S. Rombauer and Marion Rombauer Becker.
14.8% abv | 250 cases produced |$90(sample)
About Rombauer Vineyards
Before I get to the Rombauer's background,  I want to share a lesson I learned from this wine.
I suspect that most people (myself included) come to know Rombauer Vineyards by way of their award-winning, and immensely popular Carneros Chardonnay.  I'd go as far as to say that if Rombauer were a book, the Carneros Chardonnay would be  its proverbial cover.
With that cover in mind, when I received this wine as a sample, I thought it would be stylistically similar to the Chardonnay.  In other words, full-bodied, opulent, and creamy with plenty of oak influence.
Wow, was I wrong!
This wine isn't the stylistic equivalent of the Rombauer Carneros Chardonnay.  For my palate, it shows better structure, and less overt oak influence while maintaining an alluring delectability.
Lesson learned (or at least reinforced;-) "Don't judge a book by its cover"
On to Rombauer's background…
Founders Koerner and Joan Rombauer moved their family from Southern California to the Napa Valley in 1972 because it reminded them of the small town agricultural environment in they were raised, and they believed it would be a great place to raise their children.  After renting for a couple of years, the couple purchased a home atop a knoll on 40 acres in St. Helena.
They had no intention of starting a winery.
But they were bitten by the wine bug.  They became partners in Conn Creek Winery,  where Koerner learned the wine business from the ground up.
In 1980 they sold their stake in Conn Creek .  The family harvested their first grapes — Cabernet Sauvignon from Stags Leap District — marking the launch of Rombauer Vineyards.
1984 marked the release of their first wines – 1980 Cabernet Sauvignon and 1982 Chardonnay.
Today, Rombauer Vineyards remains a family owned and operated winery with first and second generations involved in the business.
They own 350 acres of estate vineyards in St. Helena, Carneros, Atlas Peak, Calistoga and the Sierra Foothills.  Additionally, they source grapes via long-term contracts with of Napa's top growers.
Their St. Helena winery, which is built into a hillside, includes over 26,000 square fee of caves (ideal for aging red wines), and state of the art winemaking equipment.
For example, Rombauer was among the first wineries to adopt the uses of optical sorters – which scan each berry, rejecting any that do not meet their strict criteria.  They are the only winery in the world with three.
Of course it all begins in the vineyard, all vineyards are sustainably farmed and their estate vineyards are Napa Green/Fish Friendly Farming certified or in process.  Their sustainability practices extend to the winery as well.  Solar power provides 70% of their energy.  And, all green waste generated from the vineyards and winery is composted and used as a natural fertilizer, returning essential nutrients to our soils.
While Rombauer is best known for their Chardonnays, over the last few years, under the direction of Director of Viticulture and Winemaking, Richie Allen, they have been refining their red wine program.
In addition to Cabernet Sauvignon and Chardonnay, they produced Merlot, Zinfandel, a Bordeaux blend Sauvignon Blanc, and three dessert wines
_________________________________________________________________________
Follow me on Twitter, Facebook,Instagram, Vivino and Delectable, for all things wine. As a wino with latent foodie tendencies, you'll also find food and wine pairings, and food related stuff! Become a fan and join ENOFYLZ Wine Blog on Facebook. Cheers! This article is original to ENOFYLZ Wine Blog.com. Copyright 2016 ENOFYLZ Wine Blog. All rights reserved.