Wine Pairing Weekend is a group of bloggers who are passionate about the way good wine enhances a meal.  On the second Saturday of each month we come together to blog about a chosen food and wine pairing theme.  The theme this month is Grüner Veltliner; In The Glass And At The Table.
About Grüner Veltliner
From Winesearcher.com…"Grüner Veltliner is the signature autochthonous grape of Austria, and by far the nation's most widely planted wine grape. As Austria battles its way back to stardom on the international wine market, crisp, spicy Grüner Veltliner has been its flagship wine. The finest expressions of Austrian Grüner come from vineyards above the Danube River, in Wachau, Kremstal and Kamptal. Classic Grüner Veltliner wines show citrus aromas (lemon peel and grapefruit) complemented by fresh vegetal notes and the variety's trademark hint of white pepper.
There are two key styles of Grüner Veltliner wine. The first – lighter, fresher and citrus-focused – is typical of Weinviertel. It is often bottled with a slight spritz, to lift the wine and emphasize its fresh, fruity notes. The second style – spicier, weightier and more complex – is embodied by the top wines from the warmer Wachau, Kremstal and Kamptal regions.
These wines are richly textured and well structured, and require several years in bottle before reaching developed maturity (most are consumed too young). With time they soften and take in honeyed, marmalade-like characteristics that match their attractive, deep golden hue".
Quality Grüner can easily age 10-15 years!
Arguably, Grüner Veltliner may be the most food friendly unfortified white wine thanks to its high acidity and ability to pair with notorious "wine-killers" like asparagus and artichokes.
I like the fact that it pairs especially well with healthier food options including grilled vegetables, salads, light chicken and fish dishes.  It's a wine that will pair well with vegetarian food and surprisingly well with red meat.
I chose to try both New World and Old World Grüner paired with food. 
New World Grüner
I chose the 2013 Carlisle Grüner Veltliner Steiner Vineyard mostly because I had a bottle in my cellar.  After trying a few from Austria (though it's been several years since I've enjoyed a bottle), I was keen to try one from California
Carlisle Winery and Vineyards is small Sonoma County winery specializing in the production of old-vine, vineyard designated Zinfandels and red Rhone varieties (Syrah, Grenache, Mourvèdre, and Petite Sirah). They've  recently added  their first whites, two blends from historic, old-vine vineyards, and this wine, Sonoma County's first ever Grüner Veltliner.
There are only one and a half acres of Grüner in Sonoma County, all of which is at Steiner Vineyard.
The wine falls squarely in the aforementioned warmer region second style.  It shows more weight and complexity.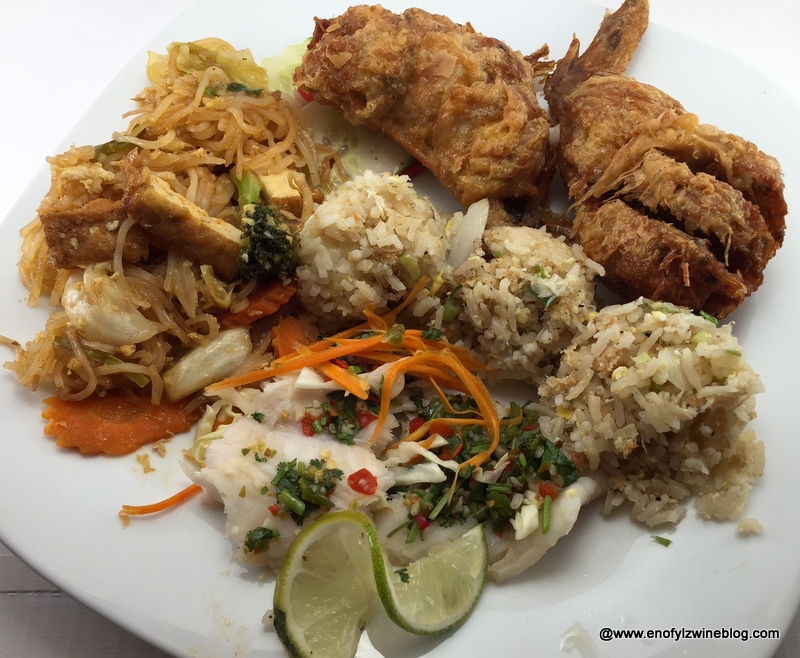 Here are my tasting notes on the wine:
The wine is a brilliant medium-light to medium green-yellow with alluring pineapple, tangerine, honey, candied ginger with a hints of peppercorn and mineral aromas. On the palate it's dry, and medium-bodied with mouth-watering acidity.   While ample pineapple, honey-dipped peach, Meyer lemon, and tangerine flood the palate, the wine is dry and beautifully accented with a flinty minerality. It has a very giving clean finish. Bottled unfiltered 14.1% abv SRP $34
We chose to pair this wine with Thai take-out.  We ordered Angel Wings (fried boneless chicken wings stuffed with chicken, silver noodles and Thai seasonings) for an appetizer. To that we added Tofu Pad Thai, Lemon Fish, Red Curry Chicken, and Crab-Fried Rice.
The wine paired well with all the foods.  But it paired especially well with the Angel Wing, Red Curry Chicken, and Pad Thai.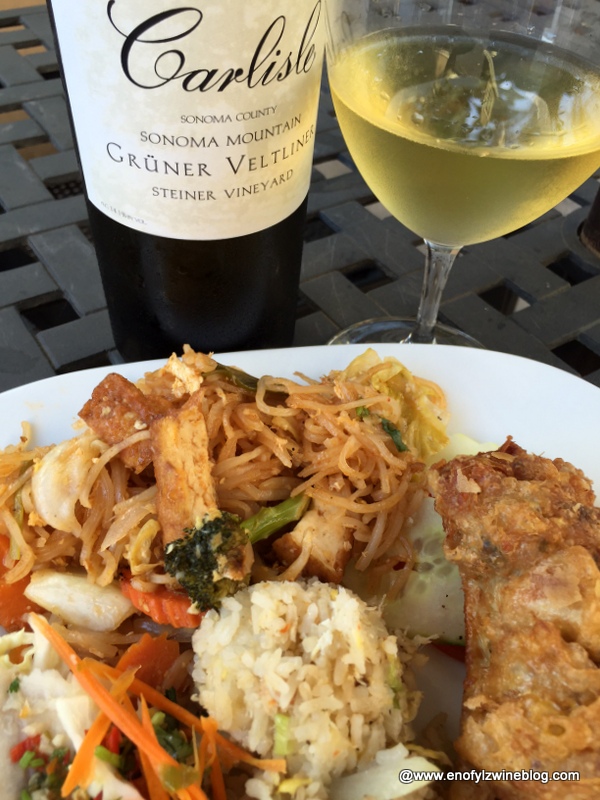 Bonus Pairing
The following night my wife prepared Laswa – a Filipino dish vegetable soup that's pretty flexible in terms of the ingredients.  In this case, my wife included tomatoes from our garden, and acorn squash, okra, malunggay (reminds me of collard greens), winged beans she picked up from the Farmer's market and shrimp.
The wine paired brilliantly with both the bitter (from the winged beans, mulunggay, and okra) and sweet (acorn sqaush) elements in soup.
Old World Grüner
I intended to try a dry Grüner Veltliner that was about the same price as the Carlisle.  Then I came across the 2012 Weingut Angerhof-Tschida Grüner Veltliner Eiswein.  It's an ice wine from the  Burgenland region in Eastern Austria.  Burgenland is Austria's key red wine region ( the main grapes are Blaufrankisch and and Zweigelt).  But sweet, botrytized wines are also a specialty of the region.
Angerhof Tschida is considered to be one of the world's premier producers of sweet wines (typically botrytized) in the world.  Winemaker Hans Tschida has been crowned  the International Wine Challenge "Sweet Winemaker of the Year" multiple times.
I found this wine irresistible because I've never seen an ice wine of Grüner Veltliner before.  Additionally ice wine doesn't come often to Tschida's vineyards on the banks of Lake Neusiedl.    That's because crafting an ice wine requires nature to cooperate.  And 2012 had near perfect conditions allowing for  harvesting healthy (non-botrytized) and deliciously ripe frozen grapes still on the vine in December
Here are my tasting notes on the wine:
The wine is a pale golden yellow color with very appealing apricot jam, honey, citrus and orange blossom aromas. On the palate it approaches full bodied with very good acidity and a silky texture. It's focused and sweet, but not cloyingly so with apricot jam, ripe tangerine, honey and an undercurrent of honey roasted almonds with a very long, pretty clean finish.  SRP – $30; 9.5% abv; from 375m
When I've enjoyed ice wine in the past, the wine itself has been dessert.    And this wine certainly could have been, especially  at 9.5% alcohol.
But I decided to try it with a blue cheese.  I chose a local cheese, Point Reyes Bay Blue.  It's a rustic-style blue cheese reminiscent of Stilton.
It was a good pairing, though I think it would have worked better with a slightly sweeter wine.
Having said that, I adored this wine.  It's great as dessert in an of itself.  Or I think it would have worked beautifully with crème brûlée,  pudding, custard or perhaps with another type of cheese.  
Check out what my fellow Wine Pairing Weekend blogging friends have discovered about Grüner, in the glass and at the table!
If you're up early enough please join our chat on Twitter at #WinePW on Saturday, September 10th at 11am EDT/8amPDT.
Click here for a list of past and future Wine Pairing Weekend events!
Sources:
_________________________________________________________________________
Follow me on Twitter, Facebook,Instagram, Vivino and Delectable, for all things wine. As a wino with latent foodie tendencies, you'll also find food and wine pairings, and food related stuff! Become a fan and join ENOFYLZ Wine Blog on Facebook. Cheers! This article is original to ENOFYLZ Wine Blog.com. Copyright 2016 ENOFYLZ Wine Blog. All rights reserved.