Not too long ago, I participated in a virtual tasting of four wines from Livermore Valley's Murrieta's Well.  The tasting was organized and moderated by Snooth.
Essentially the way a virtual tasting works is that select wine writers and bloggers are sent the same wines.  Then, at the appointed time, we drink the same wines and chat about them on Twitter.  A Snooth virtual tasting adds a nice dimension because video is part of the chat.  In this case the video feed included Murrieta's Well winemaker Robbie Meyer, and  Snooth co-founder and CEO Mark Angelillo, who moderated the chat.
About Murrieta's Well
Murrieta's Well is one of California's original wine estates.    The original winery was established in 1884 by Louis Mel who built a gravity flow winery into the hillside.  It was one of the first gravity flow wineries in the 1880s.  It was Mel who planted a vineyard from cuttings from famed Chateau d'Yquem and Chateau Margaux.
In 1933 Mel sold the property to his friend, Ernest Wente. The property has been part of the Wente family's estate ever since.
In 1990 the wine Philip Wente and Sergio Traverso, chief winemaker at neighboring Concannon Vineyard, formed a partnership to create the wines of Murrieta's Well and resurrect the wine estate, replanting the vineyards with additional Bordeaux, Spanish and Portuguese grape varieties.  They named the winery  Murrieta's Well, paying homage to Joaquin Murrieta, a legendary bandito.  Murrieta and his men often stopped to water their horses at an artesian well bubbling up from the floor of the Livermore Valley at the base of the Arroyo Mocho, today the site of Murrieta's Well Winery.
All wines are crafted from grapes sourced exclusively from their estate.
The 500 acre estate features varied elevations raising up from an arroyo to steep hillsides,  three distinct gravely soil types and various aspects.  It is planted to a diverse selection of Bordeaux, Iberian, Rhone grape varieties along with Chardonnay, Orange Muscat, Muscat, Petite Sirah and Zinfandel.
The variations in elevation, aspects, and soil types contributes to the various microclimates on the estate. The microclimates and the diverse selection of grape varieties combine to create a winemaking palette for blending wines that showcase the unique characteristics of the estate's terroir.
Winemaking at Murrieta's Well
The best part about this virtual tasting for me (OK aside from the sensational wines) was listening to Murrieta's Well winemaker Robbie Meyer talk about his winemaking aesthetic and what makes Livermore Valley special.  Some of the more memorable aspects of the discussion for me included:
Robbie discussed at length his  "acre by acre" approach to farming which includes water management, canopy management and pruning.  Likewise the grapes are vinified in small lots.
80% of California Chardonnay is a derivative of the the Wente Clone of Chardonnay. The Louis Mel brought clipping from Montpellier they were propagated on what is now the Wente estate. Other collected those cuttings and it has spread over the last 130 years
The east-west orientation (as opposed to Napa and Sonoma Valley which  have a north -south orientation) of the valley allows the coastal fog and marine breezes to come in from the Pacific Ocean and the San Francisco Bay and cool the valley's warm air, resulting in warm days and cool nights ideal conditions for producing fully-ripened, balanced fruit.
While talking about grape clones Robbie noted that grapes evolve over time.  And clonal selection evolves over time due to genetics and re-combinations in the vineyard.   What this means is that aromas and tastes of the grapes over time.   For example, one particular clonal selection could be more floral,  and another more fruity.   As a winemaker walks the vineyard the differences in tastes and aromas are isolated.   This is where the art of winemaking; the art of blending comes to the fore in the vinification process.  Such differences are notes and added to the winemaker's palette of flavors, aromas, acidity, etc when crafting a wine.
He believes that in the Livermore Valley, Bordeaux grape varieties yield a more Bordeaux like express of  Bordeaux style varietal wines that Napa Valley.
It was also interesting to note that he has worked with the Wente family for years, and that the family has generously provided him with whatever he needs to craft the best wines he can from the estate.  Since Robbie came aboard as Director of Winemaking last year, I look for the wines of Murrieta's Well to continue to evolve and get better over time.
For me, blending is the most exciting part of winemaking. We carefully allow each varietal to develop to its peak potential in the vineyard and then, through blending – Robbie Meyer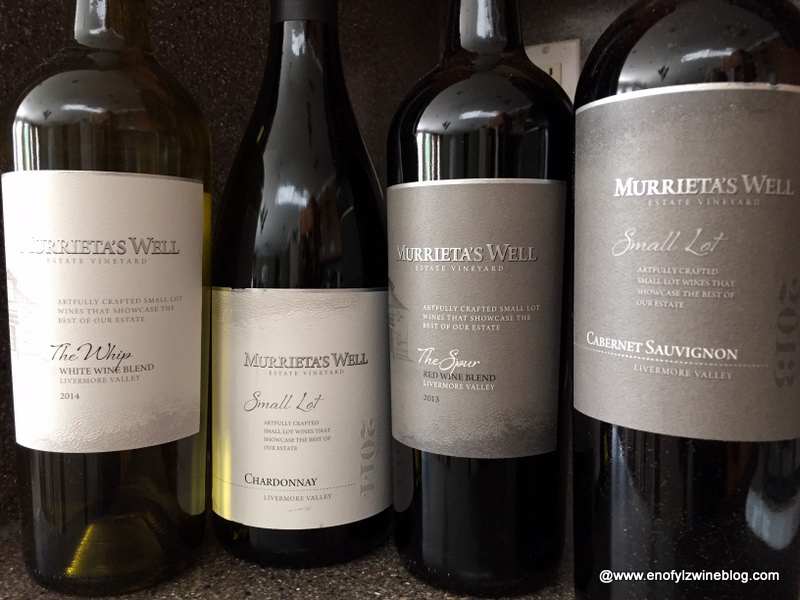 The wines tasted and my tasting notes follow:
2014 Murrieta's Well Chardonnay Small Lot – USA, California, San Francisco Bay, Livermore Valley
The wine is a brilliant yellow gold color with very appealing stone fruit, citrus, tropical fruit, cedarwood and white flower aromas. On the palate it's elegant, judiciously oaked, medium-bodied, silky smooth with very good acidity that invites another sip. It showcases ample white peach, vanilla, guava and a hint of brown spice flavors. Long finish. 100% Chardonnay; 13.9% abv; 11 barrels produced (91 pts.)
2014 Murrieta's Well The Whip – USA, California, San Francisco Bay, Livermore Valley
Pale lemon color with very aromatic white peach, melon, tropical fruit and floral aromas. On the palate it approaches medium-bodied with an appealing supple texture and good acidity. It's off-dry on entry, but finishes dry with ample white peach, key lime, pineapple, flavors and a kiss of wood spice with a satisfying finish.  A blend of 29%Semillion, 27% Chardonnay, 18% Sauvignon Blanc, 12% Orange Muscat 8% Muscat Canelli and 6% Viognier is a great example of Robbie's wine with a 13.5% abv; 260 barrels produced (88 pts.)
2013 Murrieta's Well Cabernet Sauvignon Small Lot – USA, California, San Francisco Bay, Livermore Valley
The wine is a beautiful garnet color with appealing black cherry, cassis, blackberry compote, dark chocolate and a bit of toasty oak aromas. On the palate, the wine is dry, elegant, and harmonious with very good acidity, and firm well-integrated tannins providing the backbone for black cherry, cassis, dark chocolate flavors and a lengthy very satisfying finish. Blend of 75% Cabernet Sauvignon, 6% Cabernet Franc, 6% Malbec, 5% Petite Sirah, 4% Petit Verdot, and 4% Merlot 14.4% abv Drink now or hold 5-10 years; 14 barrels produced (91 pts.)
2013 Murrieta's Well The Spur – USA, California, San Francisco Bay, Livermore Valley
Inky violet color with promising blackberry, blueberry, vanilla, violet and dark aromas. On the palate, it's medium-bodied with medium acidity and juicy blackberry cobbler, black currant, black cherry and spice flavors and very giving finish. Blend of 40% Petite Sirah, 26% Cabernet Sauvignon, 10% Petit Verdot, 8% Merlot, 8% Cabernet Franc, and 8% Malbec 14.5% abv; 345 barrels produced.(88 pts.)
I was impressed with all the wines.  I think the Whip and The Spur offer good value for the money.  And I think the Small Lot Chardonnay and Cabernet Sauvignon were both outstanding.
Visit to Murrieta's Well
Since we live a short distance from the Livermore Valley, and its been a few years since we visited, we decided to visited the renovated property a couple of weeks ago.
The property looked great!   Visiting the winery in person brought to life some of the things talked about during the virtual tasting. especially the diversity of the elevations on the estate.  Just I entered the entry gate to the winery I could see the arroyo that Robbie mentioned during the virtual tasting and the hills behind the winery provide a dramatic backdrop for the winery (they are especially beautiful this time when harvest is upon us).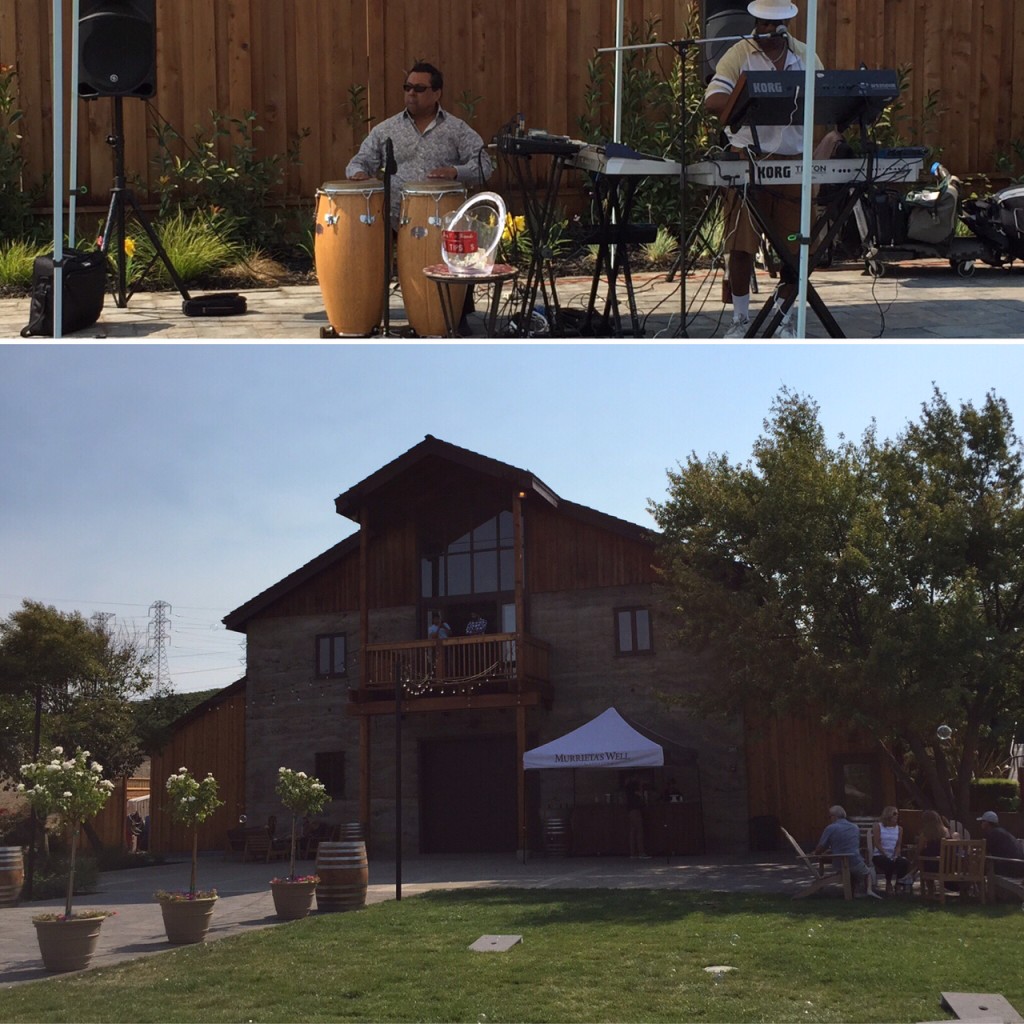 It was a gorgeous sunny and warm day (as opposed to hot; temperatures in Livermore regularly get into the 90-100 degree range during summer), so we chose the The Patio tasting experience ($25 for a flight of 4 wines) which offers the opportunity to savor the tasting experience in an outdoor setting.
As good fortune would have it, the aforementioned Small Lot Chardonnay was among the 4 wines in our flight. The other three wines were all very good to outstanding with the Small Lot Dry Rosé joining the Chardonnay as my favorites.
A band was playing, children were playing on the lawn, and we were savoring the wonderful Murrieta's Well wines.
Yeah…it was a very good day!  Make one for yourself…and visit Murrieta's Well!
Thank you Snooth and Murrieta's Well for  the wine samples, along with organizing and sponsoring the tasting,   You can check out a  video of the virtual tasting with winemaker Robbie Meyer is available  here.
_________________________________________________________________________
Follow me on Twitter,Facebook,Instagram, Vivino and Delectable, for all things wine. As a wino with latent foodie tendencies, you'll also find food and wine pairings, and food related stuff! Become a fan and join ENOFYLZ Wine Blog on Facebook. Cheers! This article is original to ENOFYLZ Wine Blog.com. Copyright 2016 ENOFYLZ Wine Blog. All rights reserved.