Get ready to explore Grüner Veltliner for the next Wine Pairing Weekend (#WinePW), coming September 10th!
Many moons ago, when I first because seriously interested in wine,  Grüner Veltliner (Velt-LEEN-er) was trending.    While the wine  had been consumed in Austria forever, it didn't gain favor in the international market  until 2002.   That year Jancis Robinson,  who had traveled to Vienna, was blown away by the wine.
She shared the result of a  blind tasting of Grüner Veltliner against some of the top white wines in the world, including the top White Burgundies from France and Chardonnays from California. The result of the tasting was a clear victory for Grüner Veltliner, and the wine world quickly began to sing the grape's praises.
The tasting was the stimulus Grüner Veltliner needed; after that, the wine began to appear on wine lists and in wine shops across the globe.  Sommeliers were singing its praises.

While it seems to have lost some of its luster, there is little doubt that Grüner Veltliner is considered one of, it not the best, white wine for drinking with food.   It's an easy white wine for almost everyone to love (if not pronounce), making it a great choice whenever you're hosting company.
About Grüner Veltliner
Grüner Veltliner is the signature autochthonous grape of Austria, and by far the nation's most widely planted wine grape. As Austria battles its way back to stardom on the international wine market, crisp, spicy Gruner Veltliner has been its flagship wine. The finest expressions of Austrian Gruner come from vineyards above the Danube River, in Wachau, Kremstal and Kamptal. Classic Gruner Veltliner wines show citrus aromas (lemon peel and grapefruit) complemented by fresh vegetal notes and the variety's trademark hint of white pepper.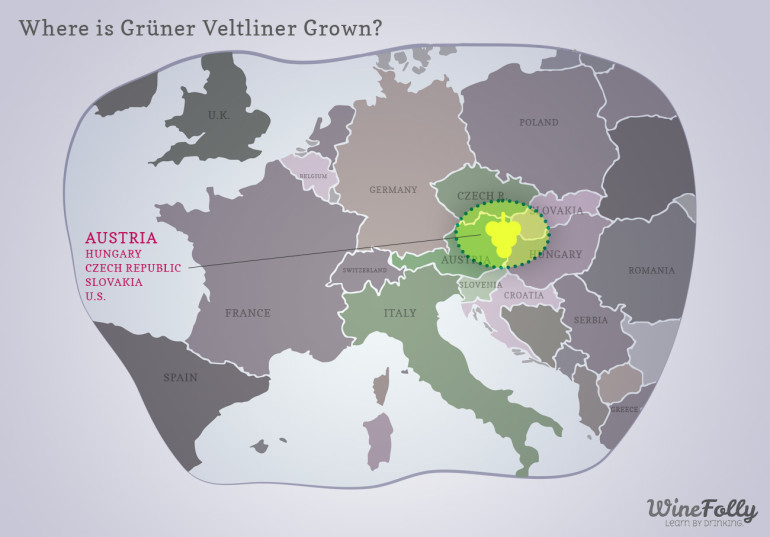 There are two key styles of Gruner Veltliner wine. The first – lighter, fresher and citrus-focused – is typical of Weinviertel. It is often bottled with a slight spritz, to lift the wine and emphasize its fresh, fruity notes. The second style – spicier, weightier and more complex – is embodied by the top wines from the warmer Wachau, Kremstal and Kamptal regions. These wines are richly textured and well structured, and require several years in bottle before reaching developed maturity. With time they soften and take in honeyed, marmalade-like characteristics that match their attractive, deep golden hue.
The variety's name might be hard to pronounce for the uninitiated, but Austria's incisive marketeers have turned this to their advantage, dubbing the variety "Gru-Ve" and even "Groovy".
Gruner
means "green", which neatly reflects both the variety's yellow-green berries and the fresh green-pepper character that typifies Gruner Veltliner wine.
Veltliner
– a suffix shared by several European grape varieties (notably
Roter Veltliner
) – is a reference to the varieties' possible origins in
Valtellina
.  Gruner Veltliner is grown extensively in almost every Austrian wine region, but the late-ripening variety has not proved successful in cooler, wetter climes of neighboring Germany, or anywhere else in northern Europe. It is also widely cultivated in
Slovenia
and the
Czech Republic
, and to a lesser extent in northern Italy, New Zealand, Australia and the United States.
Gruner Veltliner wines pair well with a wide range of foods. Their naturally high
acidity
and full-bodied texture make them a versatile and exotic alternative to
Chardonnay
.
Send an email to tell me you're in: Include your blog url, Twitter handle, link to your Pinterest profile, and any other social media details. If you know your blog post title, include that…but you can also send that a bit closer to the event. We'd just like to get a sense of who's participating and give some shout-outs and links as we go. The email is martindredmond@gmail.com
Prepare some tasty food and pair it with some Grüner Veltliner. Get cookin' and sippin'!
Send your post title to m by Tuesday, September 6thto be included in the preview post. I will prepare a preview post shortly after getting the titles, linking to your blogs. Your title should include "#winePW." If you want to get involved after Tuesday, September 6th, just drop me an email letting me know you plan to post so we can add you to the link list.
Publish your post between 12:01 a.m-8:00 a.m. EDT on Saturday, September 10th. You can always schedule your post in advance if you will be tied up that morning.
Include links to the other #winePW participants in your post, and a description of what the event is about. I'll provide the HTML code that you can easily put in your initial post — which will link to people's general blog url — then the updated code for the permanent links to everyone's #winePW posts.
Get social!After the posts go live, please visit your fellow bloggers posts' to comment and share. We have a Facebook group for participating bloggers to connect and share, too.
Sponsored posts are OK if clearly disclosed. Please be sure to disclose if your post is sponsored or if you are describing wine or other products for which you have received a free sample.
We hope you'll join us!
Sources:
Grüner Veltliner Bottles [winesearcher.com]
About Grüner Veltliner [winesearcher.com]
Where is Grüner Veltliner Grown Map [Wine Folly]
_________________________________________________________________________
Follow me on Twitter, Facebook,Instagram, Vivino and Delectable, for all things wine. As a wino with latent foodie tendencies, you'll also find food and wine pairings, and food related stuff! Become a fan and join ENOFYLZ Wine Blog on Facebook. Cheers! This article is original to ENOFYLZ Wine Blog.com. Copyright 2016 ENOFYLZ Wine Blog. All rights reserved.