I'm pleased to report that I'll be attending 2016 Wine Bloggers Conference ("WBC") later this week!  The WBC is being held August 11-14 in Lodi.  It's my first Wine Bloggers Conference!
There will be a few hundred online, print, citizen and industry wine writers who will be will be immersed in educational wine seminars, networking, grower and winery visits, wine tastings, and – of course – blogging!
I've been thinking about going for years, especially when it's been in California.  But for one reason or another, I've not attended.
Last year the conference was in Finger Lakes, NY.  At the end of the conference, there was an announcement the WBC would be held in Lodi this year.
Once I found out, I knew I had to attend!  
Since I live in the East Bay, if the traffic Gods cooperate and the moon and stars are aligned, Lodi is only about a 90 minute drive for me.
But just as important for me is that fact the WBC is in Lodi.
The timing is perfect. That's because Lodi is on a roll!
If it seems like Lodi is the most "together" wine region in the U.S. – nearly all growers and wine producers working in synch to put out the word about Lodi wines and grapes – that's because it is. Randy Caparoso
It's Wine Enthusiast's 2015 Wine Region of the Year.   The venerable Bechthold Vineyard, planted in 1886 entirely to Cinsault, was named the  2014 "Vineyard of the Year" by the California State Fair.
Lodi is also one of the leading wine regions when it comes to sustainable viticulture. The Lodi Winegrape Commission created Lodi Rules™, was California's first third-party-certified sustainable winegrowing program.   It  recently won Governor Jerry Brown's annual Governor's Environmental and Economic Leadership Award (GEELA) — the highest environmental award in the state of California!
Such recent accolades are a manifestation of the visionary leadership of the Lodi Wine Commission, which celebrates it's 25 year anniversary this year.
On a personal level, I feel like I've had a front row seat to this remarkable evolution.  I've participated in and blogged about a few Lodi themed tastings.
I was honored to be chosen to be among the first bloggers to explore the first vintage of the Lodi Native project (A Taste of Place – Lodi Native Tasting), as well as participating in a fascinating tasting of the aforementioned Bechthold vineyard (A Taste Place – Bechthold Vineyard Cinsault)
I didn't leave my wine loving friends out of the delicious fun.  Our wine tasting club did a blind-tasting of Lodi Zinfandel (Lodi Zinfandel Smackdown; Old Vines vs Not-So-Old Vines)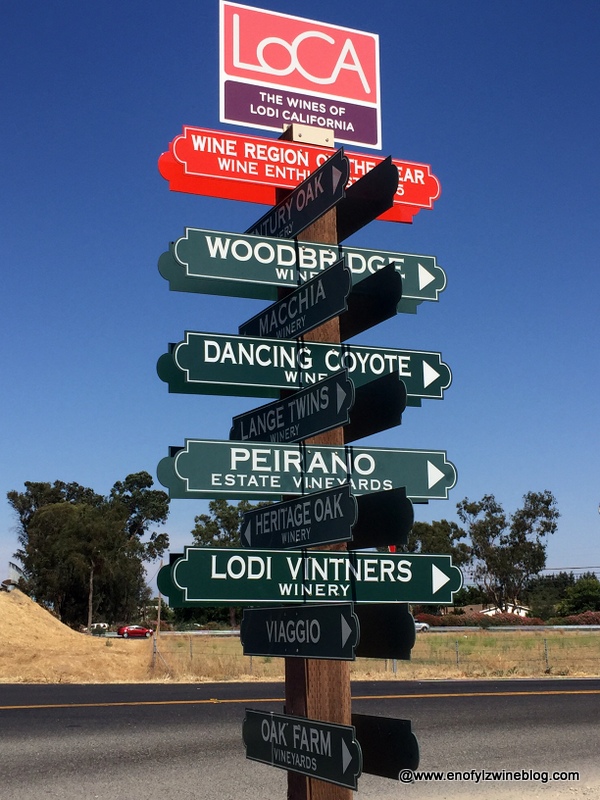 More recently, I've been blessed with the opportunity to write a couple of guest blog posts for Visit Lodi, The Travel Website for Lodi.  The first was entitled "For The Love Of Lodi Wines: Ten Whites To Try".  The second was my first restaurant review!
It's starting to feel like Lodi has got its hooks in me!  And I like it!
The agenda looks amazing (well except for the live blogging – the last time I tried it, it was a disaster, I prefer to spend time with a wine in a unhurried environment – Well this ain't that! –  Wish me luck!)
What I'm most looking forward to is meeting many of my fellow wine bloggers, whom I've been hanging out with virtually, in real life.
Oh and wine! Lots of Lodi wine. There will be some international presence as well.  There will be wines from Italy as well as Alsace.  It will be also be good to see a couple of wineries from Oakland's Urban Wine Trail representing too!
But mostly, I hope to come away with some ideas to improve this blog!
_________________________________________________________________________
Follow me on Twitter, Facebook,Instagram, Vivino and Delectable, for all things wine. As a wino with latent foodie tendencies, you'll also find food and wine pairings, and food related stuff! Become a fan and join ENOFYLZ Wine Blog on Facebook. Cheers! This article is original to ENOFYLZ Wine Blog.com. Copyright 2016 ENOFYLZ Wine Blog. All rights reserved.