Yiannis Boutaris founded Kir-Yianni in 1997 with the vision to create a super-premium Greek wine estate. After more than 30 years of owning a controlling stake and running the operations of Boutari —the leading Greek wine brand— Yiannis decided to spin-off two of the best vineyards belonging to the Group in order to create Kir-Yianni.
Today, Stellios Boutaris, the son of Yiannis, and a  member of the fifth generation of winemakers, leads Kir-Yianni as its CEO/Winemaker.
Building on tradition, embracing innovation, we produce wines with the aim to highlight the world-class potential of the indigenous grape varieties of Greece. – Kir-Yianni
Balancing between the hundred-year long family tradition and the use of new, innovative techniques in winemaking, Kir-Yianni practices sustainable farming.  Along with sustanable farming practices, strict selection on the vine and in the cellar, micro-vinification and meticulous blending form the core of its practices and endow Kir-Yianni wines with typicity, aging potential and a consistent quality from vintage to vintage.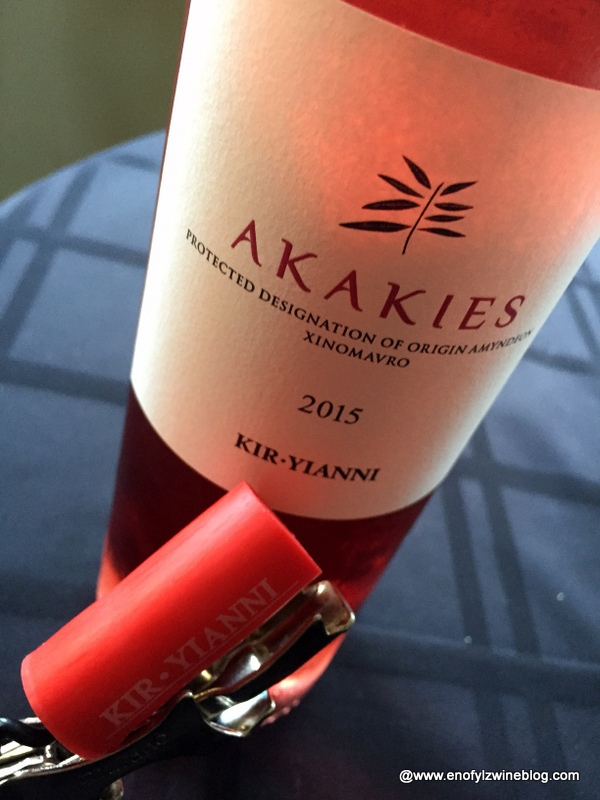 The wine is crafted of 100% Xinomavro,("acid and black" in Greek), an indigenous grape variety in the Amyndeon Appellation in north-western  Greece.   The Amyndeon appellation is mostly to Xinomavro which is the only variety permitted under Amyndeon's appellation law.   A range of  wine styles are permitted from the variety, from light, fruity reds to dry rosés that can be both still and sparkling. It is the only Greek AOP for rosé wines.
The grapes are from a high altitude (~2,300 feet) vineyard for surrounded by Acacia trees.  Akakies is the final blend of two winemaking techniques: 90% of the must comes from skin contact and 10% from the "saignée" of grapes fermenting for red wine. Grapes are kept in a temperature between 11 and 14 ºC. After de-stemming and crushing, skin contact takes place under a CO2 atmosphere to avoid oxidization for 24 to 48 hours depending on the grape quality. After fermentation the wine is aged on its lees for 3 months with frequent lees-stirring in order to soften the natural acidity and give the wine an opulent character.
The wine pours a pretty deep pink color with watermelon, strawberry, tomato leaf, and wet stone aromas.  On the palate it's dry with mouth-watering acidity, and an appealing vein of minerality that runs through strawberry,  watermelon flavors accented with a bit of lime and nuanced savory and spice notes.   A perfect summer rose that is a delightful aperitif and even better at the table in my book.  We enjoyed it with sweet and sour salmon. But consider with a Greek wedge salad,  a Falafel, or Mediterranean Quinoa Salad.  Very good to outstanding; 89-90 pts
_________________________________________________________________________
Follow me on Twitter, Facebook, Instagram, Vivino and Delectable, for all things wine. As a wino with latent foodie tendencies, you'll also find food and wine pairings, and food related stuff! Become a fan and join ENOFYLZ Wine Blog on Facebook. Cheers! This article is original to ENOFYLZ Wine Blog.com. Copyright 2016 ENOFYLZ Wine Blog. All rights reserved.