Some of my fondest memories in life come from a time when a hamburger or a hot dog (often both;-) was the quintessential summer eats  for me!  
And whenever I reminisce about that time of my life,  one of the first thoughts that comes to mind  is the minutes before my favorite –  a cheeseburger (with processed American cheese) with the works was served.  I knew it wouldn't be long before it was in my belly. But before I could see it,  I could sense it because I could smell it, and I could hear it sizzling on the grill.    A hot dog wasn't  nearly as visceral, but I loved them just as much.  My favorite was a hot dog with mustard, relish, ketchup, and perhaps a few onions, if I was lucky.
Add a side of Jay's potato chips with either, and that was my little slice of heaven on earth!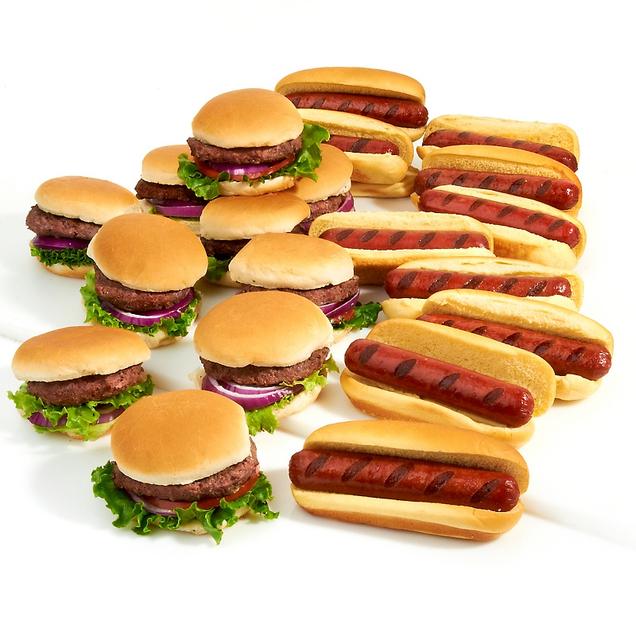 I don't eat many hamburgers and hot dogs these days because of that pesky whole "grown-up, healthy" thing.  But  I do,  I try to make sure they're "worth" the calories and fat, and I prefer a glass of wine rather than the more traditional beer.
Here are my recommended guidelines for enjoying a glass of wine, instead of other adult beverages with your hamburgers/hot dogs.
Don't over-think it.  It's a burger  or a hot dog, not a prime rib.  You can always drink what ever wine you like and if it doesn't pair well with burger or hot dog, you can always enjoy each on its own!
Pair with an easy drinking, inexpensive (less than $20) wine.
If the burger or hot dog takes center stage (i.e. it's more about the protein than the toppings) then go with Cabernet Sauvignon, or full-bodied Chardonnay for the burger and Riesling, Gewürztraminer or Sparkling wine for the hot dog.
If the burger or the hot dog is just as much or more about the toppings, then pair to the topping rather that the protein:

For spicy toppings, look for a wine with a bit of sweetness that's lower in alcohol and tannins. Spicy foods tend to like sweetness and a lower alcohol wine won't clash with the topping and exacerbate the heat of the spice.
For big and bold toppings (blue cheese, bold sauces, grilled onion, etc.), look for a wine with some spice.  Zinfandel, Malbec, Côtes du Rhone, and Petite Sirah (especially for beef) fit the bill.

Rosé is a great option for both hamburgers and hot dogs.   A dry or off-dry rosé is your best bet for overall pairing versatility, but a  sweet White Zinfandel, could be just right for a burger or a hot dog with a spicy character.  And since rosé is served chilled, it offers cooling refreshment to beat the heat.
Sparkling wine is a great option, especially for hot dogs.  Not only does its effervescence and acidity cut the fattiness (the same as beer) of the hot dog,  since it's served chilled it also offers  cooling refreshment.
Here are my wine recommendations for this week's superb lineup of tempting hamburgers and hot dog being served at the #SundaySupper table.  Now these are some burgers and hot dogs that make me want to forget about the"grown-up, healthy" thing!
Pair these burgers and hot dogs with a sparkling wine, which I love at the table.  Sparkling wines find their soul mate with salty and crunchy fare, and(ever had a Sparkling wine and potato chips or popcorn?  Yum! Look for the Segura Viudas Gran Brut Cava.  It's sparkling wine from Spain made of Macabeo, Parellada and Xarel-lo grapes that over-delivers for the price.  It crisp apple, toast and floral character with an appealing creaminess. 
Pair these imaginative burgers with a Sauvignon Blanc.  Look for the Villa Maria Private Bin Sauvignon Blanc.  It has a delightful light, refreshing and tangy lime, melon and peach character. 
Pair these flavorful burgers with Riesling. A perennial favorite of mine is the Chateau Ste. Michelle & Dr. Loosen Riesling Eroica.  It offers calamansi, mandarin orange, and tropical fruit aromas.  On the palate it's off-dry (slightly sweet) with mouth-watering acidity and tropical fruit, citrus, and honey flavors.
Pair these enticing burgers and hot dogs with Gewürztraminer.  Look for the Pacific Rim Gewürztraminer from Washington State. It has a beautiful lychee, rose and spice aromas with passion fruit, melon, tangerine and spice flavors.
Pair these burgers, hot dogs and the like with a rosé.  Look for Charles and Charles Rosé.  It's  a blend of (mostly) Syrah, Mourvedre, Grenache, Cabernet Sauvignon, Cinsault and Counoise.  It's a rosé with enough weight to stand up to a meat burger.  It has a black cherry, wild raspberry, blood orange character with hints of rhubarb and Herbes de Provence to give it a nuanced herbal edge.  It also has a nice bit of minerality.  All in all, delightful! 
How about a "B &B" – Burgers and Beaujolais?  Beaujolais is a wine for the eponymous region in France. The wines are made from the Gamay grape.  The wines tend to have a light-bodied, fruity character and are often compared to Pinot Noir – except they typically cost much less.   Look for the Louis Jadot Beaujolais-Villages.  It has a bright and sassy dark cherry, raspberry, and spice character with a bit of earthiness.
Pair these burgers and hot dogs with Cline Ancient Vines Zinfandel. It has a wonderful dusty raspberry, blackberry, vanilla and spice character with hints of coffee and dark chocolate.  
Pair these All-American burgers and Dip with a classic burger companion – a blend of Merlot and Cabernet Sauvignon. Look for the Kirkland Signature Columbia Valley Merlot-Cabernet Sauvignon. It's a blend of 78% Merlot and 22% Cabernet Sauvignon with a big, juicy ripe blackberry, black cherry, black currant and spice character. 
Dessert Burger
How to
Join the #SundaySupper conversation on twitter on Sunday! We tweet throughout the day and share recipes from all over the world. Our weekly chat starts at 7:00 pm ET. Follow the #SundaySupper hashtag and remember to include it in your tweets to join in the chat. To get more great Sunday Supper Recipes, visit our website or check out our Pinterest board. Would you like to join the Sunday Supper Movement? It's easy. You can sign up by clicking here: Sunday Supper Movement.
_________________________________________________________________________________________________________________________________
Follow me on Twitter, Facebook,Instagram, Vivino and Delectable, for all things wine. As a wino with latent foodie tendencies, you'll also find food and wine pairings, and food related stuff! Become a fan and join ENOFYLZ Wine Blog on Facebook. Cheers! This article is original to ENOFYLZ Wine Blog.com. Copyright 2016 ENOFYLZ Wine Blog. All rights reserved.