Our Italian Food Wine and Travel (#ItalianFWT)  has explored each of Italy's twenty regions.  Now, we taking deeper dive into Italy.  This month we explore Italian "orange" (skin-fermented white) wines.  I'm pairing the super natural and edgy 2012 Caspri Luna Blu IGT orange wine with Grilled Moroccan Chicken!
What is Orange Wine?
Essentially, orange wines are white wines produced more like reds, with prolonged maceration of crushed grape skins and seeds.  While orange wine seems to be enjoying a renewed interest in recent times thanks to a small but fervent group of admirers, including sommeliers,  skin fermented white wines is really a throw back to how wine was made thousands of years ago.
While discussion of orange wine in modern times seems focused on Italian winemakers (primarily Gravner and Bea) the wine-making technique that inspired the Italians has its origins in Georgia.   There orange wine has its origins in the country now known as Georgia.  There, crushed grapes including  stems, seeds, everything spent six months, or fermenting in subterranean beeswax lined clay vessels known as a kvevri (a.k.a Qveri).   This ancient, and most natural way of making wine, continues to this day in some parts of Georgia.
Inspired by this ancient technique, Italian winemakerJosko Gravner first attempted an orange wine in 1997. Popularized recently by Italians and Slovenians, today, orange wines are being produced by enterprising winemakers worldwide.
I like this description of orange wines from Wine Enthusiast magazine…Rather than being orange, these skin-fermented white wines range from bright gold to tawny brown. On the palate, they often possess the texture, body and tannins of red wines and the fruit and minerality of white wines. Stylistically unique, many offer earthiness, funk and a savory, richly textured mouthfeel.
Serving orange wines
To maximize your enjoyment of orange wine, I recommend serving at cellar temperature, preferably after aerating (decanting) the wine which allows the structure, aromas and flavors to blossom.
In My Glass
I was introduced to the 2012 Fattoria di Caspri Luna Blu by Alleah Friedrichs, of Bliss Wine Imports when I was in the process of a making a repeat purchase from her of one of the best white wines I've ever had, an Encruzado from Portugal.    While were we chatting about the wine, she asked me if I enjoyed orange wines.    I replied "Yes, I love orange wine".   She shared with me that she  had a couple of "zero/zero" wines from Italy, and that one of them was an orange wine.   Not being familiar with the term "zero/zero", I asked her what it meant.  She described it as a  "term for extreme natural wine…. meaning zero in the vineyard…. zero in the winery.
She told me a little more about the wine, including the fact that the wine had a fair amount of "VA" (volatile acidity).  The wine geek in me was intrigued, so I purchased a bottle.
The wine is classified as Toscana IGT,  which is the most famous – and the most commonly used – of Italy's Indicazione Geografica Tipica (IGT) titles.
The Toscana IGT is from the the  geographical region of Tuscany.  Toscana IGT wines can be made in any village in any of Tuscany's 10 provinces.  Free from the stylistic constraints imposed on DOCG and DOC wines, Toscana IGT wines can be made in almost every form imaginable, from bone-dry whites to sweet reds and sparkling rosés. Naturally, given Tuscany's long standing success with dry red wine (it is renown for Super-Tuscans), this style is by far the most common.
The wine is a A 50/50 blend of Trebbiano and Malvasia. The grapes were sourced from 45 year-old vines that are biodynamically farmed.   They were hand harvested,  and put in small boxes. The grapes, including skins, seeds and stems spontaneously fermented on native yeasts in non-temperature controlled neutral barrels.  They remained on skins for 30 days, then aged for 18-22 months.  .No corrections were made in the winery.  The wines never touched metal and had zero sulfur addition,not even at bottling.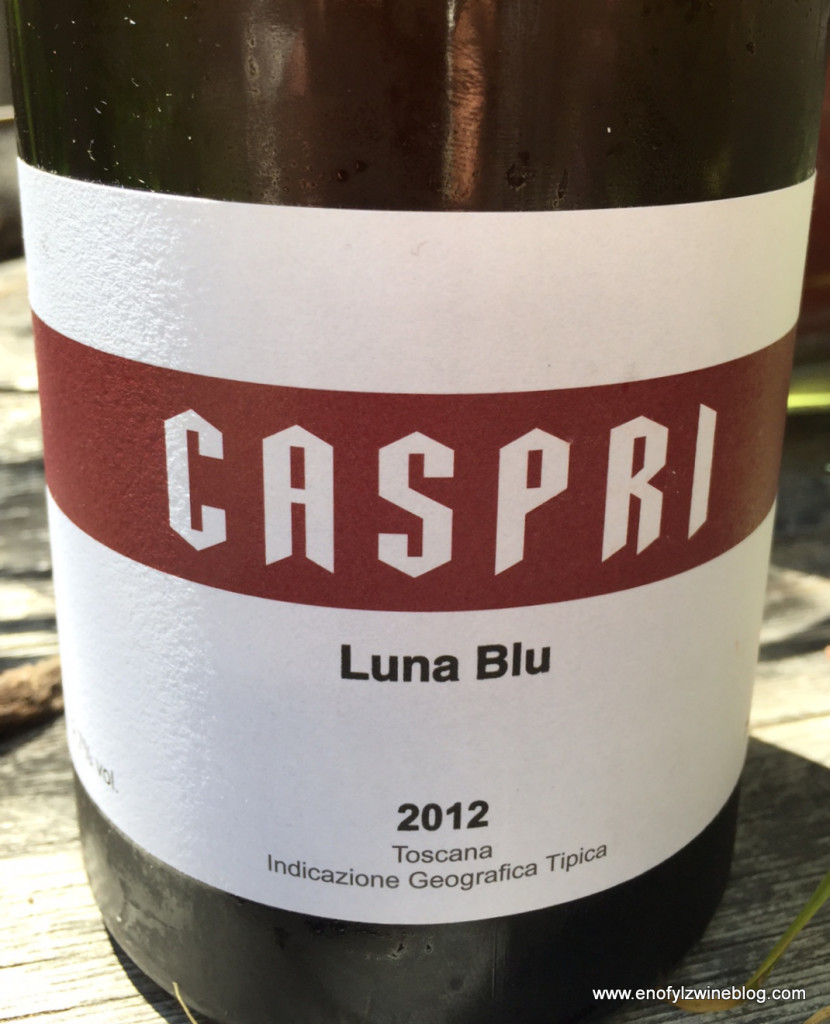 My tasting notes:
The wine is a golden orange color with an interesting mix of peach cobbler, roasted hazelnuts, chamomile, citrus peel, and nail polish remover.   I was expecting the nail polish remover.   It's an aromas associated with volatile acidity ("V.A"), which is considered  a flaw by most.  I found it to be more distracting than off-putting.  On the palate it's bone-dry, very fresh and well-structured with lemon, and spiced orange flavors.  It's textured with an appealing minerality and bristling tea-leaf tannins.  I enjoyed it more as it warmed up.  It's definitely a food wine.   12.7% abv
On My Plate
My experience with orange wines has taught me any discussion of the most versatile wines at the table should include orange wines.  In particular, I've enjoyed orange wine with spicy (though not necessarily spicy in a peppery way) foods.  I once had an orange wine that was superb paired with Buffalo Chicken Wings.
I was in the mood for some Mediterranean food, so I decided to pair the wine with Grilled Chicken Moroccan Style (Note: The only modification I made to the recipe was using bone-in chicken thighs rather than a whole cut-up chicken because that's what I had on hand)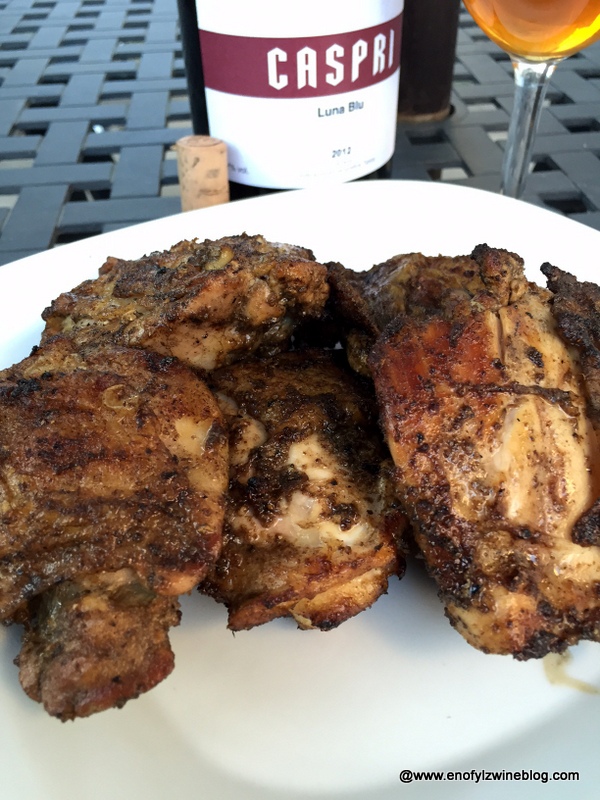 The Pairing
This was a classic successful food pairing where the wine and the food each made the other taste better.  The Caspri,  from a wine geek's (guilty as charged)  point of view, was good.  But it became excellent paired with Moroccan Chicken.  The spices in the chicken seemed to awaken a spicy element in the wine, and make it much more appealing.  Likewise, the tannins helped cut through the fat and texture of the chicken thighs.
Looking for more about orange wine and orange wines paired with foods? Check out what my fellow #ItalianFWT bloggers have discovered during their exploration of Italian orange wines:
If you're reading this early enough, please join our Twitter chat Saturday, July 2nd at 8am PT using the #ItalianFWT hashtag to chat about Italian orange wines.
_________________________________________________________________________
Follow me on Twitter, Facebook, Instagram, Vivino and Delectable, for all things wine. As a wino with latent foodie tendencies, you'll also find food and wine pairings, and food related stuff! Become a fan and join ENOFYLZ Wine Blog on Facebook. Cheers! This article is original to ENOFYLZ Wine Blog.com. Copyright 2016 ENOFYLZ Wine Blog. All rights reserved.