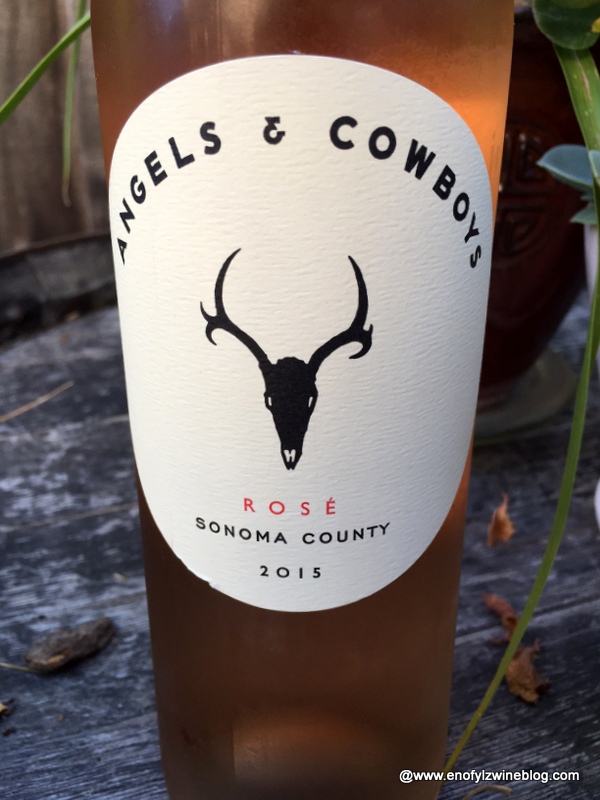 2015 Angels & Cowboys Rosé
The Angels & Cowboys Rosé is a blend of Grenache Rouge, Merlot, Petit Verdot and Grenache Blanc sourced from Carneros, Alexander Valley & Dry Creek Valley.  The wine was crafted using the traditional Provençal method, including grapes bespoke for Rosé.  To preserve nature's generosity along with old-world tradition, the grapes were harvested at 21° brix.  The grapes were lightly crushed and left to macerate on their skin. Once the juice achieved its perfect pale pink hue and began to show fragrant phenols from the skin-contact, the juice was pressed off the must then closely monitored while it underwent a long cool fermentation. Upon completion of fermentation, the Rosé aged on its lees for a little over 2 months creating some depth and great texture.
It pours a gorgeous classic Provençal Oeil de Perdrix (Eye of the Partridge) color with peach skin, citrus, mineral and a hint of floral aromas.  On the palate, it's light-bodied, and very fresh with  a wonderful mouth feel, harmonious and nuanced savory character with strawberry, pink grapefruit and a hint of light spice flavors.  It was wonderful paired with Shrimp Ceviche Tostada take-out from my favorite local taqueria.   Also consider pairing with spicy ethnic foods, grilled salmon, roast chicken, crab cakes or summer salads.
12.8% abv | 5,000 cases | $14.99(sample)
About Angels & Cowboys
Angels & Cowboy Wines is a collaboration between Cannonball Wine Company co-founders, Yoav Gilat and Dennis Hill, and Northern California graphic artist, Michael Schwab.  While Cannonball focuses on varietal wines, Angels & Cowboys is focused on proprietary blends including Rosé. Their other offering is a blend of Zinfandel, Cabernet Sauvignon, Petite Sirah and Malbec
I received this wine in conjunction with the Protocol #WineStudioSession 35: Sonoma's Rosé Revolution.
What is #WineStudio?
PROTOCOL wine studio presents online twitter-based educational programs where participant engage their brains and palates! It's part instruction and tasting, with discussions on producers, varieties, tourism, terroir, regional culture, food matching and what all this means to us as imbibers.

Each session lasts a month, and all selected participants are provided with wine for each of the weekly tastings.  Each week was focused around a producer and/or a theme, and  features a guest facilitator.
Session 35  includes four weeks of discussion about Rosé in Sonoma on the #winestudio platform and gives you the opportunity to network with wine lovers around the world. This is a free online educational course.  Complete the registration to gain access and join us for Sonoma's Rosé Revolution.
The schedule for June follows:
Week 1: 7 June – @passaggio Cindy Cosco Passaggio Wines
2015 Rosé Merlot Sonoma
Week 2: 14 June – @ellipsiswines Devika Maskey Ellipsis Wine Company
2015 Rosé of Pinot Muenier Sonoma County
Week 3: 21 June – @Pedroncelli Julie Pedroncelli Pedroncelli Winery
2015 Dry Rosé of Zinfandel Dry Creek Valley
Week 4: 28 June – @aandcwines Daniel Hill Angels & Cowboys
2015 Rosé Sonoma County (Grenache Rouge, Merlot, Petit Verdot and Grenache Blanc)
Disclosure of Material Connection:  I received wines at no cost from Pedroncelli andProtocol Wine Studio. I was not required to write a positive review and the opinions I have expressed are entirely my own
_________________________________________________________________________
Follow me on Twitter, Facebook,Instagram, Vivino and Delectable, for all things wine. As a wino with latent foodie tendencies, you'll also find food and wine pairings, and food related stuff! Become a fan and join ENOFYLZ Wine Blog on Facebook. Cheers! This article is original to ENOFYLZ Wine Blog.com. Copyright 2016 ENOFYLZ Wine Blog. All rights reserved.