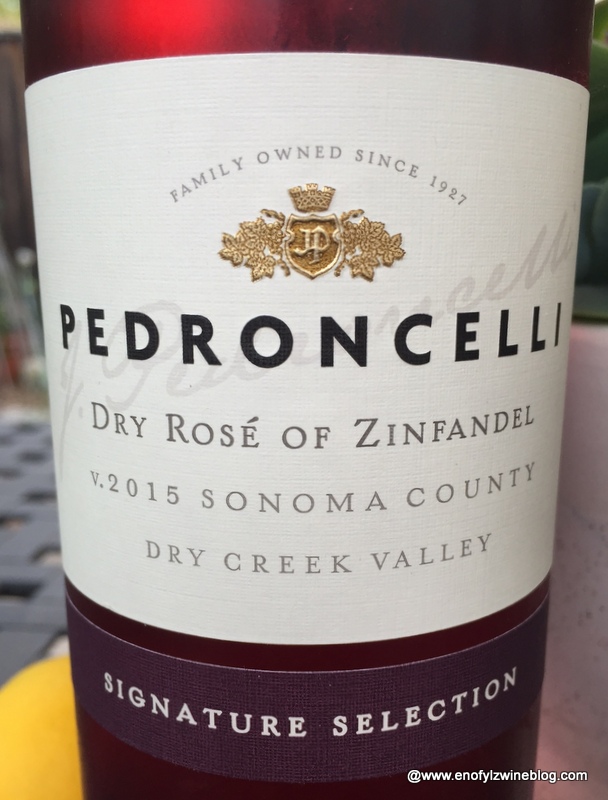 2015 Pedroncelli Dry Rosé of Zinfandel Dry Creek Valley
Pedroncelli has been making an "intentional" rosé of Zinfandel since the mid-50s!  Fruit for this wine is sourced  from  the Pedroncelli estate Home Ranch and Buchnignan Vineyard.   It is crafted by combining free run juice from early picked grapes (60% of the blend) and 40% saignée (juice drawn from the fermenting tank of fully ripened Zinfandel).  Fermentation is finished in temperature controlled stainless steel tanks.  It is bottled  within a few months to capture the freshness of the vintage.
The wine pours a delightful cherry red color. On the nose it shows summery watermelon, strawberry and peppery spice aromas. On the palate it leans toward medium-bodied, with good acidity and appealing strawberry, pomegranate, peppery spice flavors with a nuanced citrus peel note on the back palate with a lingering satisfying finish. Perfect with BBQ Chicken and Pedroncelli Orzo Pasta Salad
13.9% abv | 2,000 cases | $12(sample)
About Pedroncelli Winery
Pedroncelli Winery is a family owned and operated winery based in Sonoma's Dry Creek Valley.  The winery was founded in 1927  by Giovanni and Julia Pedroncelli  with the purchase 25 acres of hillside property west of Geyerserville, which was planted mostly to Zinfandel.    The family farmed, harvested, and sold grapes to local home winemakers until 1934 when  they began to make wine (Bonded Winery #113).   That wine was sold and delivered in barrels to grocery stores, local families and ranchers.
John Jr., assumed winemaking duties from his father, John Sr. in 1948.  He held that position until his passing in 2015.  It was John Jr. and his brother Jim who were responsible for the winery's major expansion in the mid 1950s , and  the transition from a bulk wine producer into a premium winery, but with affordable prices.  And it was John Jr. that produced California's first zinfandel rosé.
My first sip of wine at 4 watered down in my Dino cup. Now wine is my passion and life thanks to some vino in my dino. #winestudio

— Julie Pedroncelli St. John, VP Of Marketing; Pedroncelli Winery
Today,  the winery is under the leadership of the third generation of Perdoncellis.  A fourth generation also works in the family business.  It is a 70% woman owned business with a female winemaker – Montse Reece.
Pedroncelli has 105 planted acres and produces 65,000 cases annually.  They craft 16 different wines sourced from estate and neighbor's vineyards. 
I received this wine in conjunction with the Protocol #WineStudioSession 35: Sonoma's Rosé Revolution.
What is #WineStudio?
PROTOCOL wine studio presents online twitter-based educational programs where participant engage their brains and palates! It's part instruction and tasting, with discussions on producers, varieties, tourism, terroir, regional culture, food matching and what all this means to us as imbibers.

Each session last a month, and all selected participants are provided with wine for each of the weekly tastings.  Each week was focused around a producer and/or a theme, and  features a guest facilitator.
Session 35  includes four weeks of discussion about Rosé in Sonoma on the #winestudio platform and gives you the opportunity to network with wine lovers around the world. This is a free online educational course.  Complete the registration to gain access and join us for Sonoma's Rosé Revolution.
The schedule for June follows:
Week 1: 7 June – @passaggio Cindy Cosco Passaggio Wines
2015 Rosé Merlot Sonoma
Week 2: 14 June – @ellipsiswines Devika Maskey Ellipsis Wine Company
2015 Rosé of Pinot Muenier Sonoma County
Week 3: 21 June – @Pedroncelli Julie Pedroncelli Pedroncelli Winery
2015 Dry Rosé of Zinfandel Dry Creek Valley
Week 4: 28 June – @aandcwines Daniel Hill Angels & Cowboys
2015 Rosé Sonoma County (Grenache Rouge, Merlot, Petit Verdot and Grenache Blanc)
Disclosure of Material Connection:  I received wines at no cost from Pedroncelli andProtocol Wine Studio. I was not required to write a positive review and the opinions I have expressed are entirely my own
_________________________________________________________________________
Follow me on Twitter, Facebook,Instagram, Vivino and Delectable, for all things wine. As a wino with latent foodie tendencies, you'll also find food and wine pairings, and food related stuff! Become a fan and join ENOFYLZ Wine Blog on Facebook. Cheers! This article is original to ENOFYLZ Wine Blog.com. Copyright 2016 ENOFYLZ Wine Blog. All rights reserved.