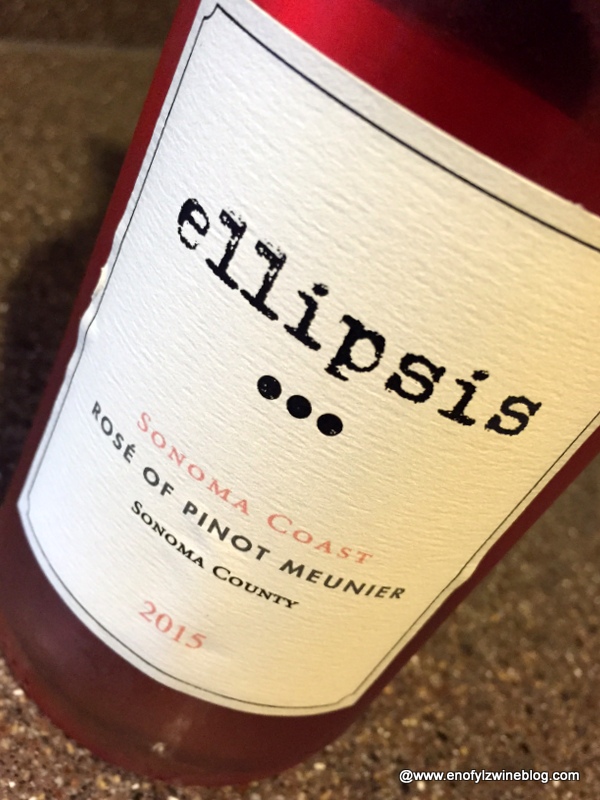 2015 Ellipsis Wine Company Rose of Pinot Meunier
Ellipsis Wine Company sources Pinot Meunier grapes are sourced from Christine's Vineyard located in the Sonoma Coast AVA bordering Russian River Valley.  This is an "intentional"  rosé that's a  blend of  90% Pinot Meunier, 5% Zin, and 5% Syrah. The grapes were picked at 24 brix and left on the skins for two hours before pressing into a stainless steel tank.  Primary fermentation was completed 80% in the tank and 20% in neutral french barrels. No ML. The entire lot was cold stabilized and bottled early February, four months after pick.
The wine is a vivid pink color promising primary aromas of strawberry, and watermelon with hints of citrus and an earthy note.  On the palate the wine is very fresh, full-bodied and well structured  with strawberry, watermelon, sour cherry Jolly Rancher flavor with hints of citrus and tropical fruits with a lingering satisfying finish.  This enticing wine is delightfully fruit-forward chilled,  yet begins to evolve into richer, deeper notes when served at cellar temperature.  It's a main course rosé in my book.  I paired it with Smoked St. Louis Ribs, and it paired very well with the ribs unsauced (and to my mild suprised) sauced!
13.1% abv | 75 cases | $25(sample)  Purchase here
About Ellipsis Wine Company
Ellipsis Wine Company is run by husband and wife team, Jonathan and Devika. The winery was established in 2008 shortly after both of finished their studies at Cal Poly San Luis Obispo, Jonathan for Agribusiness and Devika for Wine and Viticulture.  Both of grew up in Sonoma County and came back to be close to their family. They they decided to start a family of our own.   The couple now have two future winemakers, Elyah (6) and Elliot (2).
The winery began with Jonathan and a couple of buddies making a barrel of Dry Creek Valley Cabernet for family and friends. The wine quickly grew in popularity and so did the wine company. Today, Ellipsis' is has approximately a 1000 case production.  Their focus is  on quality over quantity. Because  the operation is staffed by the couple and their consulting winemaker, Rick Davis,  they are very hands on in every aspect of operations; from the vineyard to the end consumer.
Fruit is sourced from various select vineyards in Northern California, and custom crushed at Owl Ridge Wine Facility in Sebastopol.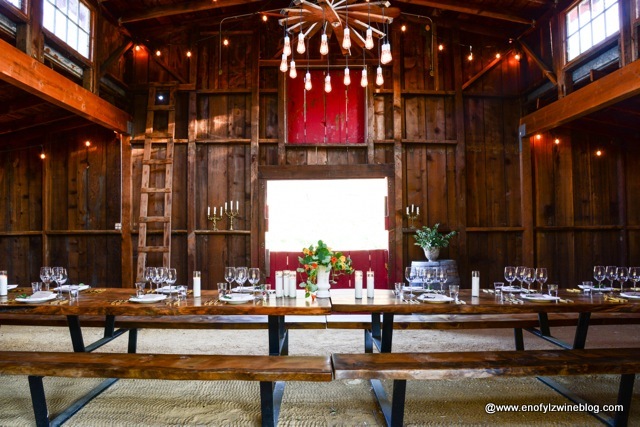 The couple lives on a ranch and farmstead in Cloverdale, where they do private group tastings and events in a newly renovated redwood red barn, originally built in 1908.  Sounds like a fun place to visit!
I received this wine in conjunction with the Protocol #WineStudio Session 35: Sonoma's Rosé Revolution.
What is #WineStudio?
PROTOCOL wine studio presents online twitter-based educational programs where participant engage their brains and palates! It's part instruction and tasting, with discussions on producers, varieties, tourism, terroir, regional culture, food matching and what all this means to us as imbibers.

Each session last a month, and all selected participants are provided with wine for each of the weekly tastings.  Each week was focused around a producer and/or a theme, and  features a guest facilitator.
Session 35  includes four weeks of discussion about Rosé in Sonoma on the #winestudio platform and gives you the opportunity to network with wine lovers around the world. This is a free online educational course.  Complete the registration to gain access and join us for Sonoma's Rosé Revolution.
The schedule for June follows:
Week 1: 7 June – @passaggio Cindy Cosco Passaggio Wines
2015 Rosé Merlot Sonoma
Week 2: 14 June – @ellipsiswines Devika Maskey Ellipsis Wine Company
2015 Rosé of Pinot Muenier Sonoma County
Week 3: 21 June – @Pedroncelli Julie Pedroncelli Pedroncelli Winery
2015 Dry Rosé of Zinfandel Dry Creek Valley
Week 4: 28 June – @aandcwines Daniel Hill Angels & Cowboys
2015 Rosé Sonoma County (Grenache Rouge, Merlot, Petit Verdot and Grenache Blanc)
Disclosure of Material Connection:  I received wines at no cost from Passaggio andProtocol Wine Studio. I was not required to write a positive review and the opinions I have expressed are entirely my own
_________________________________________________________________________
Follow me on Twitter, Facebook, Instagram, Vivino and Delectable, for all things wine. As a wino with latent foodie tendencies, you'll also find food and wine pairings, and food related stuff! Become a fan and join ENOFYLZ Wine Blog on Facebook. Cheers! This article is original to ENOFYLZ Wine Blog.com. Copyright 2016 ENOFYLZ Wine Blog. All rights reserved.