The Pacific Point Wine Tasting Club ("PPWTC") does a Judgment of Paris inspired blind tasting
My wife and I founded the Pacific Point Wine Tasting Club in 2010.  Originally conceived as a neighborhood based wine tasting club, the club's membership has grown dramatically. That's primarily because friends of friends have joined the fun over the years. We've got a great core of 20 individuals at all experience levels who enjoy wine, and want to learn more about wine while having fun and making friends.  All of our tastings are done blind.
The Tasting
Since reading George M. Taber's Judgment of Paris; California vs France and The Historic 1976 Paris Tasting The Revolutionized Wine several years ago, I thought it would be fun to participate in a similar tasting pitting comparable French and California (California Chardonnay v. White Burgundy; and California Cabernet Sauvignon v. Bordeaux) wines against one another. With all of the hype around the 40th anniversary of  the Judgment of Paris ("JOP"), which was held on May 24th, 1976, we decided to organize a similar tasting for our Pacific Point Wine Tasting Club.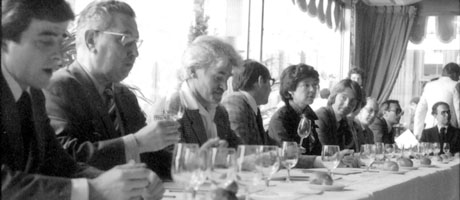 The challenges of pulling off an authentic as possible tasting were finding reasonably priced wines that had a connection to the original 1976 tasting and determining if enough our PPWTC members had an appetite for participating in a tasting where the price point of the wines was significantly higher than our typical $25-$30 price range.
I decided on a $40-$60 price range for the wines, and sent out the Evite.
I hoped to get enough interest for an 8 bottle tasting (four Chardonnay, and four Cabernet Sauvignon; two each from California and France).
Then, I set about looking for the wines.
The affirmative RSVPs rolled in fast and furious.  So much so that I had to cut-off the tasting at about 20 individuals because there are about 25 one ounce pours to a bottle, and I wanted to some cushion for generous pours, or revisits.
Based upon the RSVPs, I decided to expand the tasting to 12 bottles.
The Wines
As you can imagine, the wines that were part of the original tasting are priced well above the $40-$60 price range. Therefore, I focused on finding similar wines from wineries that participated in the original tasting (primarily second labels, comparable bottles, or ownership), and/or wines from the same appellation.
Here are the wines, including their connection to the '76 JOP (if any).
California Chardonnay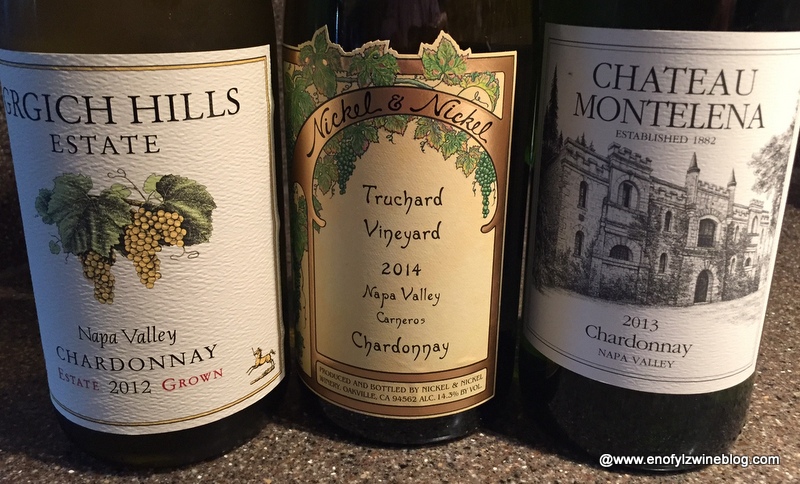 White Burgundy
Bordeaux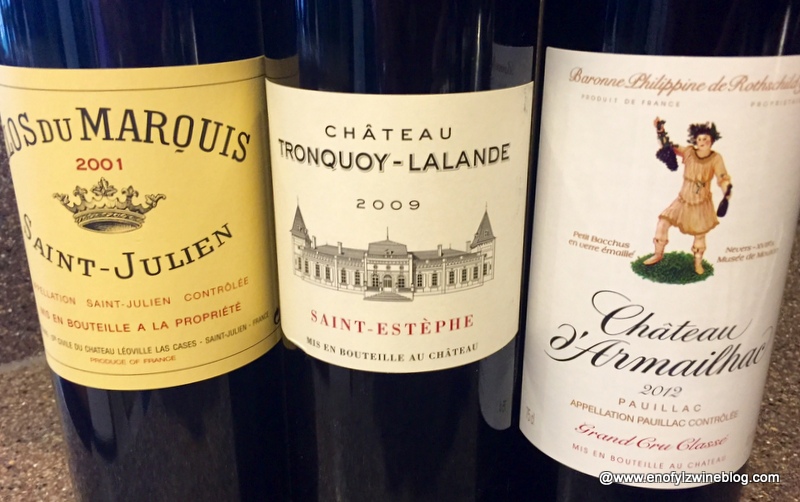 2001 Clos du Marquis, St-Julien; Clos du Marquis, introduced by Chateau Leoville Las Cases in 1902 was the first official, "Second" Bordeaux wine. 30th vintage anniversary of 1971 Chateau Leoville Las Cases was in '76 JOP – ($60)
2009 Chateau Tronquoy-Lalande, St-Estèphe; Chateau Montrose and Chateau Tronquoy Lalande owned and managed by the Bouyges brothers.  1970 Montrose was in the '76 JOP – ($40)
2012 Chateau d'Armailhac, Pauillac; It's a long story, but Chateau d'Armailhac was previously part of the the massive vineyards that we know of today as Chateau Mouton Rothschild. 1970 Mouton Rothschild was in the '76 JOP  – ($50)
California Cabernet Sauvignon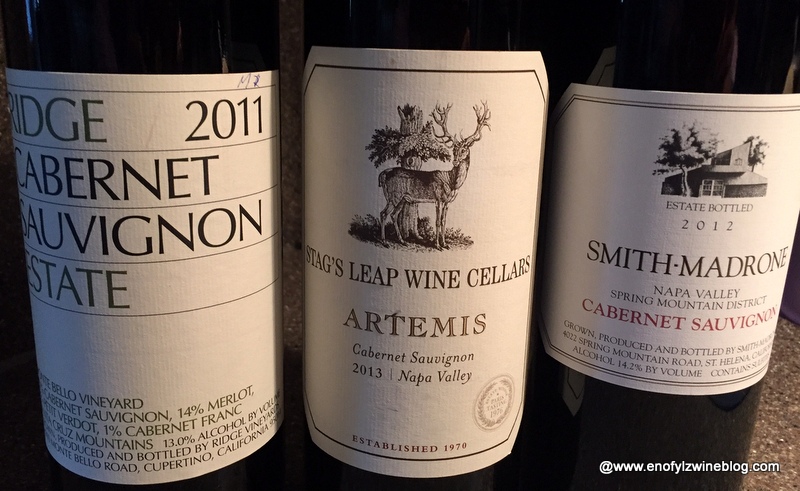 How the tasting went down:
The tasting order of the wines was based on vintage; we tasted older vintages first.  If the wines were the same vintage, we tasted the wines based on alcohol level; tasting the lower alcohol wine first.
The Chardonnays were tasted first
Nineteen (19) tasters that completed scorecards (no partial scoring permitted)
Tasters were asked to grade each wine out of 20 points; Between 1-5 points awarded for each for aroma, body, taste, and finish.
Scores determined by highest median score (to mitigate the influence of outlying scores). Where the median score is the same, the highest average score was the tie-breaker
Tasters had the option of marking their score card to denote whether they thought wine was French or California (no influence on numerical scores. Just so they could go back after the reveal and see how they did)
The results of the tasting follow:
PPWTC JOP Tasting Results: Chardonnay

| RANK | SCORE | WINE | VINTAGE | ORIGIN |
| --- | --- | --- | --- | --- |
| 1 | 13.3 | Grigich Hill Chardonnay | 2012 | California; Napa Valley |
| 2 | 12.9 | Domaine Andre Moingeon & Fils "Alain Corcia" | 2014 | Burgundy; Puligny- Montrachet |
| 3 | 12.7 | Jacques Bavard 1er Cru "Les Embrazées" | 2013 | Burgundy; Chassagne-Montrachet |
| 4 | 12.6 | Chateau Montelena Chardonnay | 2013 | California; Napa Valley |
| 5 | 11.9 | Domaine Morey-Coffinet | 2013 | Burgunday; Meursault |
| 6 | 11.5 | Nickel & Nickel Truchard Vineyard Chardonnay | 2013 | California; Napa Valle |
Here are a couple of factoids from the results I found interesting:
The difference between the first and second place wine in the 1976 Paris tasting was only .05 (14.14 for Stag's Leap Wine Cellars; 14.09 for Château Mouton-Rothschild) Our tasting had similar scores and results. There was only .04 difference between the first and second place wines (14.24 for Ridge; 14.20 for Chateaus Tronquoy-Lalande)
I found it interesting that Mike Grgich had a hand in the winning Chardonnay for both the '76 JOP, and our tasting.
Conclusion
Over the years the Paris blind tasting has been replicated a few times. There was a San Francisco tasting in 1978 (both white and red wines).  And there were decennial tastings (red only) in 1986, and in 2006 .
The results showed that different panels of "experts" again preferred the California wines over their French competitors.
So, the fact that the results of our tasting was another California sweep wasn't shocking. I was, however, mildly surprised the White Burgundy did as well as they did (taking second and third)
"The results of a blind tasting cannot be predicted and will not even be reproduced the next day by the same panel tasting the same wines. – Steve Spurrier, organizer of the 1976 Paris Tasting
I know that blind-tastings are inherently flawed and capricious. I don't think the results per se are important (although, admittedly bragging rights are cool for the winners!)
But for a tasting like this, I think the alternative is worse.
I agree with Jancis Robinson, who wrote in her classic book How to Taste Wine, "It is absolutely staggering how important a part the label plays in the business of tasting.  If we know that a favorite region, producer, or vintage is coming up, we automatically start relishing it – giving it the benefit of the tasting doubt"  
Ultimately, what really matters to me is that the tasting was exceedingly fun and educational.  The juxtaposition of French and California wine was a great opportunity to taste the wines back to back.  I think that's the best way to hone one's palate for different styles of wine and decide what you like.  And isn't discovering what you like what really matters?
I think so.
Happy 40th Anniversary California of the your glorious victory in the tasting that shocked  and forever changed the world of wine!
_________________________________________________________________________
Follow me on Twitter, Facebook, Instagram, Vivino and Delectable, for all things wine. As a wino with latent foodie tendencies, you'll also find food and wine pairings, and food related stuff! Become a fan and join ENOFYLZ Wine Blog on Facebook. Cheers! This article is original to ENOFYLZ Wine Blog.com. Copyright 2016 ENOFYLZ Wine Blog. All rights reserved.