From time to time I receive wine related products (mostly books mostly) for review.  Tim Edison of Wine Turtle  (where I was included in last year's 103 Wine Blogs You Can't Miss) reached out to me and offered me the opportunity to sample the  Vinomaster Wine Bottle Lever Screwpull.
As a wine lover I've used a variety of devices to open bottles of wines over the years.
I started with tried, tested and found true two-prong Ah-so cork puller (a.k.a Butler's thief). It works well, especially with sensitive and broken corks, but it requires a moderate amount of muscle to use. 
Then I moved tried the (inexpensive) Waiter's friend corkscrews.  They work well (though you generally get what you pay for up to a point IMO), and require less effort that an Ah-so. They are also the most portable, but do require a moderate amount of skill to use. Plus, I dig the ritual of using it. 
Then I moved on to the wing corkscrew (you know the ones with the meme that look like they're exercising).  Meh…even though it required slightly less effort to open the a waiter's friend corkscrew,  and require less skill, they have an annoying habit of shredding cork. I don't care for them one bit.
Then I tried an electric corkscrew (This seems to be a popular and ubiquitous gift once your loved ones find out you "into" wine)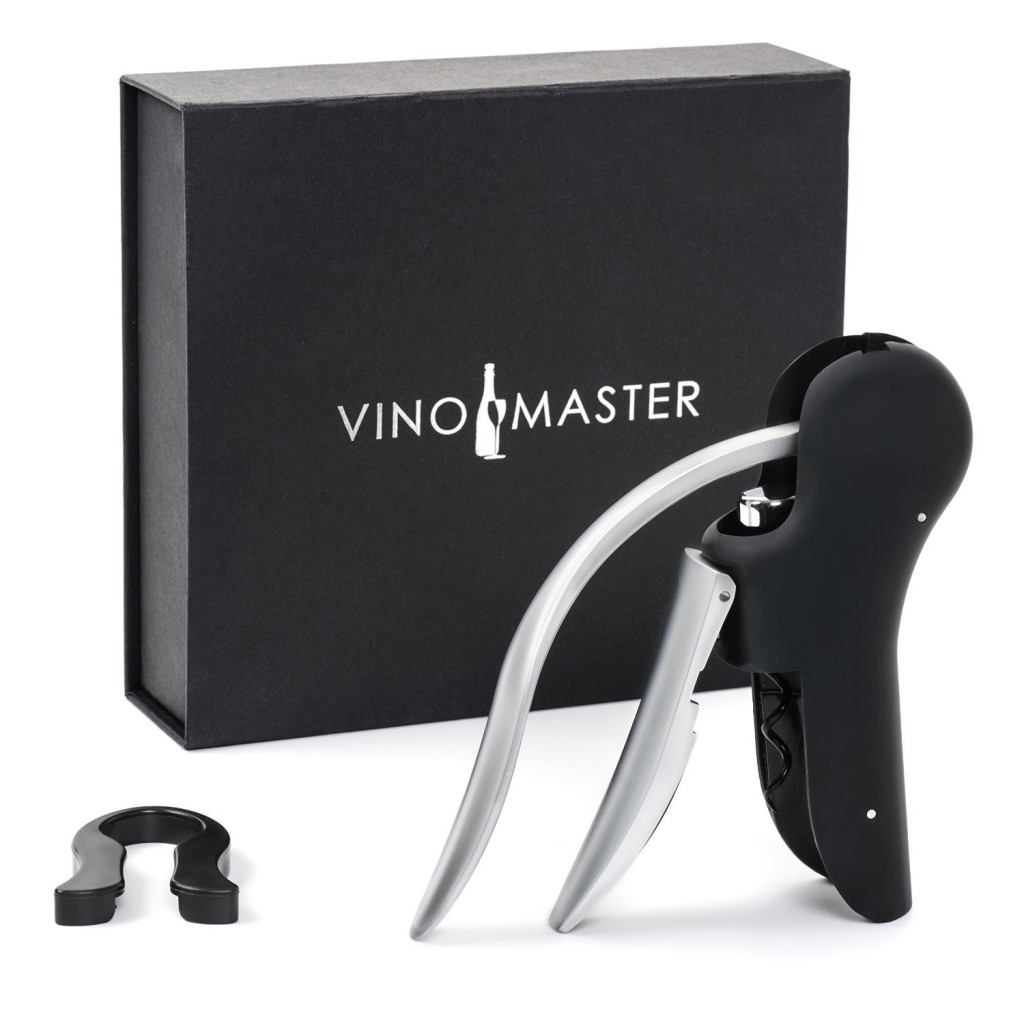 The most recent wine opener I've tried is the Vinomaster Wine Bottle Lever Screwpull (SRP; $28 at Amazon).
It's presented in a sleek 3-Piece (the Vinomaster, a foil-cutter and an extra teflon coated spiral worm) buckle box.
After trying it over the course of a few  months, here's what I think:
Pros:
It removes corks quickly with minimal effort
Fantastic tool for opening up multiple bottles
The foil-cutter is first class and works well
I dig the box it's presented in. Not only does it look cool, it makes it pretty transportable.
This is a great wine opener for beginners
More durable that an electric opener or wing corkscrew
Cons:
If you keep it in a drawer, it will take up a fair amount of space (I keep mine in a cabinet near my wine cellar)
It's doesn't work as well as a waiter's corkscrew for synthetic corks
The worm will need to be replaced periodically for optimal performance
After years of trying different wine openers, I still tend to use a waiter's corkscrew for single bottles, primarily because I enjoy the ritual.  And I use an Ah-so for sensitive or broken corks. But the Vinomaster is also among my favorites.  It's an efficient and easy to use wine-opening machine!  I appreciate it most when opening multiple bottles at our wine-tasting club events.
I use all three…depending on the situation, and my mood.  Cheers!
Product sample received for review. Opinions are my own
_________________________________________________________________________
Follow me on Twitter, Facebook, Instagram, Vivino and Delectable, for all things wine. As a wino with latent foodie tendencies, you'll also find food and wine pairings, and food related stuff! Become a fan and join ENOFYLZ Wine Blog on Facebook. Cheers! This article is original to ENOFYLZ Wine Blog.com. Copyright 2016 ENOFYLZ Wine Blog. All rights reserved.