Over the course of a week, my wife and I drink a bunch o'wine – almost always with food. Since I've always been fascinated by wine at the table with food, I thought it would be fun to recap not only the wines we've been drinking, but also how they pair (or don't pair) with the foods at our table.  It features my pick for Wine of the Week (WoW) – a  wine I particularly enjoy, whether it's something new and different, is a great value, or from a producer worth checking out for the week ended April 2, 2016
2010 Jordan Vineyard & Winery Cabernet Sauvignon Alexander Valley – USA, California, Sonoma County, Alexander Valley  
Violet color with appealing cassis, black cherry aromas with hints of violets and cedar wood. On the palate it's elegant, with well balanced acidity sweet well integrated tannins and silky texture. It's all too easy to drink with black cherry, cassis, and vanilla flavors, and a lingering finish. 13.5% 76% Cabernet Sauvignon, 16% Merlot, 7% Petit Verdot, 1% Malbec. Fruit sourced from 85% Alexander Valley, 12% Mendocino County, 3% Dry Creek Valley.SRP; $65 Very Good to Outstanding; 89-90 pts
2011 Overland Wine Company Petite Sirah Kick Ranch – USA, California, Sonoma County  
Opaque black red color with very appealing black fruit, briar, violet, dark roast coffee and dark chocolate aromas on the palate it's energetic and surprisingly light on its feet with well integrated dusty tannins with blackberry,blueberry compote, plum, black cherry , vanilla and a hint of dark chocolate flavor and a long sweet slightly spicy mineral laced finish 2 years on French oak. SRP; $36 15% alcohol Outstanding; 91-92 pts.
2014 Cave de Tavel Tavel Lauzeraies – France, Rhône, Southern Rhône, Tavel 
Deep pink-red color with strawberry, cherry, and a hint of rose aromas. On the palate it's medium-bodied, and fresh with strawberry, cherry, white pepper, spice and a hint of citrus flavors.  SRP; $10 50% Grenache, 20% Syrah, 20% Cinsault, 10% Mourvedre. Very Good ; 88-89 pts
2013 Carlisle Syrah Sierra Mar Santa Lucia Highlands – USA, California, Central Coast, Santa Lucia Highlands  
Nearly opaque ruby purple color with very appealing blackberry,cassis, , violet, and white pepper aromas with hints of olive tapenade. On the palate it's leans toward medium-bodied with ample fruit and enough acidity, dusty tannins with a savory edge to keep it in harmony. It shows bright blackberry, blueberry compote, cassis, licorice, vanilla and spice flavors and a long finish. SRP; $43 30% whole cluster. Raised in French Oak, 21% new. 15.7% alcohol Outstanding; 92-93 pts.
-Wine of the Week-
Do you ever come "back" to a wine after years of not having it?  One of two things can happen. You realize you miss the wine.  Or you remember why you don't. Fortunately, after not having had a Tavel rose for years, I realized I missed them.  Tavel is a wine region is the Southern Rhone that specializes in rose.  I picked up the Cave de Tavel Lauzeraies from K&L Wine Merchants for $10 because it was a 2014.  I've already picked up a couple of more bottles!  Keeping with the coming back to a wine theme, It was the same thing with the Jordan Cabernet Sauvignon. It's been years since I've had it.  It's very good to outstanding, but I can think of several Cabs I like as much, if not more, for the $65 SRP (it was a Christmas gift). The Carlisle Syrah Sierra Mar SLH fantastic. We brought a bottle to dinner with friends last weekend.  Unfortunately, I accidentally pulled a '13 from the cellar instead of a '11 I intended to pull.  While very approachable now, the wine will get better with time.
My Wine of the Week is the 2011 Overland Petite Sirah.  I actually won this bottle of wine via a raffle at the 2015 Dark and Delicious Petite Sirah event. I was introduced to Overland Wine at that event.  It was one of the very best of the 40-50 Petite Sirahs I tasted!
Sadly, there was no Bay Area edition of event this year.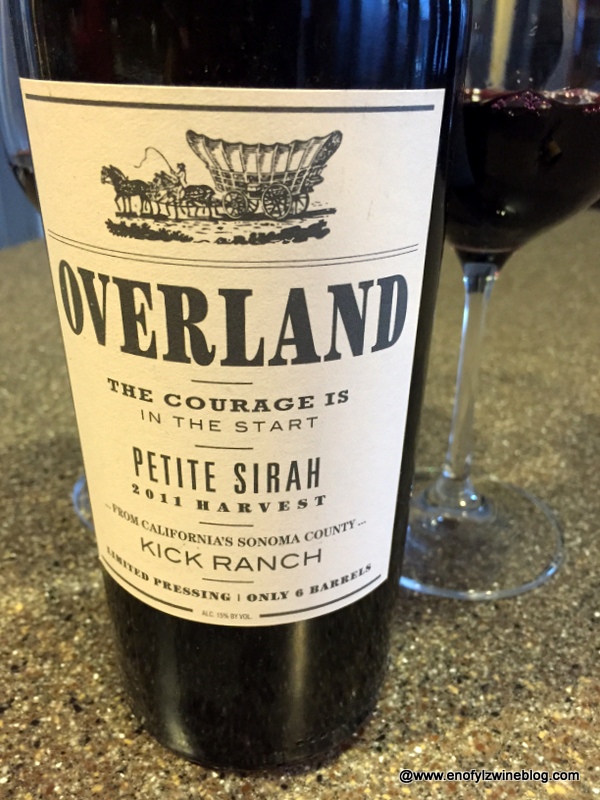 More About Overland Wine Company
Dick Keenan and his wife, Kathy McNamara make Overland wines from their Kick Ranch vineyard in Sonoma County.  They grow and sell small lots of ultra premium grapes to select wineries in Sonoma and Napa, California.
From the winery…Overland's mission is to make bold, flavorful wines that show why the Kick Ranch vineyard is a source for extraordinary wines.
Overland's name and labels honor the spirit of discovery and risk taking that marked the Nineteenth Century Westward Migration in America.  Kick Ranch was first settled by a pioneer family that walked overland almost 2000 miles on the western trails that began on the Missouri River near Omaha, Nebraska.  They walked across America to start a new life, and they bought the land we now farm.  By 1875, those pioneers had planted 25 acres of vineyards.  Over the years, whether due to Prohibition or changes in fortune, the vines disappeared.  As it turns out, we didn't plant Kick Ranch, we restored it to a purpose and focus first set over 125 years earlier.
Ten years after our first harvest, we released our first Overland wines.  In creating a label and the Overland brand, we wanted to honor not only the pioneers who journeyed so far but all who work hard at whatever they do and bring effort and optimism to all that they do.  
So we make "Wines of Effort, Promise and Optimism."  We make our wines for wine enthusiasts and in particular those interested in a unique Sonoma County wine experience – by offering visits to Kick Ranch for unique tastings and events and by also promoting the talented winemakers who also make Kick Ranch vineyard designated wines.
Over the years, I've had many Kick Ranch designated wines. First from Rosenblum, then Carica, and most recently Bedrock Wine Co.  All the wines are been fantastic!  As the saying goes…"great wine starts in the vineyard"!
My Food and Wine Pairing of the Week was the Tavel Lauzeraies paired with Smoked Chicken!  Scrumdiddlyumptious!

 What was your Wine of the Week?
Note. All wines were purchased for review unless otherwise indicated
_________________________________________________________________________
Follow me on Twitter, Facebook, Instagram, Vivino and Delectable, for all things wine. As a wino with latent foodie tendencies, you'll also find food and wine pairings, and food related stuff! Become a fan and join ENOFYLZ Wine Blog on Facebook. Cheers! This article is original to ENOFYLZ Wine Blog.com. Copyright 2016 ENOFYLZ Wine Blog. All rights reserved.