Over the course of a week, my wife and I drink a bunch o'wine – almost always with food. Since I've always been fascinated by wine at the table with food, I thought it would be fun to recap not only the wines we've been drinking, but also how they pair (or don't pair) with the foods at our table.  It features my pick for Wine of the Week (WoW) – a  wine I particularly enjoy, whether it's something new and different, is a great value, or from a producer worth checking out for the week ended March 20th, 2016
2013 Tablas Creek Syrah – USA, California, Central Coast, Paso Robles
Violet color with promising dark fruit, white pepper, olive tapenade, and a hint of cedar wood aromas. On the palate it's smooth, harmonious, and fresh with blackberry, black raspberry, cassis, and spice flavors with subtle minerality, and a long finish Outstanding; 90-91 ptspts.
2009 E. Guigal Châteauneuf-du-Pape – Rhône, Southern Rhône, Châteauneuf-du-Pape
Deep dark nearly opaque garnet color with plum, tobacco, spice, garrigue, and a hint of smoke aromas. On the palate it's full-bodied, savory, and fresh with well-integrated round tannins with plum, black raspberry, kirsch, and spice flavors with an appealing streak of minerality, and a lingering finish.  Outstanding; 90-91 ptspts.
2009 Knez Winery Pinot Noir Cerise Vineyard – California, North Coast, Anderson Valley
Ruby color. Initially tight on the nose, but after a bit of air it opened up very nicely showing mixed red berry liqueur (cherry, raspberry), cardamom, sassafras and damp earth aromas. On the palate it's lush, focused and lively with a gorgeous mouth feel sporting velvety well-integrated tannins with cherry and raspberry liqueur, spice flavors with an attractive lingering floral and spicy finish.  Outstanding; 91-92 pts
2007 Scharffenberger Chardonnay Blanc de Blancs – California, North Coast, Mendocino County
Pale straw color with plenty of active pin prick bubbles and hazelnut, pear, and citrus flavors. On the palate it's show a moderately creamy mousse with green apple, pear and a lemon flavors. Medium finish. $20 great value for a BdB. Very Good ; 88-89 pts
-Wine of the Week-
Some weeks it seems fairly easy to pick my Wine of the Week because one clearly stand out because it's something new and different, is a great value, or from a producer worth checking out. Then there are other weeks, such as this, when it's more challenging. What made this week more challenging is that I considered three of the four wines outstanding.  And the fourth was an outstanding value.
My wife and I took the Tablas Creek Syrah  to a Northern Rhone tasting.  While it wasn't my favorite wine that night (it's young, and I believe it would have improved with further aging), it represented a California quite well.  It was varietally correct, well-balanced, and had that bit of minerality I cherish in wine.  The Guigal CdP was a Christmas gift from my father.  He doesn't really know wine, but he picked up a winner! Guigal is an iconic producer in France.  And their CdP was wonderful (though like me,  it took some time to open up, but once it did it was easy to love;-) It's definitely a bottle I would love to would enjoy drinking again. And I would especially love to try an older vintage!  In the end, I chose to feature a  perhaps lesser-known producer whose wines I highly recommend. So my Wine of the Week was the Knez Pinot Noir.  The 2009 Knez Winery Pinot Noir Cerise Vineyard is a fantastic example of what thoughtful winemaking from grapes planted in the right place can yield in California!  Knez is a producer you need to check out!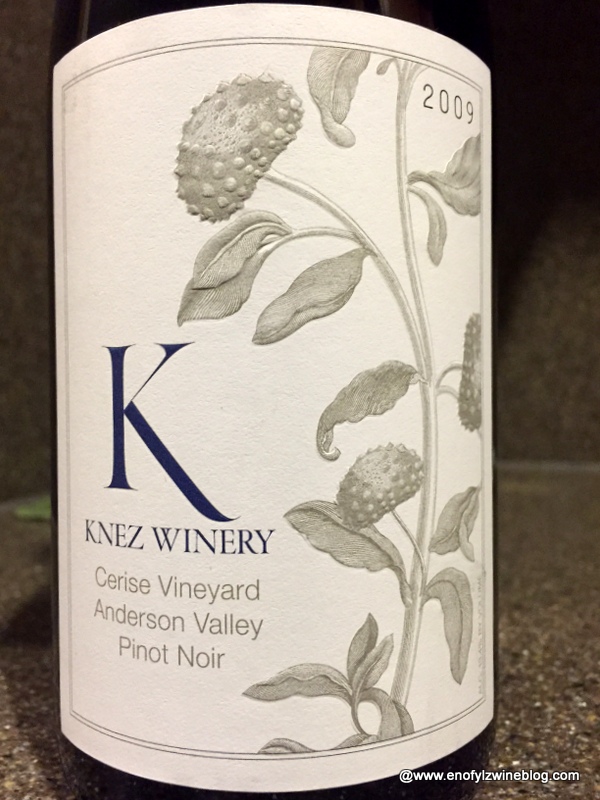 Knez is a winery whose wines I tasted for the first time when I attended the San Francisco In Pursuit of Balance tasting last year.  So, when my wife and I visited the Anderson Valley Thanksgiving weekend last year, I wanted to make sure she had the opportunity to taste Knez wines.
But they weren't open on Saturday.  Fortunately, we spent the night in Fort Bragg, and returned on Sunday.  Viola! The tasting room was open and disappointment turned to delight!
We're big fans of Anderson Valley wines (especially the Chardonnay and Pinot Noir). And we're now big fans of Knez!
More About Knez
Single vineyard wines crafted by the alchemy of ocean, fog, soil and patience.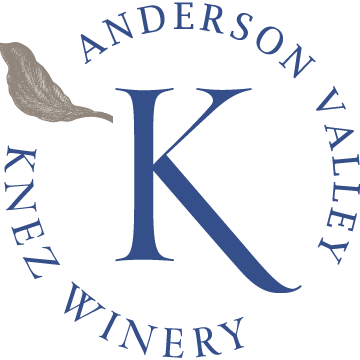 At Knez Winery, we believe that the deeper and more extensive our knowledge, the better our wine will be. We start with an Anderson Valley location that is epic in its richness—with maritime influences, complex soil, a near perfect amount of sun exposure and heritage clones like Martini, Pommard, David Bruce, Wädenswil and Wente. To this, we add the beauty of science—detailed analytics and painstaking research that help us make the most of our land's bounty. We consider ourselves stewards of the land and our farming practices are sustainable and progressive. In our winemaking, we are hands-on in the vineyard and hands-off in the barrel room. Through careful stewardship of our land and attention to detail in every phase of winemaking, we are producing Chardonnay and Pinot Noir every bit as complex, expressive and ageworthy as our compatriots in Burgundy, France.
My Food and Wine Pairing of the Week was the Scharffenberger BdB paired with Chicken Salad Croissant Sandwiches.
 What was your Wine of the Week?
Note. All wines were purchased for review unless otherwise indicated
_________________________________________________________________________
Follow me on Twitter, Facebook, Instagram, Vivino and Delectable, for all things wine. As a wino with latent foodie tendencies, you'll also find food and wine pairings, and food related stuff! Become a fan and join ENOFYLZ Wine Blog on Facebook. Cheers! This article is original to ENOFYLZ Wine Blog.com. Copyright 2016 ENOFYLZ Wine Blog. All rights reserved.