Over the course of a week, my wife and I drink a bunch o'wine – almost always with food. Since I've always been fascinated by wine at the table with food, I thought it would be fun to recap not only the wines we've been drinking, but also how they pair (or don't pair) with the foods at our table.  It features my pick for Wine of the Week (WoW) – a  wine I particularly enjoy, whether it's something new and different, is a great value, or from a producer worth checking out for the week ended March 13th 2016
2012 Giornata Nebbiolo Luna Matta – (Retail; $45) California, Central Coast
Garnet color with dried cherry, rose, a bit of tar and baking spice aromas. On the palate it's medium-bodied, fresh and a bit tannic with ample cherry, and cranberry fruit flavors that intermingle with dried herb and savory notes with a lingering finish. 14.5% 100% Nebbiolo aged in French oak (20% new) with native fermentation. This wine is approachable now, but I think will benefit from further aging.  I wish I'd held it longer! Very Good ; 88-89 pts
2014 Bedrock Wine Co. Riesling Wirz Vineyard – (Retail; $18) California, Central Coast, Cienega Valley
Pours a pale green yellow color with lifted apricot, almond skin, wet stone, floral and lemon aromas. On the palate it's medium-bodied, and dry with ample fruit nicely balanced with bright lemony acidity, and apricot, white peach, lemon, and lime flavors underscored with minerality, and a lingering lip-smacking finish. From a vineyard planted in 1963, which has a little Sylvaner interplanted in it, which the owner Pat Wirz calls by the name indigenous to California "Franken Riesling." The wine was fermented with native yeast in a neutral oak upright tank and aged for 6 months on lees prior to bottling Very Good to Outstanding; 89-90 pts
2013 Trapiche Malbec Oak Cask – (Retail; $11)Argentina, Mendoza (3/13/2016)
Violet color with restrained dark fruit, violet and peppery aromas. On the palate it's supple and smooth with ample (bordering on jammy, but not quite for me) blackberry, plum and a bit of black currant flavors with a spicy finish. Very Good ; 86-87 pts.  Very good value 
2009 Chéreau-Carré Muscadet de Sèvre-et-Maine Le Clos du Chateau l'Oiseliniere – (Retail – $19) France, Loire Valley, Pays Nantais, Muscadet de Sèvre-et-Maine
Pours very pale yellow tinged green color with enticing yellow apple, mixed citrus (lemon, grapefruit and a hint of lime) wet stone aromas with hints of white flower, honey and lees. On the palate its dense, focused and fresh with great texture. It shows apple, lemon, subtly spiced mandarin orange, and honey flavors with an appealing vein of minerality, and a long finish. Outstanding; 90-91 pts.
– Wine of the Week –
I often refer to myself as a "promiscuous" wine lover. Last week was a good example,  I enjoyed both Old and New World wines.  The New World wine included the very good Giornata Nebbiolo which pays homage to the great wines of Barolo and Barbaresco. It was very good. And I think it would have been even better had I given it a couple of years in the cellar.  I brought it to a Barolo tasting and it fared well.  While it wasn't my #1 wine that night (that honor went to a 1979 Bersano Barolo) it was my #2 wine and it was better than a couple of younger Barolos in my book.  The Bedrock Riesling was outstanding, and it offers great value at $18!  It was Bedrock's first Riesling.  I certainly hope it wasn't their last.  I scored it the same as the Trimbach Riesling from a couple of weeks ago. Even though the score was the same, I found the Bedrock to be the more interesting wine.
My Wine of the Week was the Chéreau-Carré Muscadet de Sèvre-et-Maine Le Clos du Chateau l'Oiseliniere.  If you're familiar with Muscadet, let me tell you this isn't the typical Muscadet.   It was made from 80 year-old vines.  And  this wine spent an amazing 31 months on the lees in cement vats. Muscadet are often compared to Chablis, but this one brings to mind White Burgundy… Fantastic!  And it was very food friendly. We enjoyed it with Yellow Salmon Curry for lunch, and then Seared Scallops with Mushroom Risotto for dinner. Highly recommended!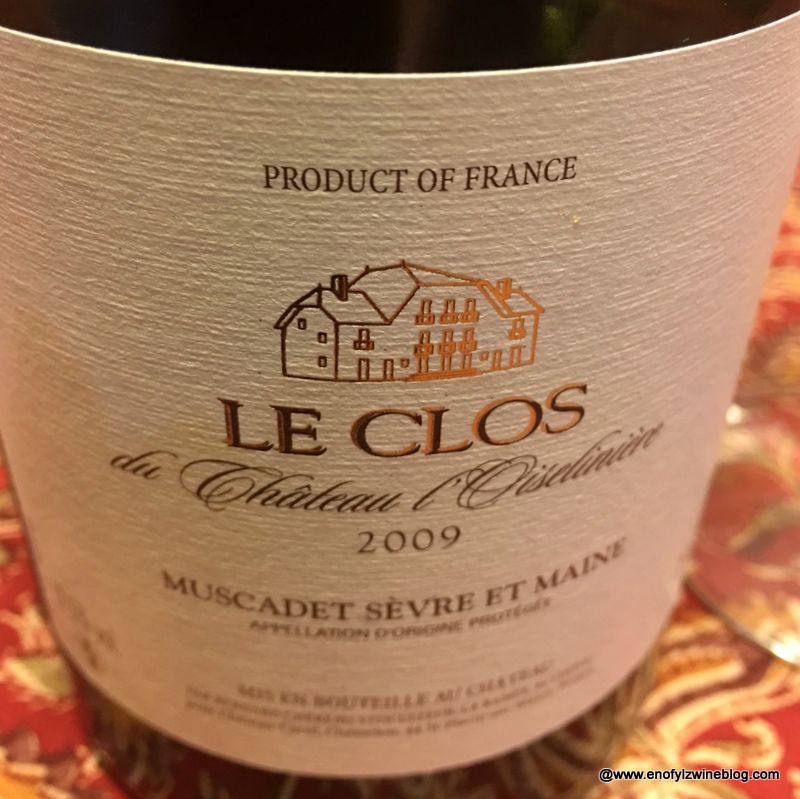 More about Chereau-Carre
The family settled in the Muscadet region in the 15th century. In 1953 Bernard Chéreau Senior bought the Château de Chasseloir – a superb farm with 25 hectares of vines in an ideal location on the Côteau de la Maine in Saint Fiacre.
Shortly afterwards, he married Edmonde Carré whose family owned the Château l'Oiselinière de la Ramée in Vertou, at the confluence of the Sèvre and Maine rivers. The 10-hectare estate entered the Chéreau-Carré family heritage.
The Chéreau Carré wine company was set up in 1960. It brings together four properties, including Château de Chasseloir and Château de l'Oiselinière. Two other properties were bought later: Château de la Chesnaie and the Bois Bruley estate in Basse Goulaine, on the outskirts of Nantes.
Today we farm 135 hectares of vines, all on wonderful schist, mica schist and orthogneiss terroirs in the Muscadet Sèvre et Maine sur lie appellation.
Work continues to be done by the family, as we now have the third generation involved in cultivating and producing high quality Muscadet wines every year.
The House of Chéreau Carré occupies the most privileged position in the Loire-Atlantique department of France. This family-owned property dates back to the 15th century. The vines here are some of the most prized in the region of the Sèvre-et-Maine.
Bernard is constantly innovating and seeking to show off the incredible sites of his domain. These sites are part of a new system used to identify vineyards (called Cru Communaux). The first is Comte Leloup de Chasseloir. This site at the front of his estate is composed of over 100-year-old vines growing in slate soils. The site is three hectares of vines on a plateau that overlooks the river. The wines are then aged in the only underground cellar within the region.
Château l'Oiselinière, meaning "owl's nest," comes from a very privileged site located directly at the convergence of the Sèvre and Maine rivers. It is 10 hectares of 40 to 80-year-old vines facing southeast, enclosed by the two rivers and surrounded by forests. The soils here are schist and orthogneiss. Two wines are sourced from this vineyard site and both are fermented with indigenous yeasts and aged on the lees in cement tanks.
 What was your Wine of the Week?
Note. All wines were purchased for review unless otherwise indicated
_________________________________________________________________________
Follow me on Twitter, Facebook, Instagram, Vivino and Delectable, for all things wine. As a wino with latent foodie tendencies, you'll also find food and wine pairings, and food related stuff! Become a fan and join ENOFYLZ Wine Blog on Facebook. Cheers! This article is original to ENOFYLZ Wine Blog.com. Copyright 2016 ENOFYLZ Wine Blog. All rights reserved.