Over the course of a week, my wife and I drink a bunch o'wine – almost always with food. Since I've always been fascinated by wine at the table with food, I thought it would be fun to recap not only the wines we've been drinking, but also how they pair (or don't pair) with the foods at our table.  It features my pick for Wine of the Week (WoW) – a  wine I particularly enjoy, whether it's something new and different, is a great value, or from a producer worth checking out for the week ended March 6th 2016
2011 Di Majo Norante Molise Ramitello – Italy, Molise
The wine is a deep black red color with appealing black fruit and lavender aromas. On the palate it medium-bodied, and fresh with a rustic edge, showing blackberry, plum, black cherry, black currant, spice and a hint of bittersweet chocolate flavors, and a lingering satisfying finish. Very Good ; 88-89 pts
2012 JC Cellars The Imposter – USA, California, Central Coast
Opaque ruby/purple-color with smoky black and red fruit aromas with a bit of floral aromas. On the palate it full-bodied, and lush with fruity plum, black cherry, and black raspberry flavors. A bit to plump for my palate, but tasty! Blend of 54% Zinfandel/19% Syrah/13% Petite Sirah/6% Alicante Bouschet/4% Grenache/3% Carignane/ 1% Viognier. Very Good ; 87-88 pts
2014 Bedrock Wine Co. Mourvedre Ode to Lulu Old Vine Rosé – USA, California, Sonoma County, Sonoma Valley
Pink copper color with savory strawberry, blood orange, spice and a hints of mineral aromas. On the palate, it's medium-bodied, fresh and focused with a very appealing hint of tannins. It shows tart, strawberry, tangerine, blood orange, mineral and spice flavors, with a very giving savory finish. Very Good to Outstanding; 89-90 pts
2009 Pierre Brigandat Champagne Cuvée Dentelles et Crinolines – France, Champagne
Very pale yellow color with abundant active tiny bubbles. On the nose it show pear, green apple, brioche, sea shell and a hint of citrus aromas. On the palate, it's bone-dry with a creamy mousse, and crisp mineral driven acidity. This is a harmonious wine with green apple, pear, lemon and a hint of spice flavors. Blend of 30% Chardonnay, and 70% Pinot Noir 12.5 alcohol Very Good to Outstanding; 89-90 pts
2013 Ridge Zinfandel Jimsomare – USA, California, San Francisco Bay, Santa Cruz Mountains
Garnet color with very appealing red fruit – raspberry, red currant, damp earth and wood spice aromas. On the palate this wine is all about harmony. It shows balanced acidity, well-integrated velvety tannins and focused red fruit flavors that follow the aromas. Lingering finish. It reminds me very much of the Ridge Lytton Springs in terms of balance and food friendliness. It was great paired with Stuffed Shells! Outstanding; 91-92 pts
– Wine of the Week –
I've been loving my exploration of Italy with the #ItalianFWT group. Last week we visited Molise, an obscure region, a.k.a. the "belly button" of Italy.  I very much enjoyed the Molise I had.  And it was fabulous paired with  Portobello Parmesan recipe by Giada De Laurentiis (but then again, it seems like Italian wines go with everything!), The Champagne from Pierre Brigandat was part of a half-case special I picked from this producer via Cruzu.com (think crowd funding for wine).  It's the best bottling. It was bone dry, and for my palate it needed food. Nonetheless, it was a crisp, well-balanced Champagne that showed the minerality I love about Champagne.
Last, but not least my Wine of the Week is the 2013 Ridge Jimsomare Zinfandel.  It's a wine from the iconic Monte Bello Vineyard.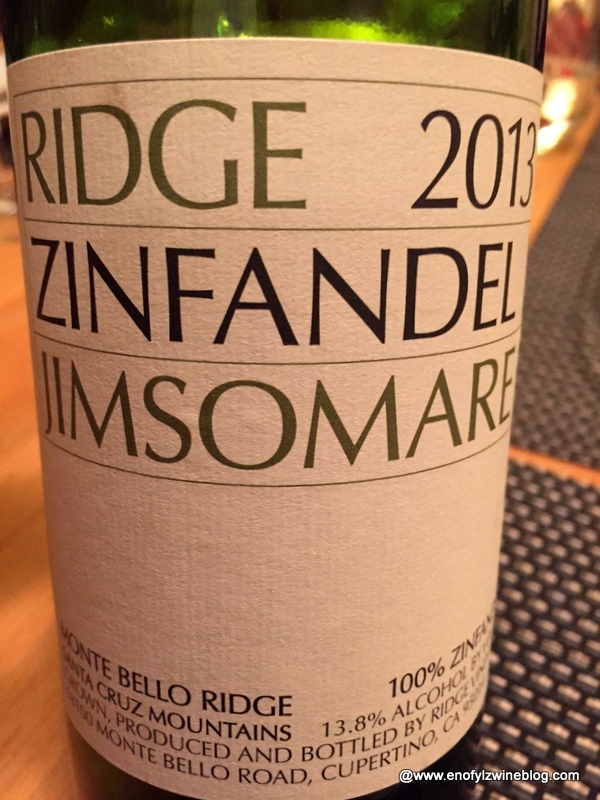 We enjoyed the wine at a casual dinner with friends last weekend.  My friend picked it up last year.  As we were enjoying the wine with some delicious Stuffed Pasta Shells, I was reminded of a popular myth that's worth addressing here.  The myth is that Zinfandels are not food friendly wines.
Simply not true!  Of course much depends on how it's made. And I've had many that fall into the "claret" style such as this one, which show moderate levels of acidity and are very food friendly. Don't ever let anybody tell you Zins are just cocktail wines. If they do remind that the Ridge Lytton Springs Zinfandel blend has been on the wine list at Alice Water's iconic Chez Panisse for 40+ years!  I can guaran-damn-tee you it wouldn't be there if it wasn't food friendly.  
For more on the 2013 Ridge Jimsomare Zinfandel, check out this video…
-About Ridge Vineyards-
From Ridge Vineyards: Since 1962, Ridge has championed single-vineyard winemaking, searching California for those rare sites where climate, soil, and varietal are ideally matched.    Our aim is to guide the natural process; using traditional methods, we strive to produce exceptional wines from distinctive fruit.
Ridge Vineyards  has two estates, Monte Bello in Cupertino, and Lytton Springs in Healdsburg.  They are best known for producing single-vineyard premium Bordeaux style Cabernet Sauvignon Blend ("Monte Bello"), Zinfandels, and Chardonnay.  Ridge was established by three engineers from nearby Stanford Research Institute (SRI).
Great wines have always been determined by their site – by nature, not by man – Paul Draper
It wasn't too long after that, that Ridge gained an international  rep when the  Ridge Monte Bello, under the direction of winemaker Paul Draper , took fifth place in the "Judgment of Paris" in 1976 against nine other French and California wines.  Here's what's really cool though, the 1976 Monte Bello unanimously took first place in The Judgment of Paris 30th Anniversary when it was tasted against the same wines thirty years later!
Ridge has four estate vineyards, Monte Bello (first commercial release was in 1962), Geyserville (first release 1966), Lytton Springs (first release 1972), and their newest property East Bench.
 What was your Wine of the Week?
Note. All wines were purchased for review unless otherwise indicated
_________________________________________________________________________
Follow me on Twitter, Facebook, Instagram, Vivino and Delectable, for all things wine. As a wino with latent foodie tendencies, you'll also find food and wine pairings, and food related stuff! Become a fan and join ENOFYLZ Wine Blog on Facebook. Cheers! This article is original to ENOFYLZ Wine Blog.com. Copyright 2016 ENOFYLZ Wine Blog. All rights reserved.