What if, instead of finding comfort in the familiar, you sought out the unfamiliar?  What if you took a chance, and rolled the dice on something new?
I'm not talking about jumping out of an airplane (One of my greatest fears!  I'm convinced I'd have a heart attack before I had a chance to pull the cord and float to earth), or worse…public speaking.
I'm talking about trying new wines…
No.  Make that wines produced from new-to-you grape varieties. Or new-to-you wine regions.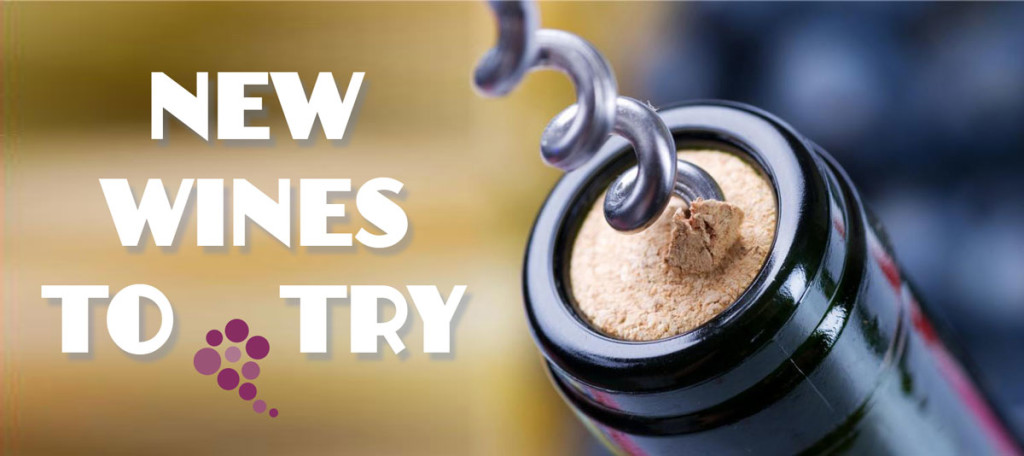 And what if, at the same time you had a chance to un-tether yourself from the S.O.S. (Same Old Sustenance) on your plate?
One of the things I love most about food and wine is their ability to transport one to a different place.  I think a place's food and wine are a manifestation of its people, culture, and customs.  In that sense, one can virtually travel the world through food and wine.
I've had the chance to do just that since last year by participating in two blogging groups Italian Food, Wine and Travel (#ItalianFWT) and French Winophiles (#Winophiles).  
Each month we pick a wine region, and post about its wine, food, or travel.
It's how I discovered new-to-me grapes like Pignolo, Cesanese, Biancolella, Petit Rouge Fumin, Mayolet, Cornalin, Pignoletto, Gaglioppo,  and Fer Servadou.
Here are 5 of the more memorable wines I've enjoyed while virtually traveling to France, Spain, and Portugal.  The first wine is one of the best white wines I've ever had.  It's made from the autochthonous Encruzado grape.  (I tried this one after going to a Portuguese Wine Tasting hosted by Bliss Wine Imports). The other four are from Italy and France.
2008 Torre de Tavares Dão; Portugal> Beiras> Dão Hazy yellow tinged gold color with aromatic, appealing quince, pear, orange marmalade, and wet stone aromas with an appealing oxidized note. On the palate it's well structured, full-bodied, and very fresh, yet lushly textured (an extraordinary waxy texture) with a very appealing hint of tannins. It shows tart quince, orange and vanilla flavors, with a hint of baked nectarine and a long mineral driven finish.  The grapes are harvested by hand. The wine is not fined or filtered. It went through malolactic fermentation in a steel tank, then was aged on its lees in oak for 1 year. It then spent another 6 months in the tank before bottling. It was aged in the bottle for 5 years. 12.5% alcohol.
2012 Vigneto San Vito – Orsi Pignoletto Colli Bolognesi Classico Vigna del Grotto Italy>Emilia-Romagna >Colli Bolognesi Classico DOCG – Slightly cloudy gold color (unfiltered) with lime zest, honeysuckle,and stone fruit aromas. On the palate, it's full-bodied, fresh, and very persistent with a wonderfully supple texture. Flavor-wise it shows white peach, lime, honey, a bit of lemon and a suggestion of persimmon flavors with a long mineral laced finish. Bottled unfiltered. Battonage during 6 months sur lie aging in large oak casks impart some complexity and a wonderful creaminess. 13% alcohol
2009 Ermacora Pignolo Colli Orientali del Friuli; Italy> Friuli-Venezia Giulia> Colli Orientali del Friuli – The wine pours an inky violet ruby color with beguiling, and complex black fruit, dried herb, savory spice, graphite and a hint of lavender aromas.  On the palate it's powerful, yet light on its feet.  It's fresh and well structured with dusty well-integrated tannins with delicious black cherry, blackberry compote, a kiss of black currant, plum and vanilla flavors with an appealing minerality, and a long satisfying finish. Aged for over 36 months in oak barrels and 4 months in bottle.  If Cabernet Sauvignon and Petite Sirah had a child, it would be this wine. I double decanted before drinking.  14.5%. alcohol
2013 Casale Della Ioria Cesanese del Piglio Tenuta Della Ioria >Italy> Latium> Cesanese del Piglio – The wine is a dark ruby color with promising red fruit, juniper, and forest floor aromas.  On the palate it's medium-bodied  and fresh with a very smooth texture, and a subtle savory character.  It shows distinctive Morello cherry, red mulberry, hints of red currant, black olive and vanilla flavors with an earthy undertone.  The wine reminds me of a cross between Pinot Noir and Cabernet Franc.  Among the many things I enjoyed about this wine is that takes a chill quite well. I'll be adding it to my (short) list of chillable reds.   
2013 Domaine des Costes Rouges "Tandem" France> Southwest France> Marcillac – Dark violet color with promising red currant and raspberry aromas with low-key spice and dried herb notes. On the palate it's light-bodied, fresh and well structured with charming, easy-going cassis, raspberry, and spice flavors  with supple tannins and an enticing minerality.  Stylistically the wine falls between a Loire Cab Franc and Gamay. 12%;  The wine was made from the grape Fer Servadou.  I learned about a bit of about the grape researching it. But I learned more from this tweet from the inimitable Randall Grahm:
.@martindredmond Fer Servadou is one of the coolest grapes that few people know. It's one of the missing links, as it were. It's a #catalyst

— Randall Grahm (@RandallGrahm) August 15, 2015
In addition to expanding my palate for wine, I've also had a chance to broaden my gastronomic palate.  Here are a few favorites I've prepared that have been sensational paired with the wines of the region.
My experiences with both #ItalianFWT, and the Winophiles has been educational and fun. Here's what I've taken away from the experience:
An opportunity to expand my overall wine knowledge the best way I know what drinking a little wine and doing some research
I've come across some great value wines – An outstanding Vernaccia di San Gimignano for $16, and a Premier Cru Burgundy for $40 are top of mind
I've become friends with like-minded food and wine lovers
And all because I was ready to love to try something new!  You too can be a wine adventurer. Try something new!
This is my entry into March's #MWWC. Last month Chad of (Un)CommonGrape won the Monthly Wine Writing Challenge #22 (#MWWC22).  Like all previous winners of the Challenge, his "reward" was to choose the theme for the following Challenge (in this case #MWWC23). This month's theme is NEW.
_________________________________________________________________
Martin Redmond is a Financial Executive by day, and a certified wine geek with latent foodie tendencies the rest of the time. In addition to the wine lifestyle and food he enjoys family, fitness and traveling. He likes to get thoughts of wine off his mind by sharing experiences on his ENOFYLZ Wine blog, which features wine reviews, wine country travel, and wine and food pairings.
Follow me on Twitter @martindredmond for all things wine, and since I'm a wino, with latent foodie tendencies, you'll also find food and wine pairings, and food related stuff! Become a fan and join ENOFYLZ Wine Blog on Facebook. Cheers! This article is original to ENOFYLZ Wine Blog.com. Copyright 2015 ENOFYLZ Wine Blog. All rights reserved.