Over the course of a week, my wife and I drink a bunch o'wine – almost always with food. Since I've always been fascinated by wine at the table with food, I thought it would be fun to recap not only the wines we've been drinking, but also how they pair (or don't pair) with the foods at our table.  It features my pick for Wine of the Week (WoW) – a  wine I particularly enjoy, whether it's something new and different, is a great value, or from a producer worth checking out for the week ended February 28th 2016
2013 Bedrock Wine Co. Godello Abrente – Retail; $22 USA, California, Sonoma County, Sonoma Valley
Pale yellow gold color with a green tinge with aromatically complex and appealing chalk, ocean spray, quince lemon peel, stone fruit and a hint of floral aromas. In the mouth, the wine is medium-bodied, fresh, dry, textured, and focused with enticing apricot, quince, and Meyer lemon flavors that give way to white peach, lemon peel and a saline minerality, and complementary nutty sort of savoriness, and a very giving finish Outstanding; 91-92 pts
Germano Ettore Langhe Nebbiolo Rosanna Rosé Brut – Retail; $30 Italy, Piedmont, Langhe, Langhe DOC
Pale pink color with bread crust, raspberry, strawberry, and a hint of dried rose aromas. On the palate it's very dry with a creamy mousse, and an elegant, fresh, round character with raspberry, strawberry, and lemon flavors with a satisfying clean crisp finish. 100% NebbioloVery Good; 88-89 pts
2001 Conterno Fantino Barolo Sorì Ginestra – Retail; $129 Italy, Piedmont, Langhe, Barolo
Medium-red color with enticing aromas of dried cherries, plum, mushroom, cedar wood, tobacco, and a bit of spice. On the palate, it's full-bodied, very concentrated, yet harmonious, with great texture and dried cherry, plum, and spice flavors with an appealing minerality, and velvety tannins that build with time in the mouth. Long finish.Outstanding; 93-94 pts
2014 Saracco Moscato d'Asti – Retail; $13 Italy, Piedmont, Asti, Moscato d'Asti
My first Moscato d'Asti! And it was very good. It's a pretty golden-yellow color with perfumed, peach, apricot, white flower and a hint of citrus aromas. On the palate, it's smooth, clean and fresh with a light fizziness. It's sweet, but nicely balanced with candied peach, pear and a bit of citrus flavors. I purchased on a hunch hoping it would pair well with Crack Pie. And I was right! Twas a very good pairing! Very Good; 88-89 pts
– Wine of the Week –
For my wine loving friend, you know last weekend was "Open That Bottle Night".  It's night meant for gathering with friends and finally opening that bottle you never seem to get around to (find out more here).  We did just that with 10 friends when we hosted an Italian themed dinner for OTBN.  I contributed 3 bottles to the evening (there were 11 in all).  And those are the second, third, and fourth bottles listed above.  I'll come back to those.
The first bottle is an outstanding Godello from Sonoma County.  Abrente is a joint project between Michael Havens and Bedrock Wine Company's Morgan Twain-Peterson. It turns out that Godello is also known as Verdelho (which I didn't know). No matter what you call it, the Abrente is an outstanding wine! And it was definitely a strong contender for Wine of the Week.  The Germano Ettore Langhe Nebbiolo Rosanna Rosé Brut is a rosé of 100% Nebbiolo. Trying a sparkling Nebbiolo has been on my list of wines to try for the last year of so.  And this one didn't disappoint.  The 2014 Saracco Moscato d'Asti was also another first for me.  My first Moscato d'Asti.  Now Moscato d'Asti isn't my jam because it's too sweet for my palate.  But I purchased the wine to pair with Crack Pie (if you haven't had Crack Pie, you MUST – It lives up to the name). And indeed it turned out to be a great pairing with the Crack Pie.  It also turned out to be very good.  It wasn't overly sweet, and it was balanced and clean.  Definitely a wine I would purchase again. Especially for my friends who like their wine on the sweeter side.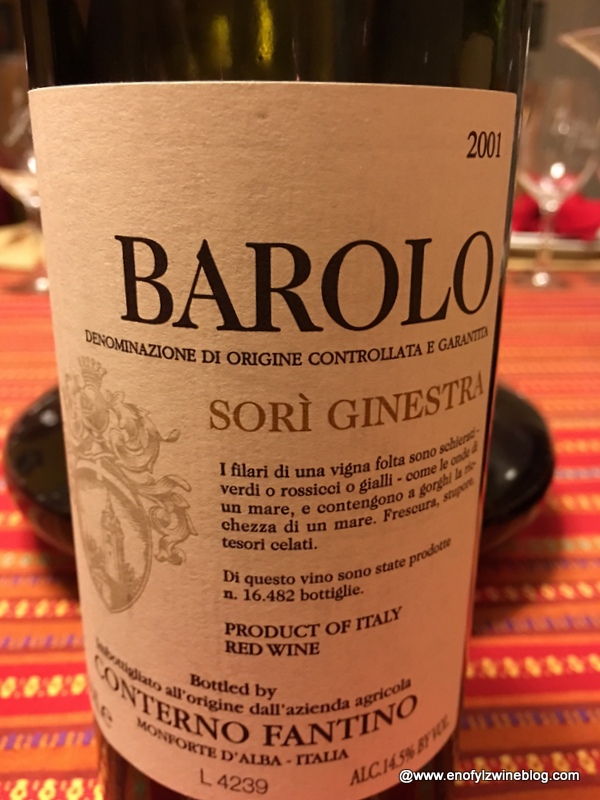 Last, but not least is the Conterno Fantino Barolo Sorì Ginestra. It's an awesome Barolo and my Wine of the Week.  It hails from the famous Ginestra cru in Monforte d'Alba, one of Barolo's finest and most historical.  Barolo, is one of my favorite wines, though I don't drink it often. I need to change that! This one had been in my cellar for five years! I'm delighted we broke it out of jail and shared with friends!
More about Conterno Fantino
Conterno Fantino stands for two families, the Fantinos and Conternos. At the same time, it is virtually a single family – the "Conterno Fantinos", whose energies and vision seamlessly come together on the estate. It was founded in 1982 by two friends, Guido Fantino and Claudio Conterno, whose own fathers, mothers, grandfathers and grandmothers had all earned their livelihood in the vineyard, making wine they sold in bulk.
Guido and Claudio were little more than toddlers when they were charged with weeding between the vine rows. Their studies in agronomy and winemaking completed, they set out on their own and determined to invest in top quality and estate-grown, estate-bottled wine. The very high reputation they have built for themselves has never diminished the characteristic, grass-roots simplicity and sincerity that goes into everything they do. Their vineyard management, like them, foregrounds authenticity and respect for the soil.
Like Claudio and Guido themselves, tradition and innovation are close friends at Conterno Fantino. French oak barriques and new wood marry Piedmont's own, blockbuster structure, opulent, tightly knit texture, magnificent tannins and rich, layered flavors. 
It is in the vineyards, under Claudio's careful tutelage, that the quality cycle truly begins. The estate's original nucleus is cru Ginestra: a historical one for Barolo, documented as far back as the 1800s.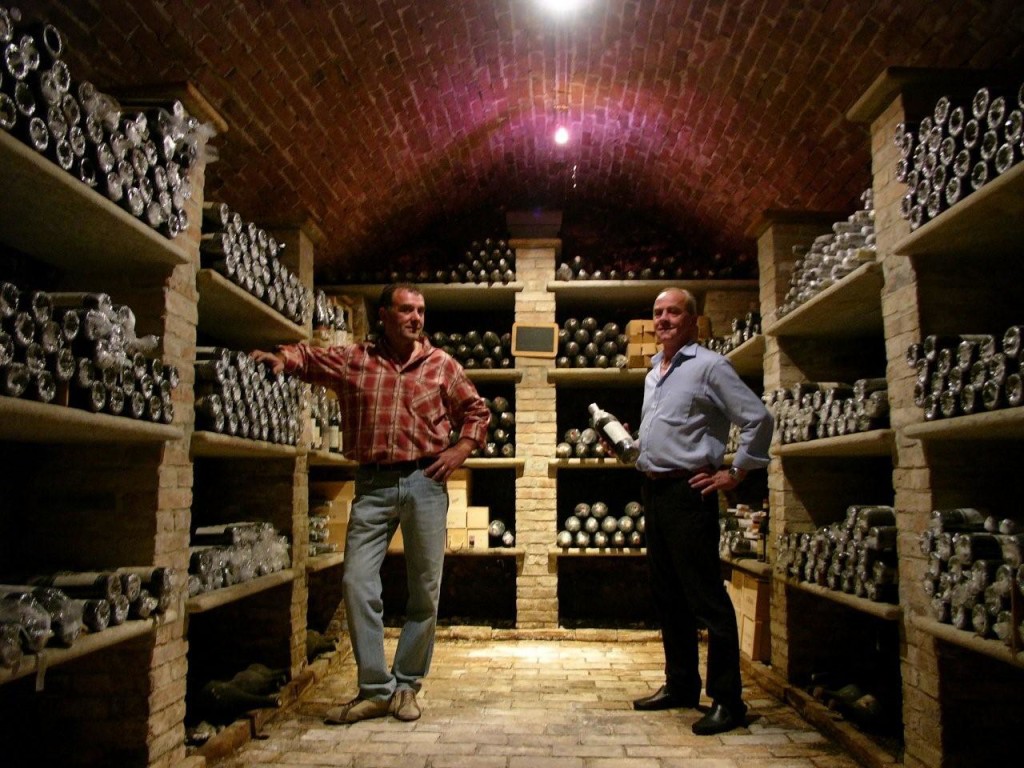 In 1989, Guido and Claudio acquired terrain from the nearby area of Bricco Bastia, within the commune of Monforte d'Alba, where they eventually built a state-of-the-art new winery. This new location is scenically set, dominating the most ancient section of Monforte and overlooked by the majestic sweep of the Alps all around. 
The subsequent years continued in the same vein: cru by cru, with an aim towards expressing the individual terroirs fully and faithfully.  Two such crus are Parussi (a Barolo terroir from Castiglione Falletto rather than Monforte d'Alba), renowned for its elegance; and Mosconi. The Mosconi cru is exactly parallel to Sorì Ginestra, higher in altitude (averaging 400 meters, i.e. 1,312 feet), on a ridge running alongside the estate's historic Ginestra nucleus, less than a mile away. Mosconi soil endows the grapes with extremely high levels of polyphenols, particularly anthocyans: hence Barolos of extraordinary structure and longevity. 
The newest generation has joined the winery in the form of Guido's children. Fabio Fantino, an enologist, works side by side with his father styling the wines while Elisa handles PR and marketing. (Courtesy of Importer Empson USA)
 What was your Wine of the Week?
Note. All wines were purchased for review unless otherwise indicated
_________________________________________________________________________
Follow me on Twitter, Facebook, Instagram, Vivino and Delectable, for all things wine. As a wino with latent foodie tendencies, you'll also find food and wine pairings, and food related stuff! Become a fan and join ENOFYLZ Wine Blog on Facebook. Cheers! This article is original to ENOFYLZ Wine Blog.com. Copyright 2016 ENOFYLZ Wine Blog. All rights reserved.