Over the course of a week, my wife and I drink a bunch o'wine – almost always with food. Since I've always been fascinated by wine at the table with food, I thought it would be fun to recap not only the wines we've been drinking, but also how they pair (or don't pair) with the foods at our table.  It features my pick for Wine of the Week (WoW) – a  wine I particularly enjoy, whether it's something new and different, is a great value, or from a producer worth checking out for the week ended February 21st 2016
N.V. Pacific Redwood Organic Red – Retail – $8 USA, California, North Coast, Mendocino
Ruby color with low-key red berry aromas. On the palate it's light-bodied, lacking in the mid-palate with slightly watered down and tart blackberry, plum, vanilla flavors. Good; 83pts.
2013 Campovida Dolcetto Fox Hill – Retail – $37 USA, California, North Coast, Mendocino County
Ruby color with perfumed dried rose, black and red fruits, and a hint of menthol aromas. On the palate, it's shows a nice (and pleasing) weight for a Dolcetto. It's well structured with firm well-integrated tannins and wonderful acidity with dried cherry, blackberry, red plum flavors and a very giving finish. Aged for 14 months in neutral French oak. Outstanding; 90-91 pts
2010 Château la Caminade Cahors Élevé en Fût de Chêne – Retail – $22 France, Southwest France, Cahors
Garnet color with earthy black fruit (blackberry, plum) aromas. On the palate it's medium-bodied, fresh and a bit tannic with a bit of minerality. Blackberry and plum flavors dominate with a bit of cassis and roast coffee flavors, and a lingering finish. A blend of 97% Malbec with 3% Tannat, this Cahors is sourced from 30-50 year old vines planted in calcareous clay. Very Good; 87-88 pts. This wine was wonderful paired with Chicken BBQ Pizza
2012 Château du Cèdre Cahors Cèdre Heritage – Retail – $13; France, Southwest France, Cahors
Inky violet color with aromatic leather, earth, black fruit, and a bit of violet aromas. On the palate, it's medium-bodied, fresh and smooth with well-integrated tannins with blackberry, plum, black raspberry, graphite flavors underscored by an appealing minerality and a lingering satisfying finish. A steal at $13! Very Good; 88-89 pts
– Wine of the Week –
I tried my first wine explicitly marketed as an "organic"  this week.  The wine was a Christmas gift from a party who shall remain unnamed.  You know the cliché – "Life is too short to drink bad wine"?  We'll l took it to heart after a half glass of the Pacific Redwood Organic Red.  I didn't care for it.  Shall we move on to better wine (my palate screams…Yes,please!)?
If you follow this blog regularly, then you know that my wife and I founded the Pacific Point Wine Tasting Club in 2010.  It's a great wine tasting club that is thriving 6 years on.  Last week we had a blind tasting of Malbec.  I was reasonably confident all the bottles (there were 11) would be from Argentina.  I was right.
Though France is the birthplace of Malbec, Argentina has made a name for itself with Malbec.  Just to mix things up a bit, and offer an educational opportunity for those who arrived early, I purchased a couple of bottles fo Malbec (a.k.a."Cot") from the Cahors.   To put it succinctly, Malbec from Argentina = cocktail wine (fruit forward, plummy, smooth texture).  Malbec from France = food wine (savory, firm tannins, tart, blackberry, plummy). I enjoyed both wines, though I enjoyed the one that cost less more!
My Wine of the Week ("WoW") is a distinctive Dolcetto from Campovida. This wine took me by surprise.  I've had a few Dolcetto's, but none like this.  I normally think of the wines as light-bodied, tart affairs. This one had more weight, complimented by a great structure showcasing lifted aromatics, well integrated dusty tannins, and freshness with great flavors. Definitely a winner in my book!  Highly recommended.  You may find the wine here. And Campovida is a producer I highly recommend as well!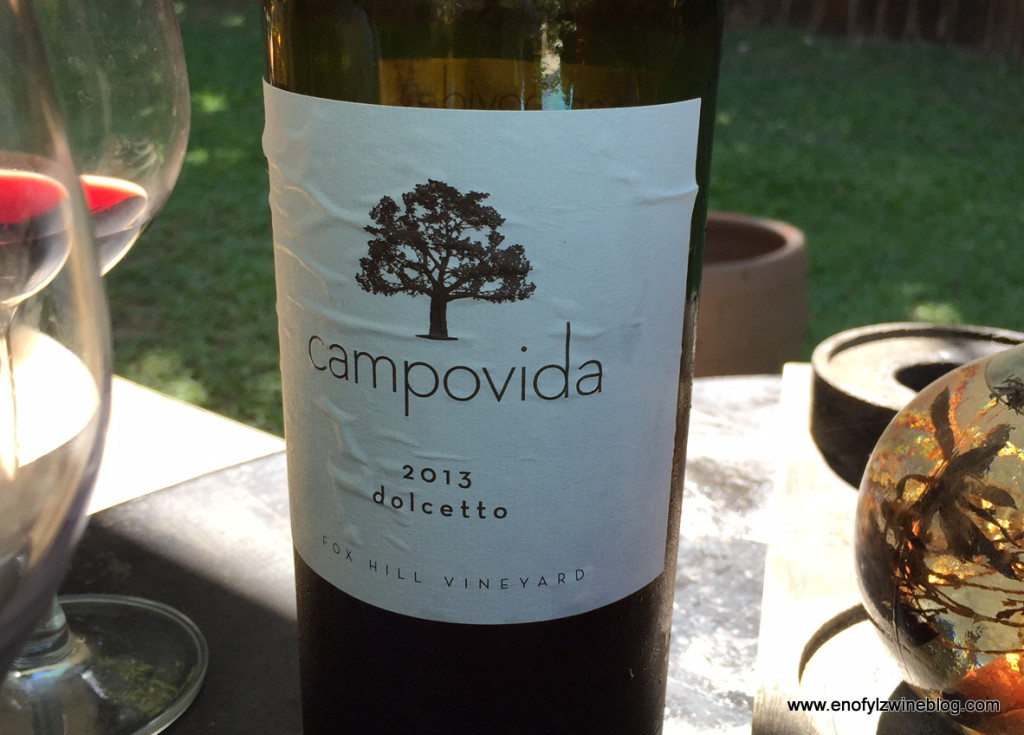 More about Campovida
Campovida is a family owned and operated certified organic farm and working vineyard located in Hopland, California in Mendocino County.  It's a unique place that offers deep connections with nature, wine tasting, a professional culinary kitchen, a 10-room retreat center. It's a place where you can relax, enjoy and create your custom gatherings. The property is located on a site that was formerly the Fetzer Valley Oaks Food & Wine Center , a 51-acre property originally opened and founded by the Fetzer family.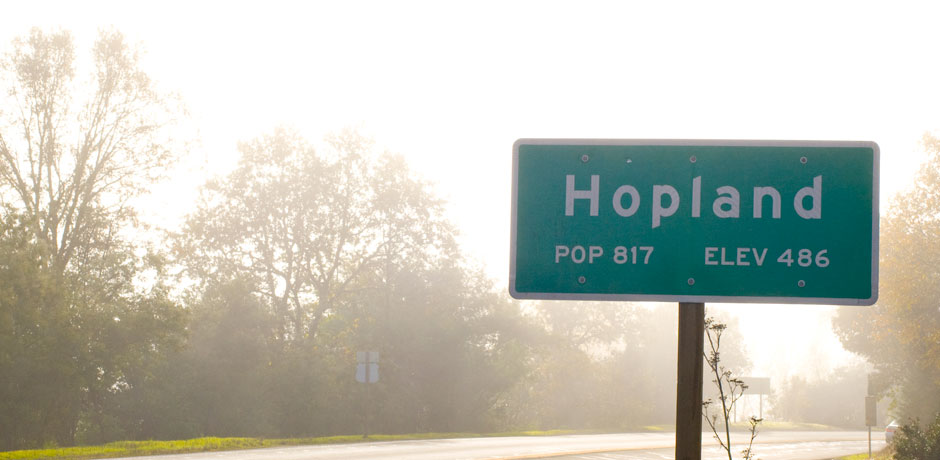 The husband and wife team of Gary Breen and Anna Beuselinck are owners of Campovida. The couple purchased the property intending to make it their dream home. But it's evolved into Campovida.
The winemaker is Sebastian Donoso. Sebastian, who was born in Chile, moved to the United States with his family when he was 14. He attended architectural school in Miami, Florida, but quickly realized that's not what he wanted to do with the rest of his life.  He moved to California and graduated from Fresno State University with a degree in enology and began his career as a winemaker at Sarcina.  He became winemaker for Campovida in 2012.


From the Campovida website…We are a family business created by Gary and Anna, along with our daughters Faith and Gabriella, and our dog Buster. We are farmers. We are makers. We are parents and we are friends.  We see and partner with real farmers, so we can create real wine to be celebrated with real friends.
We are just beginning.
Making wines of sourced from organic and biodynamic vineyards of Mendocino County. Beauty in a bottle that leads to conversations and celebrations at the table.
Our garden is abundant with plant and wild life.  We tend to all of nature's activities and are humbled daily by what we learn.  The garden is for our guests, members and our families – be sure to connect with us about how and when you can visit.
What was your Wine of the Week?
Note. All wines were purchased for review unless otherwise indicated
_________________________________________________________________________
Follow me on Twitter, Facebook, Instagram, Vivino and Delectable, for all things wine. As a wino with latent foodie tendencies, you'll also find food and wine pairings, and food related stuff! Become a fan and join ENOFYLZ Wine Blog on Facebook. Cheers! This article is original to ENOFYLZ Wine Blog.com. Copyright 2016 ENOFYLZ Wine Blog. All rights reserved.