Over the course of a week, my wife and I drink a bunch o'wine – almost always with food. Since I've always been fascinated by wine at the table with food, I thought it would be fun to recap not only the wines we've been drinking, but also how they pair (or don't pair) with the foods at our table.  It features my pick for Wine of the Week (WoW) – a  wine I particularly enjoy, whether it's something new and different, is a great value, or from a producer worth checking out for the week ended February 14th 2016
2007 Beringer Vineyards Cabernet Sauvignon Private Reserve – (this wine was a gift; avg. price per Winesearcher.com = $132) Purple violet color with aromatic and very appealing black cherry, blackberry, cassis, licorice, violet, and a bit of roast coffee aromas. On the palate it's harmonious, focused, and long with a supple texture with firm tannins and blackberry, cassis, red currant, flavors with a bit of dark chocolate. Long finish Still young but showing the promise of what's to come; 97% Cabernet Sauvignon, 3% Cabernet Franc. Marvelous paired with Prime Rib!  Outstanding; 92-93pts
2013 Campovida Pinot Noir Oppenlander Vineyard – Retail $45; Ruby color with appealing cherry, pomegranate, dried rose and a bit of lavender aromas. On the palate it's light-bodied, and very fresh with a pleasing savory edge, and well-integrated dusty tannins, with cherry, red currant, pomegranate flavors, and a lingering finish. Fermentation: 50% of the lot was de-stemmed and berries slightly split into macro-bins while 50% was left whole-cluster. Aged on its lees for 14 months in neutral French oak Stirred once every other month to increase mouth-feel. 13.5 % alcohol. Retail $45. Approachable now,but should age well. Very Good to Outstanding; 89-90 pts
2009 Pierre Brigandat Champagne Brut – Retail $28; The wine is a very pale almost clear gold with a green tinge color and a tiny persistent bead, and pie crust, green apple, guava, and citrus zest aromas. On the palate it's full-bodied, nuanced and well-balanced with zesty acidity and green apple, lemon-lime zest, guava, and a bit of pear flavors with an appealing vein of minerality. Outstanding; 90-91 pts
2012 Trimbach Riesling – Retail $17; The wine pours a pale golden-yellow color with promising petrol, ocean spray, citrus, peach and touch of honey aromas. On the palate it's between light and medium-bodied, and dry with mouth-watering acidity. It's sleek, understated and impeccably structured with a great texture. It shows white peach, honey, and citrus (sometimes lime, sometime lemon, even a whisper of mandarin orange) flavors with a long concentrated finish.  Very good quality/price ratio for $17.  My first Trimbach…not my last! Very Good to Outstanding; 89-90 pts
– Wine of the Week –
This week's wines hit the "trifecta". There's an outstanding wine, a great value, and a producer worth checking out.  Plus a wine resource worth checking out.  Let me begin at the last one – a wine resource worth checking out.  I considered the 2009 Pierre Brigandat Champagne Brut to be outstanding. It's cost me $28 (I purchased a half-case; price before shipping). A champagne of this quality for that price is rare.  I purchased via Cruzu.com, which is "crowd funding for wine" after getting a referral from Jeff Burrows of FoodWineClick (I highly recommend his website).  It was a great experience, and I've been have been happy with the Pierre Brigandat champagne. If you're looking to score a deal for some wine, check out Cruzu!
The Campovida Pinot Noir was wonderful. Campovida is a producer worth checking out. They're based out of Hopland, where their property includes their estate vineyard, a farm, and home.  They're great folks and their wine reflect a sense of place, sapidity, and balance.
My "value" wine this week comes from venerable Alsatian producer Trimbach. The winery was established in 1626!  I picked up a bottle of their entry-level 2012 Trimbach Riesling.  It's a fantastic Riesling and only $17.  I'll be buying more.  As befits Riesling, it paired well with Chicken Estofado and Seafood Gumbo!
My WoW is the 2007 Beringer Vineyards Cabernet Sauvignon Private Reserve.  If you're regular follower of this blog, you know that I have a very generous boss, who knows I'm into wine.  He gave me this bottle for Christmas a couple of years ago.  It's a fantastic Napa Valley Cab that's still young, but is already a great bottle! You can find a bottle here.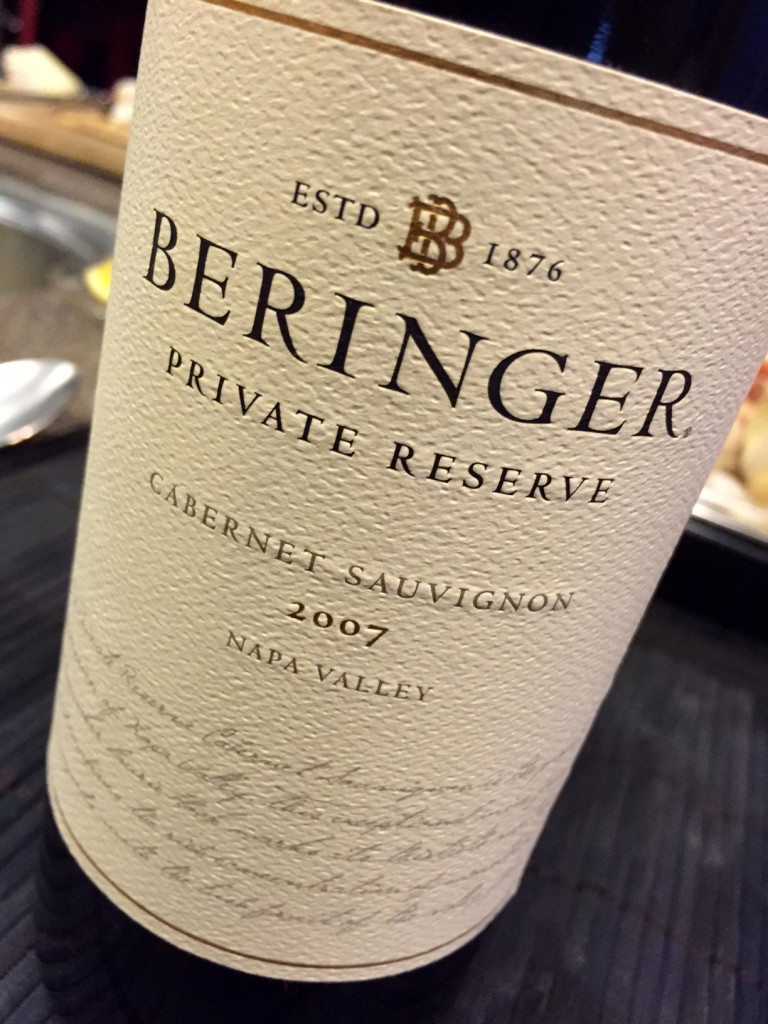 More about Beringer Private Reserve Cabernet Sauvignon

From the winery…Beringer Private Reserve represents the pinnacle of the portfolio. Former Chief Winemakers Myron Nightingale and Ed Sbragia created the Private Reserve program in 1977 with the goal of crafting Napa's finest Cabernet Sauvignon. The Private Reserve Chardonnay was introduced with the 1978 vintage, and together these wines have earned three decades of extraordinary accolades, including two "Wine of the Year" awards. Beringer farms an extraordinary collection of seven single vineyard sites across Napa Valley. Hailing from Howell Mountain, Spring Mountain, Mt. Veeder, and St. Helena, these single vineyards deliver unique styles of Cabernet Sauvignon that are combined to form our flagship Private Reserve Cabernet Sauvignon.
What was your Wine of the Week?
Note. All wines were purchased for review unless otherwise indicated
_________________________________________________________________________
Follow me on Twitter, Facebook, Instagram, Vivino and Delectable, for all things wine. As a wino with latent foodie tendencies, you'll also find food and wine pairings, and food related stuff! Become a fan and join ENOFYLZ Wine Blog on Facebook. Cheers! This article is original to ENOFYLZ Wine Blog.com. Copyright 2016 ENOFYLZ Wine Blog. All rights reserved.