Over the course of a week, my wife and I drink a bunch o'wine – almost always with food. Since I've always been fascinated by wine at the table with food, I thought it would be fun to recap not only the wines we've been drinking, but also how they pair (or don't pair) with the foods at our table.  It features my pick for Wine of the Week (WoW) – a  wine I particularly enjoy, whether it's something new and different, is a great value, or from a producer worth checking out for the week ended January 31st 2016
2013 Sato Pinot Gris; Retail – $25  This fascinating wine pours pink tinged orange color. Initial aromas of spice apple gives way to a complex and appealing cherry, spice, wet stone, rose petal, aromas with a hints of earth, menthol and a slightly oxidized note. On the palate, it's fresh and savory with a wonderful texture, and dusty well-integrated tannins with spiced cherry, a bit of apple flavors with a bit of minerality. Lingering finish with a bit of natural, harmless sediment. Outstanding; 90-91pts
2012 Bedrock Wine Co. Cuvée Karatas – Retail $38 – Deep golden-yellow color with aromatic, perfumed floral, spiced citrus, pear nectar, and honey with a hint of wet stone aromas. On the palate it's show surprising weight. It's focused, and well structured showing lively acidity and great mouth feel with melon, spiced orange, tangerine, and honey flavors. Long finish. Blend of 60% semillon from vines in the Monte Rosso vineyard that were planted in 1886 and 40% sauvignon blanc from Kick Ranch; 50% new oak. Outstanding; 91-92pts
2012 Carlisle Zinfandel Monte Rosso Vineyard – $38.50 – Purple/violet color with aromatic aromas. initial aromas that brings to mind truffles gives way to black cherry cobbler, chocolate, with hints of orange rind and strawberries. On the palate it's round, with a great texture, wonderful acidity and well-integrated tannins with black cherry, blueberry, chocolate flavors with an intensely spicy long finish. 94% Zinfandel/6%Grand Noir Outstanding; 91-92pts
2010 Carlisle Syrah James Berry Vineyard – $40 – Shows beguiling blackberry, baked blueberry, black olive, licorice and, with some time in the glass, violet aromas.  On the palate its elegant,and fresh with an alluring texture with focused blackberry, blueberry compote , and vanilla flavors. If you're thinking Paso means it's not cool climate you'd be wrong. The James Berry vineyard is actually quite cool thanks to a considerable marine influence. 15% alcohol. Outstanding; 92-93pts
– Wine of the Week –
It's been a great week for wine in my book when I've enjoyed a few wines from Bedrock Wine Co. and Carlisle Winery and Vineyards!  We don't typically drink this well throughout the week (I rated all the wines as outstanding), but we've been laying down Bedrock and Carlisle wines for years.  Now it's time to start drinking them!.  Besides, I've featured the wines more than a few times as my Wine of the Week ("WoW").
That makes the 2013 Sato Pinot Gris my WoW.  It's a "natural" prolonged skin contact (3 months) "orange" wine of Pinot Gris. Yoshiaki Sato and his wife Kyoko have quickly made a name for themselves producing some of the most highly talked about and sought after wines in NZ. Yoshi sources only from organically farmed sources. He refuses to use any added yeast, enzymes etc. The wines are not fined or filtered.
This was my first wine classified as "natural".  Natural wine can be controversial, in part because there is no universal definition of what, exactly, is a "natural" wine.
Wine lingo these days is full of references to "crafting" wines, and expression of place or terroir. It's seems to be that a natural wine is the purest expression of place possible. I like that!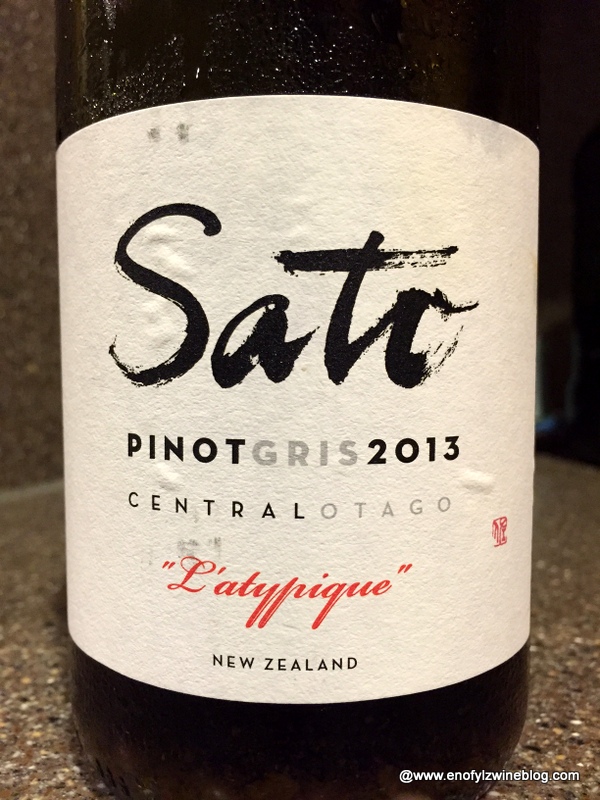 I'm a huge fan of "orange" wines and this was one of the best I've had.  The fact that it's a natural wine is a bonus for me.
More About Sato Wines from K&L Wine Merchants:
If there was a boutique producer in New Zealand that resonated with the micro-production, experimental, semi-hipster, natural, "culty" wines that have taken California by storm in the last few years, Sato would be it. Yoshiaki Sato and his wife Kyoko have quickly made a name for themselves producing some of the most highly talked about and sought after wines in NZ. While travelling in NZ last year many other winemakers I met were really quite jealous that I had managed to pry a few cases of each wine away from Yoshi (whose wines have very quickly become highly allocated and available only to mailing list customers). The wines are essentially "natural wines"…The only thing these wines see is a tiny addition of minimal Sulphur pre-bottling. They are pure expressions of place and season. They are made in miniscule quantities (often just a couple barrels – 100 +/- cases). 
Not for the faint hearted….this is almost entirely natural wine with just 10ppm of sulfur (about a tenth of most wines). The fruit is carefully selected and juice stays in contact with the skins for 3 months. The wine is allowed to slowly macerate in a pretty oxidative environment with very gentle pigeage for light extraction.
Here's a video of Yoshiaki Sato discussing his approach to making "natural" wine…
If you're looking for a natural wine that doesn't compromise on structure and flavor, I highly recommend checking out Sato Wines!
The wines are hard to find, but K&L Wine Merchants has a stash (a couple are on sale too – I paid $25 for this wine, but it's now on sale for $17. Check here.
Have you tried a "natural" wine? What was your favorite wine last week?
Note. All wines were purchased for review unless otherwise indicated
_________________________________________________________________________
Follow me on Twitter, Facebook, Instagram, Vivino and Delectable, for all things wine. As a wino with latent foodie tendencies, you'll also find food and wine pairings, and food related stuff! Become a fan and join ENOFYLZ Wine Blog on Facebook. Cheers! This article is original to ENOFYLZ Wine Blog.com. Copyright 2016 ENOFYLZ Wine Blog. All rights reserved.