Over the course of a week, my wife and I drink a bunch o'wine – almost always with food. Since I've always been fascinated by wine at the table with food, I thought it would be fun to recap not only the wines we've been drinking, but also how they pair (or don't pair) with the foods at our table.  It features my pick for Wine of the Week (WoW) – a  wine I particularly enjoy, whether it's something new and different, is a great value, or from a producer worth checking out for the week ended January 24th 2016
2009 Justin Vineyards & Winery Isosceles – Retail; $55 – Spicy dark fruit and dark chocolate aromas. On the palate it's medium-full bodied and smooth with black cherry, plum, dark chocolate and vanilla flavors. Medium long finish. It's delicious with great fruit, but I prefer a wine with more acidity. Blend of 94% Cabernet Sauvignon, 3% Cabernet Franc, 3% Merlot. Very Good to Outstanding; 89-90pts
2011 JC Cellars Cabernet Sauvignon Stagecoach Vineyard – $Retail; 68 – Brings to mind Cab Franc more than Cabernet Sauvignon. Shows a light-bodied cassis, black cherry, vanilla character, well-integrated tannins and very good acidity. Very Good; 87-88pts
2012 Under The Wire Chardonnay Sparkling Brosseau Vineyard; Retail; $45– Love this single vineyard vintage California bubbly. It's charismatic, layered, broad, energetic, and vinous with a yellow orchard fruit, ginger, floral, mixed citrus (lime and a hint of blood orange marmalade), gentle spice character underscored with an appealing wet stone minerality. 12% alcohol, 22 months on lees, dosed at 3g/L Outstanding; 91-92pts
2012 Sebastien Dampt Chablis 1er Cru Vaillons; Retail-$24 – Pale yellow gold color and aromatic with buttered bread, chalk, baked green apple and a hint of spice aromas. On the palate it medium bodied, fresh and focused with green apple , pear, bit of Meyer lemon and spice flavors. Long finish Sample. Very Good to Outstanding; 89-90pts
2001 Marques de Legarda Rioja Gran Reserva de la Familia; Retail $30 – Ruby color with leather, red fruit, damp earth, balsamic and spiced vanilla aromas. On the palate it's light and medium bodied, with harmonious strawberry, mixed ripe and sour cherry, a hint of cranberry, vanilla and mineral flavors buoyed by good acidity. Long finish. Gains complexity with time in the glass. 13% alcohol. Outstanding value at $30. Outstanding; 90-91pts
– Wine of the Week –
Since we're at a point where a lot of the wines we've cellared for years are ready to drink, we've been drinking more expensive wines on a weeknight. It hasn't always been that way.  But as a result we're drinking pretty well on a weeknight, and it's becoming more and more of a challenge to pick a Wine of the Week ("WoW").  For value a couple of wines stood out for me the Sebastien Dampt Chablis 1er Cru Vaillons (a great value for Premier Cru Chablis), and the Marques de Legarda Rioja Gran Reserva de la Familia (likewise a damned good value for a Gran Reserva Rioja).   
But this week most memorable wine, and my WoW was the Under The Wire Chardonnay Sparkling Brosseau Vineyard.  Under The Wire is a producer you need to check out if you enjoy sparkling wines.  The 2012 Under The Wire Brousseau Vineyard is 100% Chardonnay.  Partners, Chris Cottrell and Morgan Twain Peterson are  dedicated to single-vineyard, single-vintage sparkling wines.  They believe a sense of place can expressed through bubbles.  Think terroir-driven grower Champagne. But, of course it's California sparkling made from some very distinct vineyards sights.
Brousseau Vineyard, located in the Chalone AVA is a great example.  Wineries like Copain, Wind Gap, Donkey & Goat, and Loring Wine Company produce still wines from the esteemed fruit.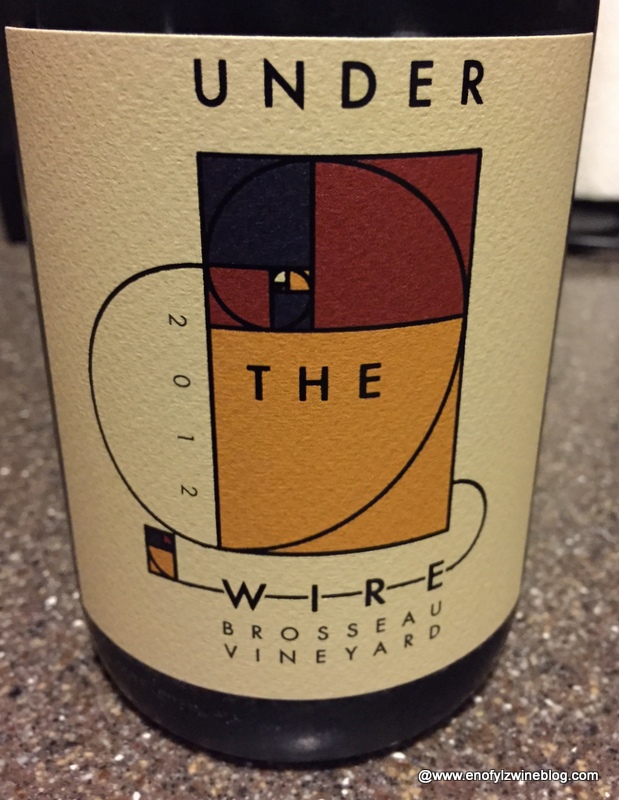 I also enjoyed the 2011 Brousseau (the first release) last year and thought that was also outstanding.
The 2012 was even better.  I'm not surprised.  Chris and Morgan are committed to excellence and have a passion for the craft of winemaking.
The wine is sold via mailing list. Get some!
More about Under The Wire
From the winery…Under the Wire is a project grown from a mutual friendship and love for wines with bubbles. Our simple, yet unique premise is to make California sparkling wines based on an individual vineyard in an individual year. Inspired in part by the grower Champagne movement we aim to prove that California can produce unique, delicious and terroir-driven sparkling wine.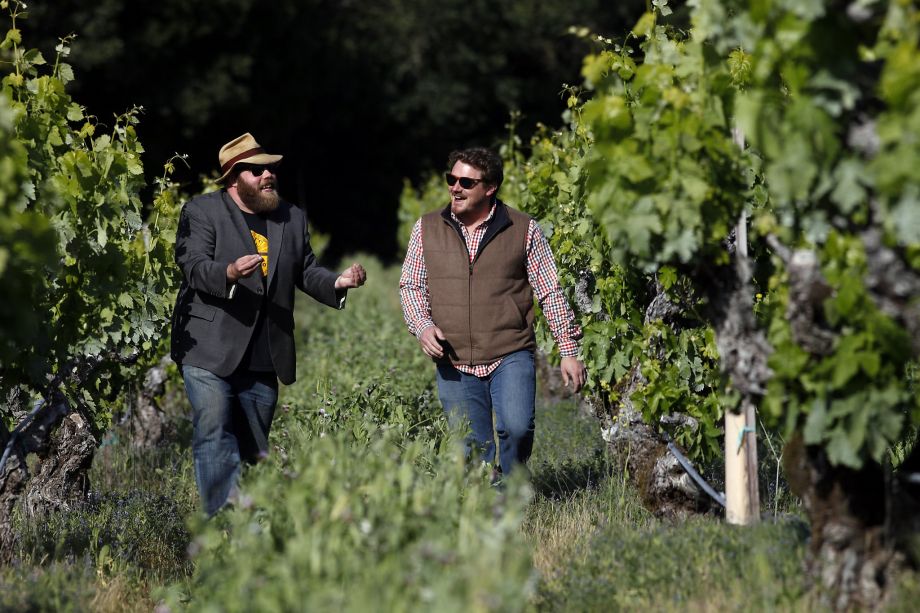 The first two wines from Under the Wire are a Chardonnay from the 2011 vintage from Brosseau Vineyard and Zinfandel Rose' from our beloved Bedrock Vineyard in Sonoma Valley. We are beyond excited to be releasing our first efforts and equally pleased with the wines to be released in the future from Hirsch and Alder Springs Vineyards.
Note. All wines were purchased for review unless otherwise indicated
_________________________________________________________________________
Follow me on Twitter, Facebook, Instagram, Vivino and Delectable, for all things wine. As a wino with latent foodie tendencies, you'll also find food and wine pairings, and food related stuff! Become a fan and join ENOFYLZ Wine Blog on Facebook. Cheers! This article is original to ENOFYLZ Wine Blog.com. Copyright 2016 ENOFYLZ Wine Blog. All rights reserved.