My wife and I do more than our fair share of wine tasting.  We've hit all the major wine regions in California (and a few minor ones too;-), along with some tasting in Oregon, Spain and Champagne.  From time to time we have a wine tasting experience that stands above the rest, and is everything we're looking for – great wine and commendable service in a relaxed unpretentious environment. It's those such experiences that are the focus of this "No Reservations" series.  Why "No Reservations"? Because I can honesty say I have "No Reservations"  about recommending the winery anyone who is looking for a great wine tasting experience.
The latest in this series features an East Bay urban winery – Urban Legend Cellars.   My complete review of Urban Legend Cellars, including history, a recap of the tasting experience, reviews of wines tasted, and insider tips may be found on the American Winery Guide's website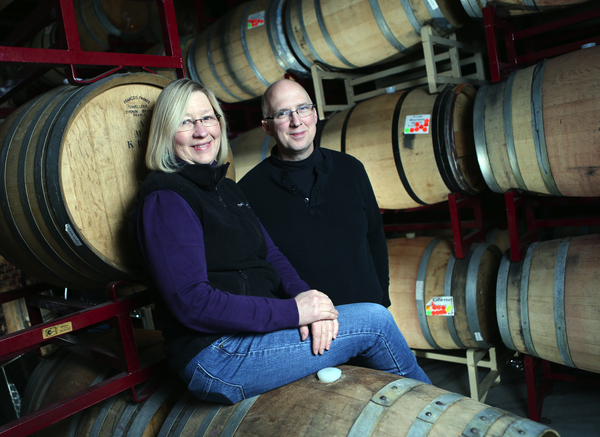 More about Urban Legend Cellars
Here's a Q&A of co-owner Marilee Shaffer (source)
Oakland winemakers Marilee and Steve Shaffer are redefining terroir at Urban Legend Cellars with a line of neighborhood-themed table wines, such as The Ironworks and West-O, and an expanding, premium pinot noir program that soon will include the Santa Cruz Mountains and Russian River Valley plus Napa's Carneros.
From rosé of barbera to Lake County riesling, the Shaffers, who produce 2,000 cases a year, have worked with a whopping 20 varietals since they opened their winery five years ago in the Ironworks district near Jack London Square. Their label features a Port of Oakland waterfront container-loading crane that operates just a few blocks from the winery.
1 Claim to fame? The Neighborhood, a line of red table wines that celebrate the diversity of Oakland's districts. Urban Legend's homage to the Ironworks, an old metalworking area, is a blend of nebbiolo and sangiovese; the posh Uptown is a Bordeaux blend; and the art renaissance taking over West-O is represented in a brooding blend of zinfandel and petit sirah. The one-liter bottles are refillable and cost $24. "With this, we can have some fun, do something sustainable for the neighborhood, and celebrate how cool it's getting to be here in Oakland," Marilee Shaffer says.
2 Why an urban winery? "We were being our classically entrepreneurial selves and lamenting the absence of food-oriented wines in the East Bay, one of the most food-oriented places in the world. We wanted to return to that idea of wine and food together, so, we said, why not stay right here, where we've got a built-in muse?"
3 Biggest challenge? "Visibility. And helping sell the idea of the urban scene as a legitimate and credible place to make wine."
Stay tuned: Urban Legend's future holds many new wines, including a Santa Cruz Mountains pinot noir, a grenache blanc from the Capay Valley, and a late-harvest viognier, the company's first sticky (sweet wine), from Lodi.
_________________________________________________________________________
Follow me on Twitter, Facebook, Instagram, Vivino and Delectable, for all things wine. As a wino with latent foodie tendencies, you'll also find food and wine pairings, and food related stuff! Become a fan and join ENOFYLZ Wine Blog on Facebook. Cheers! This article is original to ENOFYLZ Wine Blog.com. Copyright 2016 ENOFYLZ Wine Blog. All rights reserved.