Over the course of a week, my wife and I drink a bunch o'wine – almost always with food. Since I've always been fascinated by wine at the table with food, I thought it would be fun to recap not only the wines we've been drinking, but also how they pair (or don't pair) with the foods at our table.  It features my pick for Wine of the Week (WoW) – a  wine I particularly enjoy, whether it's something new and different, is a great value, or from a producer worth checking out for the week ended January 17th, 2016
After a bit of a hiatus, I'm happy to be back blogging about the wines we enjoyed over the course of a week.  Life, work and unfortunately a death in the family got in the way for a while.
2014 Dashe Cellars Rosé of Zinfandel-Todd Brothers Ranch – Retail $20; Strawberry red with red berry, rose petal, and peppery spice aromas. On the palate, it's fresh with very nice weight, especially for a rosé, with strawberry, cherry, spice and a hint of guava flavors and a wonderful minerality. Lingering finish. Very Good to Outstanding; 89-90pts
Pierre Brigandat Champagne Rosé – Retail $30; Strawberry red color with perfumed rose and ripe red berries aromas, and plenty of active tiny bubbles. On the palate it's juicy, and well structured offering focused cherry, tart strawberry, and raspberry flavors with a subtle, but very appealing minerality and a lingering finish. 100% saignee Pinot Noir Outstanding; 90-91pts
2012 Giornata Gemellaia – Retail $40; Violet color with aromatic cherry, cassis, anise, roast coffee,with hints of violet and dried herb aromas. On the palate it's medium-bodied, with a velvety texture and well integrated dusty tannins with dark cherry, cassis, a bit of plum, roast coffee, black licorice, and a hint of caramel flavors with an appealing savoriness on the back end. Long finish. 14.3% Blend of 60% Sangiovese, $30% Cabernet Sauvignon, and 10% Petit Verdot. – Outstanding; 91-92pts
2012 Domaine Bart Fixin 1er Cru Hervelets – Retail $40; A subtle touch of pencil shavings sets off ripe and relatively elegant notes of black and red cherry, earth, warm spice with pretty floral notes. On the palate it's medium-bodied and layered with intense mixed red and black cherry, raspberry flavors with ample minerality, and a subtle rustic character wrapped around dusty well-integrated tannins and bright acidity. Very Good to Outstanding; 89-90pts
– Wine of the Week –
After spending a week in the Philippines with my wife to attend my mother-in-law's funeral, I'm happy to be back in good old U-S of A and the wonderful selection of wine we have here!
There was much to like during my first week back.  The Dashe Zinfandel of Rosé is very good and very food friendly as well.  It's a bottle I took to the Philippines.  I enjoyed it with some grilled chicken there as I taught my twenty-something nephew a little bit about how to taste wine.  He's way ahead of where I was, in terms of drinking wine, than I was when I was in my twenties! The 2012 Domaine Bart Fixin 1er Cru Hervelets was my first Premier Cru red Burgundy(and a nice value at $40 for Preimier Cru). And it part of an other worldly pairing with a double cream Fromager d'Affinois Truffle cheese! The best deal of the week though was the Brigandat Brut Rosé!  I purchased the wine via Cruzu.com, which is sort of crowd sourced wine buying.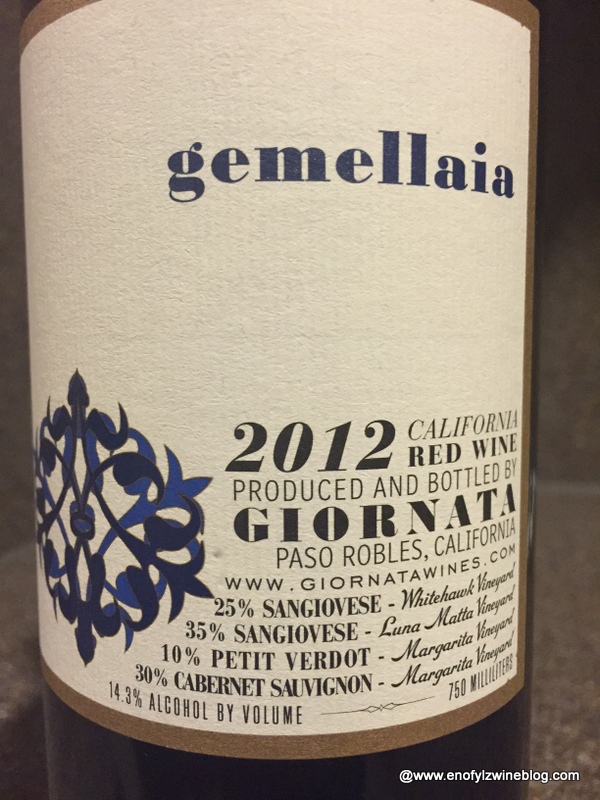 I found about the deal from fellow food/wine blogging buddy Jeff Burrows of FoodWineClick (check out his website for some great food and wine pairing idea/tips).  It was part of a mixed half-case which I purchased for under $30/bottle! It's rare you find Champagne this good for under $30!  My WoW is the Giornata Gemellaia. It's an outstanding Super Tuscan that I picked up on a weekend trip to Paso Roble/Cambria for my wife's birthday back in November.  I found out about Giornata after reading Jon Bonne's New California Wine last year.  We stopped in for a fantastic tasting and picked up this bottle and a few others.
About Giornata
From the Giornata website:The journey in creating Giornata started with a dream to create wines from Italian grapes grown in California employing the sensibility and philosophy of Italian winemaking. We work with the same grape vines (clonal material) as the best producers in Italy. The Central Coast of California posseses many of the attributes of the top wine growing regions of Italy. Our winemaking style leans more Italian than Californian in that we favor wines with balance and subtlety rather than intensity and extraction. We pick our grapes at lower sugar levels and handle our must gently in the cellar, thus resulting in wines that belong on the Italian dinner table possesing both ample acidity and tannin. Traveling to Italy on a regular basis, we continue to receive feedback on our efforts while researching Italian winemaking and viticultural methods.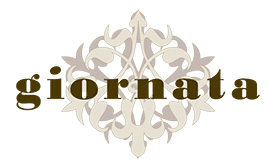 The winery is owned by Brian and Stephy Terrizzi. Here's what Bonné says about the couple…In addition to her vineyard work and his efforts with the Broadside label, Stephy and Brian Terrezzi have taken on the most frustrating of California pursuits: interpreting Italy's grapes in the New World.
If this wine and the other we tasted are any indication, they're doing just fine!
_________________________________________________________________________
Follow me on Twitter, Facebook, Instagram, Vivino and Delectable, for all things wine. As a wino with latent foodie tendencies, you'll also find food and wine pairings, and food related stuff! Become a fan and join ENOFYLZ Wine Blog on Facebook. Cheers! This article is original to ENOFYLZ Wine Blog.com. Copyright 2016 ENOFYLZ Wine Blog. All rights reserved.