Last month, I was thrilled when I received an invitation to participate in a fun competition for the 2016 Wine Blog Trophy. Organized by the Loire Valley Wine Trade Fair, which takes place in Angers from February 1 to 3, 2016, the essence of the competition is to guess the appellation and vintage of two mystery bottles (one each white and red) of wine from the Loire Valley. 
I was excited about the competition because I'm a big fan of the Loire Valley.  My favorite under $20 sparkling rosé wine is a Crémant de Loire. But, I'm also a big fan of the whites (Muscadet [my go-to wine for raw oysters], Sancerre, and Vouvray), rosé, and reds (Chinon and Bourgueil) of the region.
And hey….win, lose, or draw, it's Loire Valley wine at no cost to me.
What's not to like?

The friendly competition was open to both American, Irish and French wine bloggers.
After tasting the two wines, were asked to go on www.wineblogtrophy.com to register our answers and tasting notes.
The first blogger who will give the two correct answers wins the Wine Blog Trophy 2016!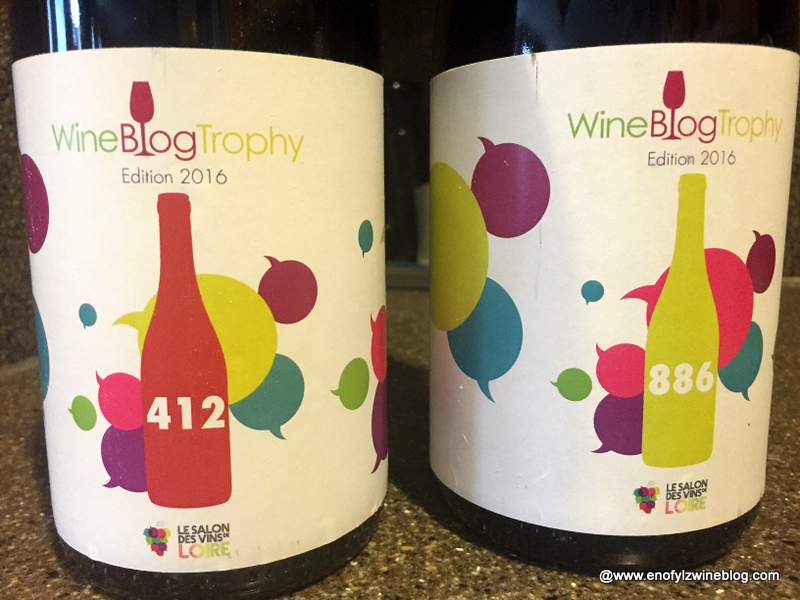 After receiving the wines, I tasted and wrote up my tasting notes:
Cuvée 886 – Pale yellow with lemon, grass, quince, and wet stone aromas. On the palate it's light-bodied, fresh and easy-going with lemon, quince, and under ripe white peach flavors with a nice vein of herbaceousness.
Cuvée 412 – Dark ruby color with red berry, black currant,  and mineral aromas with a kiss of floral aromatics. On the palate, it's light-bodied, fresh,  and nicely balanced with black cherry, raspberry, black currant flavors underscored by an appealing minerality.  My wife and I enjoyed it with Paella Mixta of salmon and sausage.
My guess for the appellation both wines was Fief Vendéens.  In terms of vintage, I guessed 2013 for the red and 2014 for the white.
Why Fief Vendeens? I thought the red was a blend of (mostly) Gamay and Cabernet France. And I thought the white was a blend of (mostly) Sauvignon Blanc, and Chenin Blanc.
I logged on the aforementioned website to register my guess, but I was too late.  The competition was over!
It's just as well…I was wrong.
The two appellations of the Mystery Bottles were Côte Roannaise for Cuvée 412 (2014 – Domaine Sérol, Eclat de Granite), and Coteaux du Giennois for Cuvée 886 (2014 – Vignobles Berthier, Terre de Silex)
The winner was Yann DEREU – www.ah-le-vin.blogspot.fr, who correctly guessed one of the two appellations/vintages correctly.
Both these are new to me appellations (as was Fief Vendéens).  Once I found out which appellations the wines were from, I checked out the excellent Loire Valley Wines website for more information.
Côte Roannaise, located in the far south of the Loire region, produces rosé and red wines exclusively from Gamay.
Coteaux du Giennois is an appellation on the eastern edge of the Loire Valley northeast of Sancerre produces almost equal amounts of light-bodied red and white wines, with a small portion of dry rosé as well. The whites are Sauvignon Blanc.
The Fiefs Vendéens is a relatively small appellation produces a wealth of wines: white (Chenin Blanc, Chardonnay, Grolleau Gris, Sauvignon Blanc), rosé and red (Gamay, Pinot Noir, Cabernet Franc, Négrette).
This was a fun competition for me. I very much enjoyed learning about a few new-to-me wine appellations in the Loire Valley. Both the wines were delightful.  And I expect nothing less from the Loire Valley!
More About the Loire Valley
The Loire Valley, two hours southwest of Paris is known as "the Garden of France" due its abundance of fertile farmland that include vineyards along with fruit and vegetable farms which line the banks of both sides of the Loire River. The Loire is the longest river in France.
"The Loire is a garden, a mosaic of tastes and flavors with 45 appellations that attract curious wine lovers." – Jean-Pierre Gouvazé
From a vinous perspective, the Loire Valley is one of the largest wine regions of France.  It covers fifteen departments and 52,000 hectares (128,000 acres) of vines shared between 7000 growers, who produce nearly 400 million bottles of wines annually.  It's so large it's 60 appellations are spread over three large areas – The Western (home of Muscadet – home of my favorite still wine for oysters!), Middle (Vouvray, Touraine and Chinon) and the Upper Loire (includes, arguably the regions most well-known appellations Sancerre and Pouilly-Fume). It's France's most diverse wine region producing red, white, rosé, sweet and sparkling wines.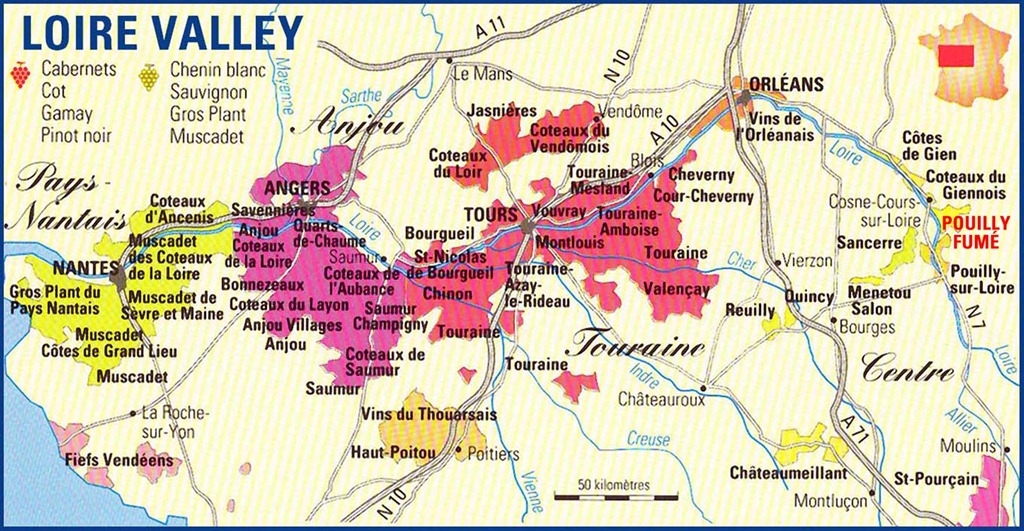 Disclosure of Material Connection:  I received wines at no cost from Clement et Florian Berthier, Domaine Robert Sérol, and Loire Valley Wines.  I was not required to write a positive review and the opinions I have expressed are entirely my own.
_________________________________________________________________________
Follow me on Twitter, Facebook, Instagram, Vivino and Delectable, for all things wine. As a wino with latent foodie tendencies, you'll also find food and wine pairings, and food related stuff! Become a fan and join ENOFYLZ Wine Blog on Facebook. Cheers! This article is original to ENOFYLZ Wine Blog.com. Copyright 2015 ENOFYLZ Wine Blog. All rights reserved.