One of the things I love most about food and wine is their ability to transport one to a different place.  And a  place's people, culture, and customs are reflected in its food and wine.  In that sense, one can virtually travel the world through food and wine.  And that is exactly what we are doing through Italian Food Wine and Travel (#ItalianFWT).  We are taking a virtual tour of Italy by exploring its food and wines.  This month we're exploring Friuli Venezia Giulia!
Here's a great overview of the Friuli-Venezia Giulia region from Lonely Planet:
With its triple-barrelled moniker, Friuli Venezia Giulia's multifaceted nature should come as no surprise. Cultural complexity is cherished in this small, little-visited region, tucked away on Italy's far northeastern borders with Austria and Slovenia. Friuli Venezia Giulia's landscapes offer profound contrasts too, with the foreboding, perpetually snowy Giulie and Carnic Alps in the north, idyllic grapevine-filled plains in the centre, the south's beaches, Venetian-like lagoons and the curious, craggy karst that encircles Trieste.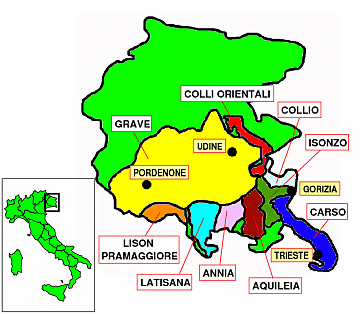 While there's an amazing reserve of often uncrowded historical sights, from Roman ruins to Austro-Hungarian palaces, this is also a fine destination for simply kicking back with the locals, tasting the region's world-famous wines and discovering a culinary heritage that will broaden your notions of the Italian table. Serene, intriguing Trieste and friendly, feisty Udine make for great city time – they're so easy and welcoming you'll soon feel as if you're Friulian, Venezian or Giulian too.
The Wines of Friuli
Over the years, I've heard many good things about the wines produced in Friuli-Venezia Giulia. In fact, when I first considered joining the #ItalianFWT, it was primarily because Friuli was at the top of "wines to taste" list!
Friuli is a small wine region with a big reputation for producing some of Italy's best white wines.  The region's wines stand out noticeably from other Italian wines because its wines are made using a combination of (mostly) non-traditional  and traditional grape varieties.  The non-traditional grape varieties include grapes such as Merlot, Sauvignon Blanc and Riesling.  While the traditional and indigenous grape varieties include quintessentially Italian grapes such as Pinot Grigio and the region's own Picolit, Ribolla Gialla and Friulano.
The region's winemakers have a reputation for being forward-thinking. They even pioneered the "Friuli method", a modern technique for getting juice off the skins quickly.
Friuli holds three DOCG titles, all for white wines. The Colli Orientali del Friuli Picolit and its Ramandolo enclave in the region's eastern hills produce sweet whites from Picolit and Verduzzo grapes. They were joined at this highest rank of Italian wine classification in December 2010 by the dry, Verduzzo-based wines of Lison.
There are ten DOCs in Friuli.  Two are generally considered to be exceptional – Collio Goriziano, which is usually known simply as Collio, and Friuli Colli Orientali. 
In My Glass
It's actually been cold in California recently(well Ok…Cold for California; lows in upper 30s ; highs in upper 50s where I live).  That put me in the mood for red wine.  So no Friuli whites, or orange wines for me this go round.  And since, I'm a sucker for new to me autochthonous (indigenous) grapes, I picked up a bottle of the 2009 Ermacora Pignolo Colli Orientali del Friuli  from my favorite wine store, K&L Wine Merchants.
Pignolo is rare grape, native to Friuli and known for being "grumpy" and difficult to grow. Until a few decades ago, it was all but obsolete. The Ermacora family is among the few brave winemakers to replant this grape, and its patience has been rewarded.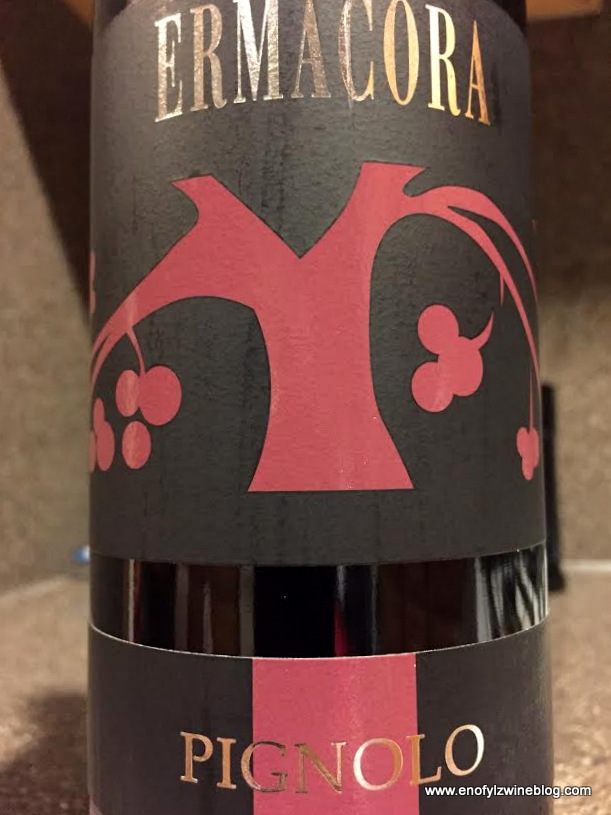 The wine pours an inky violet ruby color with beguiling, and complex black fruit, dried herb, savory spice, graphite and a hint of lavender aromas.  On the palate it's powerful, yet light on its feet.  It's fresh and well structured with dusty well-integrated tannins with delicous black cherry, blackberry compote, a kiss of black currant, plum and vanilla flavors with an appealing minerality, and a long satisfying finish. Aged for over 36 months in oak barrels and 4 months in bottle.  If Cabernet Sauvignon and Petite Sirah had a child, it would be this wine. I double decanted before drinking.  Retail -$30; 14.5%. Highly recommended!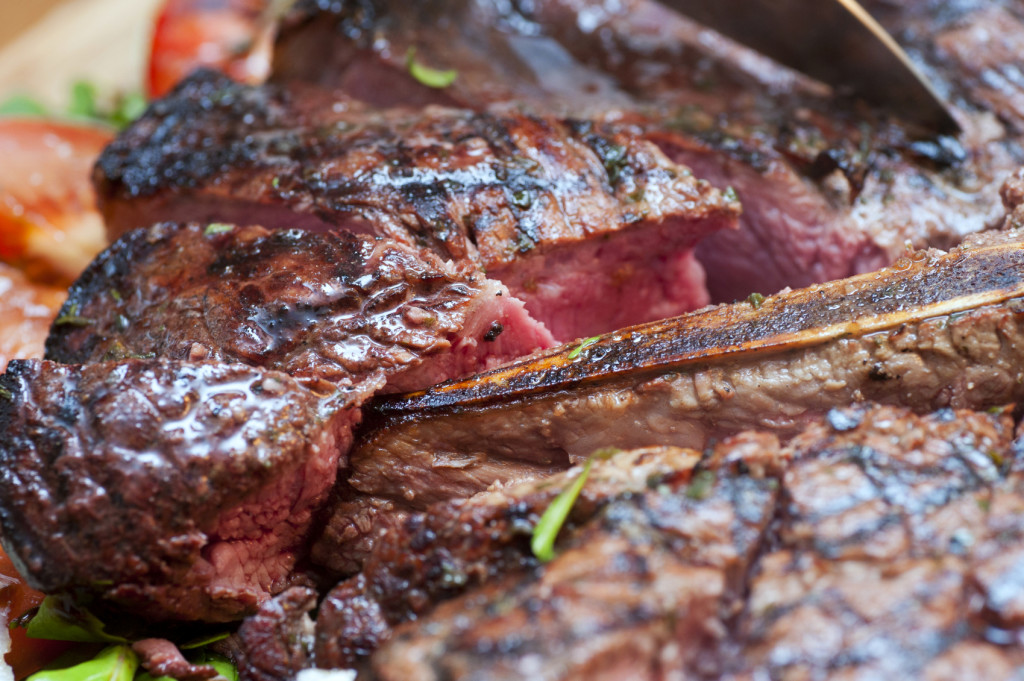 The wine was wonderful paired with a grilled bone-in Rib-eye steak! 
Check out the other delectable Friuli food and wine pairings my fellow bloggers are featuring:
Join our live chat Saturday December 5th at 8am PST on Twitter at #ItalianFWT.  We can't wait to hear from you.
We can't wait to start off the 2016 new year with you exploring some of the lesser known regions of Italy starting in January with the Basilicata region.  So come back on Saturday January 2nd as we explore the rest of Italy's regions.
Related Posts You Might Enjoy:
_________________________________________________________________________
Follow me on Twitter, Facebook, Instagram, Vivino and Delectable, for all things wine. As a wino with latent foodie tendencies, you'll also find food and wine pairings, and food related stuff! Become a fan and join ENOFYLZ Wine Blog on Facebook. Cheers! This article is original to ENOFYLZ Wine Blog.com. Copyright 2015 ENOFYLZ Wine Blog. All rights reserved.