I love wine.  Truth be told…I'm a wine geek.  I also love history, and cultural anthropology. But these topics can be well…boring.  In his recently released book "The History of Wine in 100 Bottles: From Bacchus to Bordeaux and Beyond" (Sterling Epicure, 224 pages, $24.95) inimitable wine personality Oz Clarke manages to give us his take on the history of wine in an entertaining and informative way.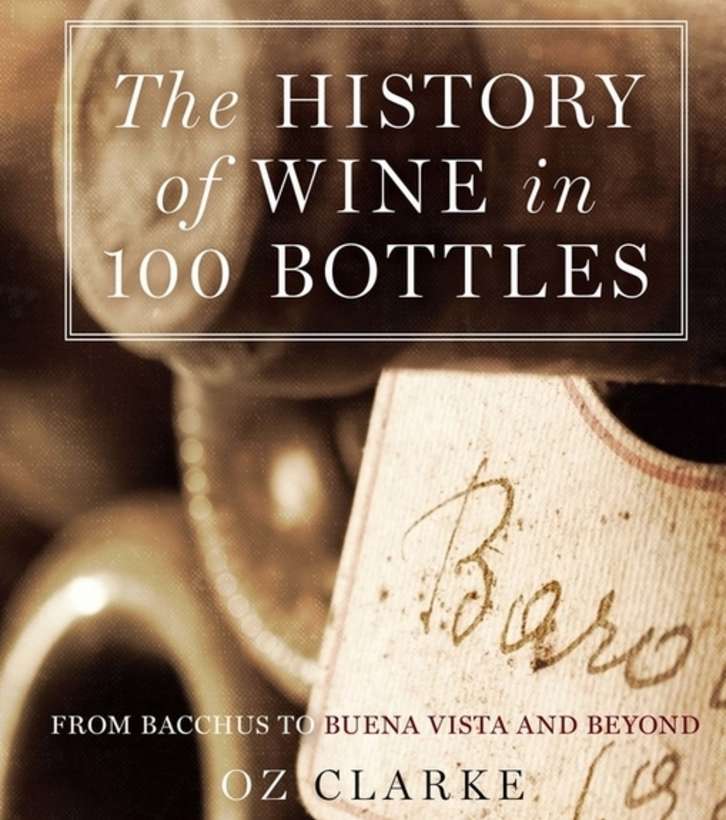 Overview
This is a book about the people, places, and wines that have had a major impact on the evolution of wine, and the stories behind them.  The book is composed of 100 double spread chapters.  Each chapter deals with a particular year or period of time in wine history.  The first paragraph of each chapter has a "cliff notes" summary of the topic of the chapter, which I found very helpful, in terms of both whetting my appetite for what was to come, and also as a way to discern my level of interest in topic.
This isn't just a history of a hundred bottles.  And it's not just a history of wine.  This book is a hundred stories with wine at their center, embracing all the history and culture of which wine is a part. – Oz Clarke
The book is beautifully illustrated with well-chosen photos, and wine labels that illuminate,and complement the subject matter of each chapter.
Review
Archeological evidence dating back 8,000 years suggests that before the Greeks, before the Romans, Georgians who made wine.  And this is where Clarke begins – in 6000 BC. From there the book winds its way through to the genesis of what we consider to be traditional winemaking (with wines like Sherry, Tokaji, and the legend of Dom Perignon in the 16th and 17th century), on through the more familiar 19th and 20th century history (the classification of Bordeaux, Louis Pasteur's vital role in winemaking process, Phylloxera, and Prohibition to name a few), into contemporary topics of the day, such a natural winemaking and wine fraud.
Since drinkers love to spin tales, it's not surprising that there are a few fair legends about the discovery of wine and the planting of vineyards, which may – or may not  – have an element of truth about them
That's a lot of ground to cover.  Clarke covers some topics more thoroughly than others. For example, he essentially covers the Middle Ages (1100s-1200s) in a single page.  But, I didn't feel cheated.  That's because I found myself enthralled by Clarke's story-telling style, wit, and humor.  The man has an entertaining way with words that adds color to historical events.  Especially when that color comes recounting his own experiences and personal insights.
As I read the book, I found myself categorizing the stories into three buckets; 
I knew about the  wine and the story (though I often discovered a kernel or two of knowledge that built upon my knowledge).  For example, I knew the stories related to the chapters on Champagne – The Blood Vintages; Prohibition, Prestige Cuvées, Gallo Hearty Burgundy, and the Judgement of Paris.
I knew the wine and I thought I knew the story, but discovered something I didn't know, or that was unexpected; For example, there were chapters such as Barolo, a wine I know and love, but what I didn't know was that it took a Frenchman to get it right. And I knew about Hock (a white field blend originating in Germany), but had no idea it once sold for more than Chateau Lafitte.
The wine and the story were completely new to me.  Here there were chapters such as the Delimitation of the Douro, which was the first legal delimitation of a wine area – not France as I'd always believed, or that venerable Ridge Vineyards jumped on the White Zinfandel wagon in 1973, or how, thanks to a Nyetimber sparkling wine, English wine went from being a joke to world beater in a matter of a couple of years.
It was the chapters around those second and third buckets that I found my favorites because that made the book both enjoyable and informative for me.  Perhaps my favorite chapter was 1942 Mateus;  wherein Clarke shares a story of his parents were introduced to Mateus Rose after World War II, and the back story of how Mateus Rose came to be. I found myself reading the chapter with a smile on my face from the first word to the last thanks to Clarke's entertaining story telling.
Of course, not all wine history is about wine per se.  It's also about wine paraphernalia. And Clarke does an admirable job of covering corkscrews, airtight corks, decanters and the evolution of the wine bottle.
Conclusion
The History of Wine in 100 Bottles: From Bacchus to Bordeaux and Beyond" is a  wonderful, and a times peripatetic take on the chronological history of wine within the context of politics,  economics, and culture of the time.  It's a thoroughly entertaining and informative  book that I heartily recommend.  Especially with Christmas around the corner.  This book would make a wonderful gift for the wine lover in your life, even if that wine lover is you!
Note: This book was provided as a sample for review.  Opinions are my own. Thank you Sterling Publishing
_________________________________________________________________________
Follow me on Twitter, Facebook, Instagram, Vivino and Delectable, for all things wine. As a wino with latent foodie tendencies, you'll also find food and wine pairings, and food related stuff! Become a fan and join ENOFYLZ Wine Blog on Facebook. Cheers! This article is original to ENOFYLZ Wine Blog.com. Copyright 2015 ENOFYLZ Wine Blog. All rights reserved.