Over the course of a week, my wife and I drink a bunch o'wine – almost always with food. Since I've always been fascinated by wine at the table with food, I thought it would be fun to recap not only the wines we've been drinking, but also how they pair (or don't pair) with the foods at our table.  It features my pick for Wine of the Week (WoW) – a  wine I particularly enjoy, whether it's something new and different, is a great value, or from a producer worth checking out for the week ended October 18th 2015.
2008 L'Aventure Optimus – Paso Robles Retail $50
Inky purple color with an exuberant perfume that brings to mind blackberry, kirsch, violets, graphite and a bit of smoked spice aromas. On the palate, it's full-bodied, and harmonious with lively acidity, supple well-integrated tannins, and a silky texture. It shows enticing black cherry, blackberry , plum, cassis, dark roast coffee, bittersweet chocolate flavors, and an appealing minerality with a long satisfying finish. A flat-out well structured and delicious wine! 15.5% alcohol.  (92 pts.)
2012 Tablas Creek Vermentino – Paso Robles Retail $27
Pale yellow color with beeswax, lemon,lime peel, wet stone and a bit of white flower aromas. In the palate it's medium-bodied, and well-balanced with vibrant acidity and apricot, Apple, citrus flavors and an appealing minerality. Lingering finish. Very Good to Outstanding; 89-90pts
2013 Cécile Chassagne Gigondas – France, Rhône, Southern Rhône, Gigondas Retail $19.99
Pale purple garnet color with appealing savory black and red fruit aromas, subtle spice, and floral aromas with a nuanced appealing mineral note. On the palate it's medium-bodied with tart black cherry, black currant, blackberry, and spice flavors framed by well-integrated dusty tannins and an appealing minerality. Lingering finish. Definitely a food wine, as opposed to a cocktail wine. 80% Grenache, 10% Syrah, 10% Mourvèdre 13.5% alcohol. Very good QPR at $20 Very Good to Outstanding; 89-90pts
2012 Domaine La Garrigue Vacqueyras La Cantarelle – Southern Rhône, Vacqueyras Retail $19.99
Bright crimson color with roast meat, black and red fruit, spice and a subtle floral, and mineral aromas. On the palate it's full-bodied, and fresh with a supple texture and silky tannins with black cherry, red currant, licorice, and spice flavors with underlying earthiness, and a very giving spicy finish. 15% alcohol Very Good to Outstanding; 89-90pts
– Wine of the Week –
It was a very good week for wine in the Redmond household!  I did a post last weekend for the French #Winophiles group I'm a part of entitled A Taste of Gigondas and Vacqueyras.  I found a couple of under $20 gems from each of these lesser known (at least when you compare to Chateauneuf-du-Pape) regions.  As always it's a treat for me to taste wines from new to me wine regions.  I preferred to the Gigondas over the Vacqueyras.  It's a wine I would definitely buy again.  Speaking of buying a wine again. The Tablas Creek Vermentino is a favorite.  I've enjoyed it with a few different foods, but it's my favorite wine to have with Pesto. It was a perfect pairing with a Pasta Salmon Pesto my wife made.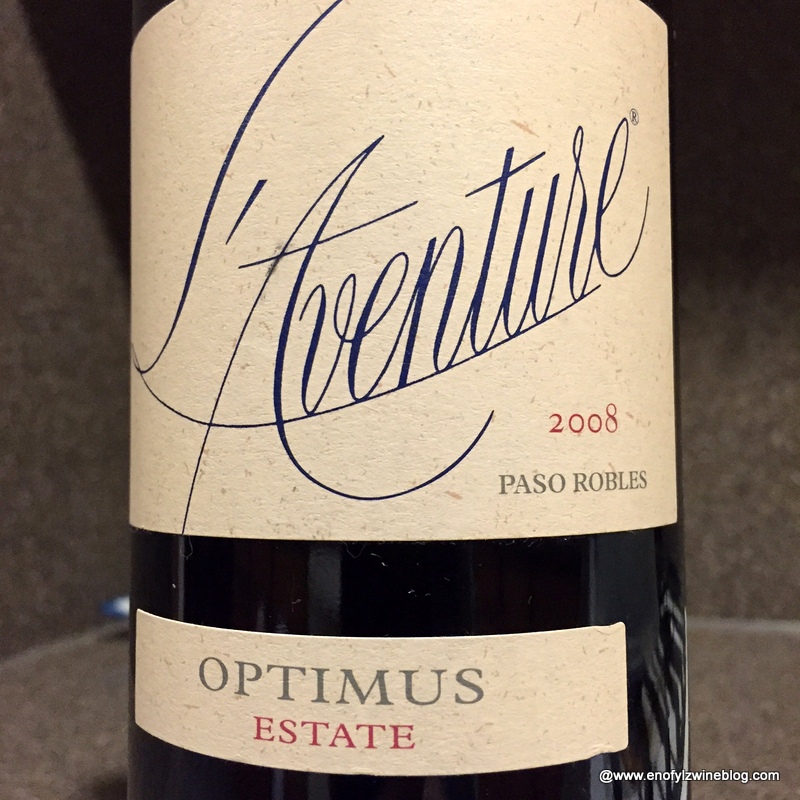 My Wine of the Week ("WOW") is the 2008 L'Aventure Optimus. It's a blend of 48% Cabernet Sauvignon, 28% Syrah, 24 % Petit Verdot  2008 was vintage from 100% Estate fruit.  It was aged in 14 months in 90% new French oak and 10% 1-year-old French oak with malolactic fermentation in barrel No fining, no filtering.
It's a full-bodied wine, harmonious and delicious wine with a refined character. Highly recommended. 
We picked up this wine on a visit to Paso Robles four years ago. That's when I first heard the term "Paso Blend" which is a blend of Bordeaux and Rhone grape varieties.
A few things have changed since we visited four years ago. L'Aventure is in the process of building a brand new tasting room and underground caves. What hasn't changed is that L'Aventure is making some great wines!
I think it's time for another visit!
More about L'Aventure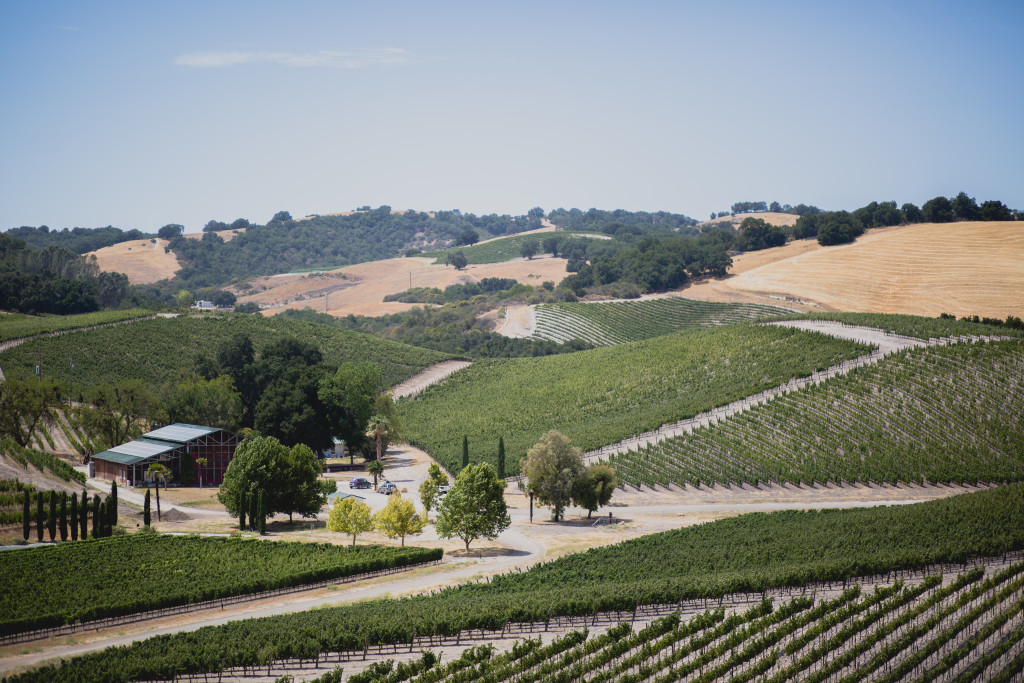 Stephan Asseo, owner and winemaker at L'Aventure Winery, began making wine in 1982, following his education at L'Ecole Oenologique de Macon, Burgundy, France. In that same year, Stephan established Domaine de Courteillac in Bordeaux. He and his family later purchased Chateau Fleur Cardinal and Chateau Robin in the Cotes de Castillion, Bordeaux. Over the next 15 years, Stephan developed into an artisan winemaker of fastidious craftsmanship and gained a reputation as a maverick vigneron. However, his true desire was to be more innovative than AOC law would allow. In 1996, this led him on  a quest for a great terroir, where he could pursue his ideal as a winemaker. After searching for over a year among the world's great wine fields, ranging from South Africa to Lebanon, Argentina to Napa, Stephan found Paso Robles. Stephan immediately "fell in love" with the unique terroir of west side Paso Robles. The rolling topography of the Santa Lucia Mountain Range, the deep calcareous soils, and the maritime influences of the renowned Templeton Gap all combine to produce a world class wine country, with the potential to craft some of the world's greatest blends. It is here, in Paso Robles, that Stephan began his adventure, "L'Aventure".
The 127 acre estate is located on the west side of Paso Robles. It is planted to Syrah, Cabernet Sauvignon, Petit Verdot, Grenache, Mourvèdre, Roussanne, Viognier, and Grenache Blanc.
_________________________________________________________________________
Follow me on Twitter, Facebook, Instagram, Vivino and Delectable, for all things wine. As a wino with latent foodie tendencies, you'll also find food and wine pairings, and food related stuff! Become a fan and join ENOFYLZ Wine Blog on Facebook. Cheers! This article is original to ENOFYLZ Wine Blog.com. Copyright 2015 ENOFYLZ Wine Blog. All rights reserved.