Over the course of a week, my wife and I drink a bunch o'wine – almost always with food. Since I've always been fascinated by wine at the table with food, I thought it would be fun to recap not only the wines we've been drinking, but also how they pair (or don't pair) with the foods at our table.  It features my pick for Wine of the Week (WoW) – a  wine I particularly enjoy, whether it's something new and different, is a great value, or from a producer worth checking out for the week ended October 11th 2015.
2012 JC Cellars Smoke & Mirrors – California Retail $25
Violet color with a bit hot, mixed red and black fruit liqueur, red licorice,spice and a bit of garrigue aromas. On the palate it full-bodied with a lush texture and good acidity with cherry, blackberry, plum,vanilla and spice flavors. Lingering finish 14.9% Blend of Zin, Syrah, Grenache, Mourvèdre, Petite Sirah, Cab, and Alicante Bouschet. Very Good; 88-89pts
2014 Rarecat Grenache Brigitte – Napa Valley, St. Helena Retail $24
Pretty pink-salmon color with aromatic ruby grapefruit, raspberry, watermelon, and orange blossom aromas. On the palate, it's very fresh, dry, well structured with bright red fruit, and citrus flavors with an alluring minerality.  Outstanding; 90-91pts
2011 Dashe Cellars Zinfandel Dry Creek Valley – Retail $24 
Bright purple color with appealing black cherry, red currant, spice aromas enhanced by pretty floral note. On the palate it's medium-bodied, well structured and fresh with black cherry, raspberry, spice, and a hint of mocha flavors. Soft well-integrated tannins. Lingering sweet finish. 89% Zinfandel/11% Petite Sirah Very Good; 88-89pts
2013 Cline Cellars – California, Sonoma County Retail $15
Gold color with grapefruit, lime, and white peach aromas. On the palate it medium-bodied with good acidity, and generous white peach, grapefruit, lime and a hint of spice flavors. Easy and tasty. Very Good; 86-88pts
– Wine of the Week –
We kept it local this week. All the wines were enjoyed were from California and came from wineries located in either Napa or Sonoma.  It reminds me how blessed we are to live so close to not only Napa, Sonoma, Livermore, and the Santa Cruz Mountain wine regions, but also some world-class Urban wineries!
As I consider which wine is my Wine of the Week ("WOW"), there's really no contest this week.  The 2014 RARECAT Grenache Brigitte is my WOW.  It checks all the boxes for a WOW. It's a memorable wine because it's so well structured, food friendly and delicious.   It's new and different in that I can't recall having a rosé from any Napa Valley producer, I enjoyed nearly as much.  It offers very good QPR (especially these days when it seems become more and more of a challenge to find high quality rosé  for $20 or less). And it's from a producer you definitely need to check out (see more below).
RARECAT Rosé has been created to be a rosé with a pedigree, a lyrical expression of Grenache with a touch of Viognier.
On the food pairing front, we enjoyed this wine with my wife's Grilled Paella Mixta (a fabulous pairing!).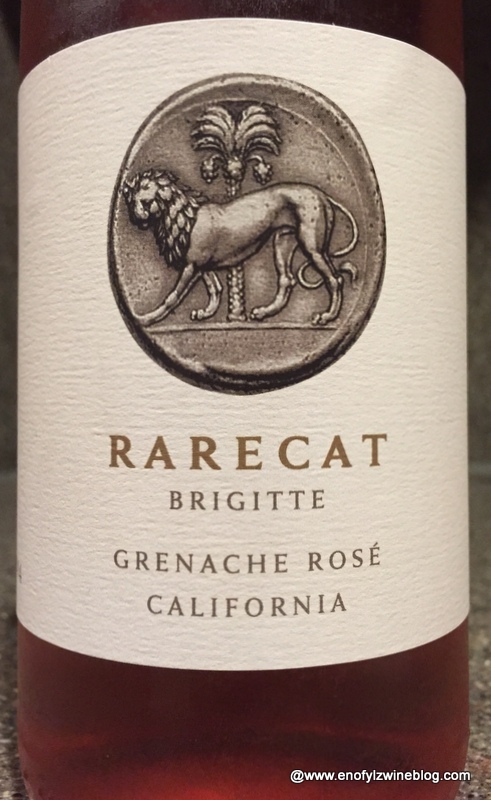 More About Rarecat Wines
Rarecat Wines was founded by Sharon Kazan Harris with the release of  the 2009 Rarecat Lionheart Sauvignon Blanc. I was introduced to Sharon and Rarecat, when my wife and I attended the 2015 Wine-A-Pawlooza, a fund-raiser for the Jameson Animal Rescue Ranch. The event featured plenty of big name cult wines, yet Rarecat's 2010 Rarecat Cabernet Sauvignon Old Toll Hillside Vineyard stood out as the most memorable wine for me.
My wife and I had a chance to visit and taste with Sharon (I'll cover that in more detail another time). She's a smart, funny, driven,  down to earth, and multi-talented individual with a fascinating story (see more here)
In addition to the rosé, and the aforementioned Cabernet Sauvignon from their estate Old Toll Hillside Vineyard, Rarecat produces another Cabernet Sauvignon, Chardonnay, Sauvignon Blanc and Syrah. I had a chance to try both their single vineyard Charles Heintz Chardonnay from the Russian River Valley, and the 2012 Syrah. I thought both were harmonious and outstanding wines.  
Joel Aiken, an internationally recognized winemaker with a 30-year history of producing award-winning Napa Valley wine is the winemaker for RARECAT
The winery is not open to the public. By appointment Sharon welcomes guests into her home, where winery business takes place in a rehab'd warehouse, known as the  "grey barn". For more information visit: www.rarecatwines.com
Note. All wines were purchased for review unless otherwise indicated
_________________________________________________________________________
Follow me on Twitter, Facebook, Instagram, Vivino and Delectable, for all things wine. As a wino with latent foodie tendencies, you'll also find food and wine pairings, and food related stuff! Become a fan and join ENOFYLZ Wine Blog on Facebook. Cheers! This article is original to ENOFYLZ Wine Blog.com. Copyright 2015 ENOFYLZ Wine Blog. All rights reserved.