Over the course of a week, my wife and I drink a bunch o'wine – almost always with food. Since I've always been fascinated by wine at the table with food, I thought it would be fun to recap not only the wines we've been drinking, but also how they pair (or don't pair) with the foods at our table.  It features my pick for Wine of the Week (WoW) – a  wine I particularly enjoy, whether it's something new and different, is a great value, or from a producer worth checking out for the week ended October 4th 2015.
2010 Sandlands Syrah Amador County – Sierra Foothills, Amador County Retail $20
Inky violet color with kirsch, red currant, white pepper and a hint of olive tapenade aromas. On the palate it's light bodied and fresh with mouth drying tannins that soften a bit with air. It shows cherry, red currant flavors wit a bit of stony minerality. Lingering finish. I think it needs food (not a bad thing) Very Good; 86-88pts
2010 Antonelli San Marco Contrario Umbria IGT – Italy, Umbria, Retail – $20
Translucent violet color with a very appealing mixed dark berry, plum, tar, aromatic dried herb and a hint of eucalyptus aromas. On the palate, medium-bodied, very persistent, focused and very fresh with blackberry, black cherry, plum and firm, well-integrated tannins with a long sweet finish. 14% alcohol. Very Good; 86-88pts
2012 Under The Wire Zinfandel Sparkling Bedrock Vineyard – California, Sonoma Valley Retail $45
Pretty coral pink color with active tiny bubbles. On the nose it shows very appealing fresh bread dough, strawberry, red currant, creamy citrus and a bit of chalk aromas. On the palate, the mousse starts about a bit aggressive on the attack, but dissolves into an appealing strawberry creme fraiche like texture, with a hint of tannins. It's fresh with strawberry, red currant, creamy citrus, and mineral flavors, and a lingering finish. The 2012 vintage of the Bedrock Zinfandel will be in the inaugural release and was disgorged in April 2014 with 2 grams of dosage. Different and very enjoyable – It brings to mind Lambrusco.  Wish I had more Very Good to Outstanding; 89-91pts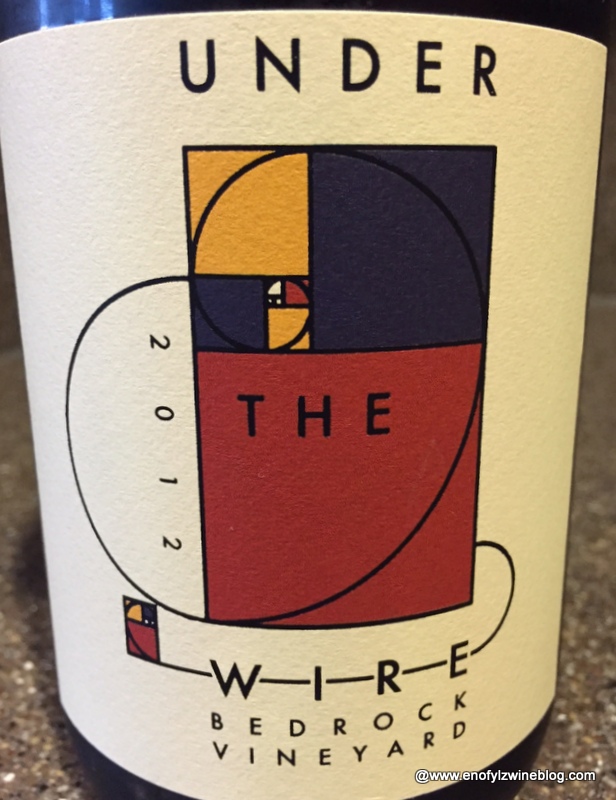 Wine of the Week – Lately I've been inundated (at least for me) with sample wine.  I'm far behind where I'd like to be, in terms of sampling and posting about the wines I've received. As a result I've been drinking more sample bottles (I post about those separately), and fewer bottles from my own stash. Thus only 3 wines this week.
I made them count though.  The Sandlands Syrah is the personal project of Tegan and Olivia Passalacqua (Tegan is also the winemaker for Turley). The wine is a bit of a surprise, taste and body wise if you only consider the source of the fruit – the Sierra Foothills. One would normally expect a fuller-bodied style of Syrah, but this one is decidedly cool climate syrah in nature.  Great value too at $20. The Antonelli San Marco Contrario is made of a new-to-me grape Sagrantino, which is native to the Umbria region. Delicious stuff.  It's wine I blogged about for the #ItalianFWT group I'm a part of (read the details here) Having the wine has certainly piqued by curiosity about the more traditional Sagrantino di Montefalco.  It paired wonderfully with a grilled rib-eye steak.  My Wine of the Week ("WOW") is the 2012 Under The Wire Zinfandel Sparkling Bedrock Vineyard. Under The Wire is a collaboration between Chris Cottrell and Morgan Twain Peterson. Inspired by grower Champagne, essentially they're producing vintage, single-vineyard sparking wines.  This is one of the first two wines they released. It's produced from fruit sourced from Bedrock Vineyard. Here's what Under The Wire says about the vineyard…
Originally planted in 1854 by Generals William "Tecumseh" Sherman and General "Fightin' Joe" Hooker, Bedrock has grown grapes for over 150 years. In all likelihood, at some point in Bedrock's long history, sparkling wine was made from the vineyard's grapes. Out of the 24 old vine varieties grown at Bedrock Vineyard today we chose to use Zinfandel. It is a grape that is not only decidedly Californian but also surprisingly well-built for sparkling wine. Bedrock Vineyard's ancient Zinfandel tends towards both great flavor development at low sugars and strong natural acidity, both of which are fundamental to great sparkling wine. The vines are head trained, grown in rock studded red Tuscan loam soils, and farmed sustainably.
Here's what I say about the wine…It's among the most memorable wines I've had this year.  It's not Champagne.  But it's not intended to me. It's a sparkling wine of place. A magical place. Well done and highly recommend.
More about Under The Wire
From the winery…Under the Wire is a project grown from a mutual friendship and love for wines with bubbles. Our simple, yet unique premise is to make California sparkling wines based on an individual vineyard in an individual year. Inspired in part by the grower Champagne movement we aim to prove that California can produce unique, delicious and terroir-driven sparkling wine.
Note. All wines were purchased for review unless otherwise indicated
_________________________________________________________________________
Follow me on Twitter, Facebook, Instagram, Vivino and Delectable, for all things wine. As a wino with latent foodie tendencies, you'll also find food and wine pairings, and food related stuff! Become a fan and join ENOFYLZ Wine Blog on Facebook. Cheers! This article is original to ENOFYLZ Wine Blog.com. Copyright2015 ENOFYLZ Wine Blog. All rights reserved.