Over the course of a week, my wife and I drink a bunch o'wine – almost always with food. Since I've always been fascinated by wine at the table with food, I thought it would be fun to recap not only the wines we've been drinking, but also how they pair (or don't pair) with the foods at our table.  It features my pick for Wine of the Week (WoW) – a  wine I particularly enjoy, whether it's something new and different, is a great value, or from a producer worth checking out for the week ended September 27th, 2015
Louis Roederer Champagne Brut Premier – Champagne (Retail $40)
Pale yellow color with plentiful active tiny bubbles and marzipan, almond, pear, subtle citrus and a hint of smoke aromas. On the palate, it's refined, lively and fresh with a delicate creamy mousse, and apricot, apples, pear and lemon curd flavors dominate but hints of grapefruit, black currant and an appealing smoky minerality play in the background. Long finish. Cuvee 2011 Disgorged 2014. 40% Chardonnay, 40% Pinot Noir, 20% Pinot Meunier 5% of wines matured in oak cask with weekly battonage – 10% of reserve wines matured in casks. Partial ML. Assemblage of 6 vintages from 40 different plots. Matured 3 years in cellar and 6 mo after disgorgement. Dosage between 10 and 11 g/L. My favorite under $40 Champagne! Very Good to Outstanding; 89-91pts
2013 Greek Wine Cellars (D. Kourtakis) Moschofilero – Greece (Retail $15)
Pale yellow-green color with low-key white flower, white peach and citrus aromas. On the palate it's light-bodied, and fresh with balanced acidity and citrus and pear flavors. Excellent with Grilled Good to Very Good; 85-86pts
2011 Tablas Creek En Gobelet – Paso Robles (Retail $45)
Inky violet color with very appealing mixed black and red fruits mingled with roast meat and dark cacao aromas. On the palate it full-bodied, with a wonderfully supple texture, supported by dusty well-integrated tannins, and lively acidity with blackberry, black currant, black cherry, a hint of blueberry, vanilla, and dark chocolate flavors rounded out by a very nice minerality. Long finish. 13.9% alcohol Outstanding; 92-95pts
Wine of the Week (WoW)
Sometimes it's a real challenge to pick my WoW.  It was easy this week.  It's the 2011 Tablas Creek En Gobelet.
Before I share a bit more about the Tablas Creek En Gobelet, and Tablas Creek, I want to make a couple of comments about the two other wines, we enjoyed this week.
It's always cool for me to try a new to me grape. This week is was a Moschofilero from Greece. We enjoyed it with Grilled Branzino, and it was a great pairing, and a great example of a humble wine that's elevated by the food with which it's paired.  
The Roederer Brut Premier was my go to under $40 bottle of Champagne until its price was increased to $47 earlier this year.  Fortunately, it's dropped back to $39.99.  It was still a good value at $47. But at $40, I think it's remarkable value.  Highly recommended.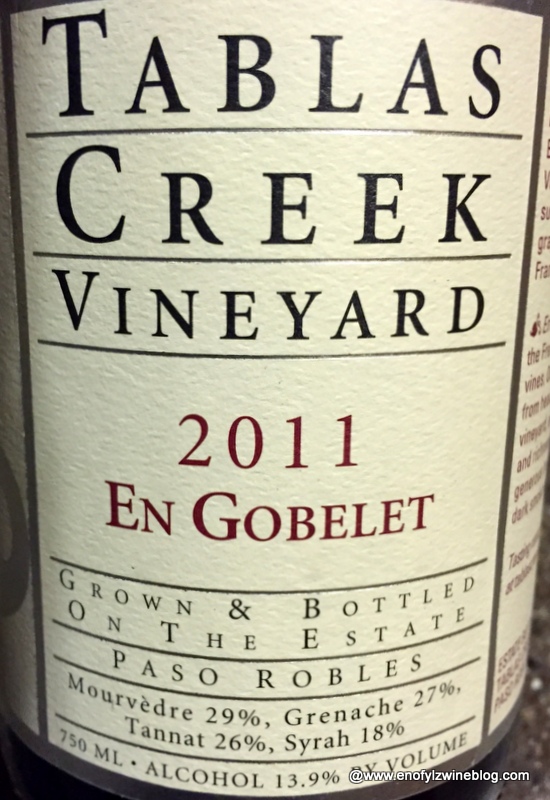 Back to the 2011 Tablas Creek En Gobelet. It's a unique blend – essentially a GSM with a healthy dose of  Tannat.  Since Tablas also makes a stellar stand alone Tannat, when I purchased this wine a couple of years ago, I was looking forward to seeing what it would add to the blend.  I think adding Tannat to the blend is a great example of the whole being greater than the sum of the parts.  And that's what I love about blends (and why I  generally I prefer blends to stand alone grape varieties for both Bordeaux and Rhone grape varieties.  Here's how Tablas Creek explains the synergy of the blend:
Blend of four estate-grown varietals which combines the fruit, approachability and lushness of Grenache, the structure, earth, and mid-palate richness of Mourvèdre, the dark color and minerality of Syrah, and the dark smokiness of Tannat.
This is such a well crafted, harmonious, and delicious wine. Will buy more!
More About Tablas Creek
Tablas Creek Vineyard ("TCV") is probably the best-known of all Paso Robles wineries specializing in Rhone style wines.  It is a partnership between Robert Haas, and the Perrin Family of Chateau de Beaucastel in the Chateauneuf du Pape region in France. What I find interesting about TCV is that they specifically chose to establish themselves in Paso Robles because of the similarities of the soil conditions and climate of Paso Robles to Chateauneuf du Pape.  They went as far as to import vines from Chateauneuf du Pape.  The vines were propagated and grafted in their on-site nursery and used to plant their 120 acre organic vineyard.  Check the full story here.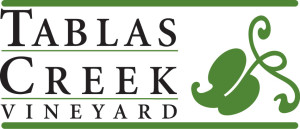 TCV was recently voted  #1 by the Daily Meal on its list of 101 Best Wineries in America for 2015. Here's what they said:
A leader in the use of Rhône varietals in the Paso Robles region, a leader in the fight for approval of 11 sub-districts in the area, and a leader in advancing sustainable and biodynamic vineyard practices not just in its own region but throughout California, this 25-year-old Paso Robles property — owned by noted wine importer Robert Haas and the Perrin family of Château de Beaucastel (Rhône Valley royalty) — is as good as it gets. The wines are just amazing:
rich, juicy whites (largely roussanne) and reds (mostly mourvèdre) sold under the Esprit de Tablas (formerly Esprit de Beaucastel) label; the more approachable Côtes de Tablas offerings (based on viognier for the white, grenache for the red); the fresh, sunny Patelin de Tablas rosé (grenache) and white (grenache blanc); the limited-edition single-variety wines released from time to time based on a wide variety of grapes (vermentino, petit manseng, and tannat as well as more familiar Rhône varieties) — it's hard to know what to open first. John Tilson ofThe Underground Wine Letter hails Tablas Creek "for bringing Old World know-how to a new viticulture area," adding that "Sustainable agriculture practices and traditional winemaking have established them as a role model for Rhône varietals [in California] and the wines are consistently excellent." Sommelier, wine educator, and wine blogger Elizabeth Schneider puts it more succinctly: "They just make kick-ass wine year after year."
Note. All wines were purchased for review unless otherwise indicated
_________________________________________________________________________
Follow me on Twitter, Facebook, Instagram, Vivino and Delectable, for all things wine. As a wino with latent foodie tendencies, you'll also find food and wine pairings, and food related stuff! Become a fan and join ENOFYLZ Wine Blog on Facebook. Cheers! This article is original to ENOFYLZ Wine Blog.com. Copyright 2015 ENOFYLZ Wine Blog. All rights reserved.