Over the course of a week, my wife and I drink a bunch o'wine – almost always with food. Since I've always been fascinated by wine at the table with food, I thought it would be fun to recap not only the wines we've been drinking, but also how they pair (or don't pair) with the foods at our table.  It features my pick for Wine of the Week (WoW) – a  wine I particularly enjoy, whether it's something new and different, is a great value, or from a producer worth checking out for the week ended September 20th, 2015
2013 Zorzal Pinot Noir Terroir Unico – Retail $15
Light ruby color with expressive red fruit, dried rose, and spice aromas. On the palate, it's light-bodied, refreshing and pure with a hint of polished tannins. It shows cherry, raspberry and kiss of blood orange flavors with subtle shades of spice, and minerality with a savory undertone. The wine was 20-30% whole-cluster fermented, and raised in concrete This a very food friendly wine that offers tremendous value. Dare I say it's the best $15 Pinot Noir I've ever had? Very Good; 86-88pts
2014 Dashe Cellars Grenache Les Enfants Terribles – Retail $24
Ruby color with appealing strawberry cream, sour cherry jolly rancher aromas with light spice, and mineral notes. On the palate, it's light-bodied with vibrant acidity, a juicy texture underscored a some dusty tannins with strawberry, sour cherry, plum, spice and a bit of earthiness on the finish. Medium plus finish. A wonderful Beaujolais style wine. Fermented with the native yeasts on the grapes; aged in large French oak barrels; unfined; and bottled with low SO2 levelsVery Good; 86-88pts
Franck Bonville Champagne Blanc de Blancs Extra Brut Grand Cru – Retail $40
Pale yellow-green color with abundant tiny bubbles and pretty white flower, green apple, brioche, citrus, chalk, and a hint of sweet spice aromas. On the palate, it's light-bodied and very dry with a delicate mousse, and a soft, fresh lemony with a bit of lime acidity that's intermingled with a bit a salinity and with golden apple, pear and lemon rind flavors. Long finish. Very good QPR for a Champagne with 5 years of aging on the lees! Dosed at 2.5 g/L Very Good to Outstanding; 89-91pts
Domaine Allimant-Laugner Crémant d'Alsace Rosé – Retail $19
Copper salmon color with a moderately active tiny bead and smallish bubbles with expressive melon, strawberry, and orange cream aromas. On the palate, it's round with a surprisingly creamy mousse, ample fruit , and racy acidity with strawberry, orange cream, melon, white peach and mineral flavors. Medium finish. 100% Pinot Noir Very Good to Outstanding; 89-91pts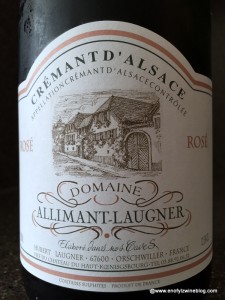 Wine of the Week:   This week, My Wine of the Week ("WOW") competition came down to two bottles of wine that offer tremendous value, the 2013 Zorzal Pinot Noir Terroir Unico, and the Domaine Allimant-Laugner Crémant d'Alsace Rosé. But before I get to those, I must mention the Dashe Cellars Les Enfants Grenache.  It's a wine that reminds me of a very good Cru Beaujolais, and is one my favorite chillable red wines.  As far as the Franck Bonville Champagne Blanc de Blancs Extra Brut Grand Cru goes it's one of the best low dosage sparkling wines I've had.  And it offers very good value.  Now for the two contenders. The Zorzal Pinot Noir actually reminds me of many of my favorites tasted at In Pursuit of Balance early this year.  While certainly not as complex as those, it's very well balanced.  It's easily my favorite under $20 Pinot!  I very highly recommend it if you prefer a  "Burgundian-style" Pinot Noir.   Ultimately though, I'm a bubble-head and my WoW is the Domaine Allimant-Laugner Crémant d'Alsace Rosé. I was recently asked a question that winos seem to like to ask one another; "If you were stranded on an island for 5 years and could only drink one wine, what would it be?" or something along those lines  My answer is always the same – Rosé Champagne! 
And this wine reminds me so much of an outstanding Rosé Champagne (it lacks the comparable minerality), except it's a fraction of the price.  This is a bottle I'll be buying again and again! Again very highly recommended!
More about Domaine from The Wines of Alsace:
With the famous Haut-Koenigsbourg Castle overlooking the vineyards of Domaine Allimant-Laugner, the estate encompasses 30 acres spread over 35 different parcels along the foothills of the Vosges Mountains.
The domaine was created by joining the Allimant and Laugner families, who have produced wine in the village of Orschwiller since the 18th century. Today, it is run by 10th-generation winemaker Hubert Laugner, along with his wife and three children.
Allimant-Laugner produces a reserve range from Alsace's seven major grape varieties, including Grand Cru wines from the Praelatenberg vineyard and late-harvest Vendanges Tardives and Sélection des Grains Nobles sweet wines. But the winery is most well-known for its two traditional method Crémants d'Alsace— a Brut made from a blend of Pinot Blanc, Pinot Gris and Riesling and a 100% Pinot Noir Rosé.
All of the wines are marked by freshness and racy acidity, thanks to the winery's 100% use of stainless steel tanks for vinification. The Grand Cru Rieslings are complex, powerful and long-lived, and the ready-to-drink Crémants are dry and elegant with layers of fresh fruit and bright mineral notes.
Find Domaine Allimant-Laugner wines on Wine-searcher.com.
Follow my reviews on Vivino and Delectable
Note. All wines were purchased for review unless otherwise indicated
_________________________________________________________________
Martin Redmond is a Financial Executive by day, and a certified wine geek with latent foodie tendencies the rest of the time. In addition to the wine lifestyle and food he enjoys family, fitness and traveling. He likes to get thoughts of wine off his mind by sharing experiences on his ENOFYLZ Wine blog, which features wine reviews, wine country travel, and wine and food pairings.
Follow me on Twitter @martindredmond for all things wine. Since I'm a wino with latent foodie tendencies, you'll also find food and wine pairings, and food related stuff! Become a fan and join ENOFYLZ Wine Blog on Facebook. Cheers! This article is original to ENOFYLZ Wine Blog.com. Copyright 2015 ENOFYLZ Wine Blog. All rights reserved.