Over the course of a week, my wife and I drink a bunch o'wine – almost always with food. Since I've always been fascinated by wine at the table with food, I thought it would be fun to recap not only the wines we've been drinking, but also how they pair (or don't pair) with the foods at our table.  It features my pick for Wine of the Week (WoW) – a  wine I particularly enjoy, whether it's something new and different, is a great value, or from a producer worth checking out for the week ended September 6th, 2015
2011 Dashe Cellars Zinfandel Old Vines Todd Brothers Ranch – Retail $35
Ruby color with appealing brambly dark cherry, blackberry, candied strawberry, cassis, and rose aromas. On the palate it show an elegant harmonious character with well integrated fine tannins and mouth-watering acidity with fresh cherry, tart strawberry,blackberry, cassis and spice flavors and a lingering spicy finish. 14.5% Outstanding; 90-91pts
2014 Two Shepherds Grenache Rosé Ceja Farms – Retail $22
Cranberry color with red apple, strawberry, and red grapefruit aromas that suggest a savory character. On the palate it's light-bodied, and well-balanced with vibrant acidity, and tart strawberry, raspberry, a hint of cranberry, and spice flavors and a lingering, mouth-watering finish. 12.1% alcohol The grapes bespoke for Rose were picked at 21 brix, were then pressed into both neutral French barrel and stainless steel, and fermented with native yeast. Atypical for rosé, the wine went through malolactic fermentation (ML), allowing it to be bottled, both unfined and unfiltered, the latter also extremely rare for rosé. imminently quaffable, yet contemplative. Killer stuff! Outstanding; 90-91pts
2010 Joseph Phelps Cabernet Sauvignon Estate Grown Napa Valley – Retail $57
Garnet color with aromatic, appealing black cherry, plum, cassis, dark chocolate, and leather aromas. On the palate it's medium-bodied, concentrated, with well-integrated dusty tannins and a plush texture with black cherry, cassis, bittersweet chocolate, vanilla and a touch of oak flavors. Long finish. Drinking well! 92% Cabernet Sauvignon, 6% Merlot and 2% Petit Verdot Outstanding; 90-91pts
2014 François Chidaine Touraine Rosé – Retail $15
Pretty pink color with fresh red fruits ands hint of citrus rind aromas on the palate its medium-bodied, and fresh with strawberry, cherry, and a hint of citrus flavors. Pinot Noir and Groulleau Very Good; 87-88pts
2013 Hatzidakis Winery Assyrtiko Santorini – Retail $18
Pale green color with gold highlights and apple, lemon zest, chalk aromas with a dusty note. On the palate, it's medium-bodied with zesty acidity. It shows apple, lemon, white peach, and mineral flavors with a dusty grip and a lemony mineral driven finish.Very Good; 86-88pts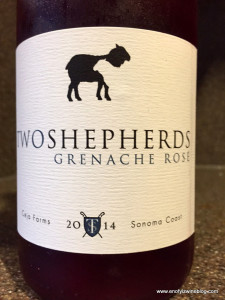 Wine of the Week:   I always consider it an especially good week in wine if I have the opportunity to "taste the world".  Even, though vast majority of our wines are from California (mostly because I tend to prefer to "try before I buy – I also make a conscious effort to drink local), I still find myself very curious about, and wanting to taste wines from around the world.  If I had to do it over again, I'd definitely diversify my cellar more.
For example, I tried a two delightful wines – a Rosé from the Loire Valley in France, and an Assyrtiko driven blend from the Greek island of Santorini.  The 2014 François Chidaine Touraine Rosé was very good, and offers great value for $15. Chidaine has been a favorite producer in the past, and definitely one whose wines, in general terms, I'd recommend.  The 2013 Hatzidakis Winery Assyrtiko is a wine I'm featuring for a Greek themed wine and food posting for #winePW this week.  It was fantastic with Grilled Branzini with Ladolemono!
Heading back to Cali, the Dashe Todd Brothers Old Vines Zinfandel is a perennial favorite Zinfandel.  And, the Joseph Phelps Estate Cabernet Sauvignon, which I served to friends for #CabernetDay last week was among the favorites of our group.  But my WoW is the 2014 Two Shepherds Grenache Rosé Ceja Farms.  Two Shepherds is the labor of passion of William Allen (a.k.a. "Sonoma William"), a well-known Rhône enthusiast and former wine writer, blogger. He was a garagiste for years before moving into commercial production in 2010. 
I used to follow William when I started this blog in 2010. His was one of the blogs I "looked up" to.  Not only do we share a passion for Rhone wine, we also share a passion for Rosé Each year I look forward to his Rosé. They're always well crafted, and especially food friendly!  If you're a fan of Rosé or Rhone-inspired wines crafted with an Old World aesthetic, I enthusiastically recommend Two Shepherds!
More About Two Shepherds
From the winery:
"Two Shepherds" does not refer to two individuals, instead its a literal and figurative representation of two focal points:
"Shepherd of the Palate" represents  winemaker William Allen's desire as a wine enthusiast and blogger to "shepherd" palates back to old world style wines, as well as a name suggested by local Sonoma County friends for his work and leadership to Sonoma County and Rhone wines. Wiliam's palate and recommendations are widely followed on Social media, and he is regularly helping introduce wine enthusiasts to other wineries.
"Shepherd of the Grape" represents William's wine making philosophy of minimal intervention and manipulation.  As a winemaker his job is to protect the grapes from harm, such as contamination, but gently guide them from grapevine to barrel to bottle, so that you can experience them as an authentic representation of the grape variety and each years unique vintage.
His wines have been featured in the San Francisco Chronicle, Press Democrat, Wine & Spirits Magazine, 7×7 Magazine, Edible, Terroirist, Vinography, and numerous online publications.  Two Shepherds was named as a Top Ten Hot Brand by Wine Business Monthly in 2012. Recently, Two Shepherds was one of the 125 wineries profiled in Jon Bonné's new book, "The New California Wine: A Guide to the Producers and Wines Behind a Revolution in Taste."
Follow my reviews on Vivino and Delectable
Note. All wines were purchased for review unless otherwise indicated
_________________________________________________________________
Martin Redmond is a Financial Executive by day, and a certified wine geek with latent foodie tendencies the rest of the time. In addition to the wine lifestyle and food he enjoys family, fitness and traveling. He likes to get thoughts of wine off his mind by sharing experiences on his ENOFYLZ Wine blog, which features wine reviews, wine country travel, and wine and food pairings.
Follow me on Twitter @martindredmond for all things wine. Since I'm a wino with latent foodie tendencies, you'll also find food and wine pairings, and food related stuff! Become a fan and join ENOFYLZ Wine Blog on Facebook. Cheers! This article is original to ENOFYLZ Wine Blog.com. Copyright 2015 ENOFYLZ Wine Blog. All rights reserved.