One of the things I love most about food and wine is their ability to transport one to a different place.  And a  place's people, culture, and customs are reflected in its food and wine.  In that sense, one can virtually travel the world through food and wine.  And that is exactly what we are doing through Italian Food Wine and Travel (#ItalianFWT).  We taking a virtual tour of Italy by exploring its food and wines.  This month we're exploring Abruzzo!
About Abruzzo
Abruzzo is located in central Italy( in  the upper calf of Italy's boot), about 90 minutes from Rome. Much of the region is sandwiched between the Apennine Mountains to the west and the Adriatic Sea to the east.  It's an incredibly beautiful, yet largely undiscovered place filled with interesting things to do and see. There are mountains, national parks, and protected reserves, beaches, quaint villages, festivals, hiking, biking, Roman ruins, castles and fabulous people who love having a good time.
Abruzzo has a rich culinary tradition. On the coast first, and second courses feature fresh seafood from the Adriatic Sea.  While inland, one will find plenty of lamb, kid, and mutton, while pork loin, prosciutto (prosciutto di cinghiale – wild boar ham anyone?), and various other locally produced salumi.
A typical meal in Abruzzo is accompanied by a selection of the best wines of the Region: Montepulciano d'Abruzzo, Sangiovese and Trebbiano d'Abruzzo.
On My Plate
As usual, I chose my wine first, and I chose to go with the region's most famous wine, Montepulciana d' Abruzzo. It was a warm sunny day, and I was in the mood for some grilled grub. I opted for lamb and chose Grilled Lamb Lollipops courtesy of  Giada De Laurentiis.
I made a few minor modifications, substituting a frenched rack of lamb (which I sliced to get the lamb lollipops) for lamb chops, and lemon thyme, from our garden for thyme.  I also grilled the lamb on my Weber rather than using a grill pan.
Since the lamb grilled up pretty quickly, and  I wanted to capitalize on the Weber, we also grilled up a few boneless rib-eye steaks.
Our meal ended up being the succulent lamb lollipops as an appetizer, along with a caprese salad made with tomatoes from our garden, and the perfectly grilled rib-eyes!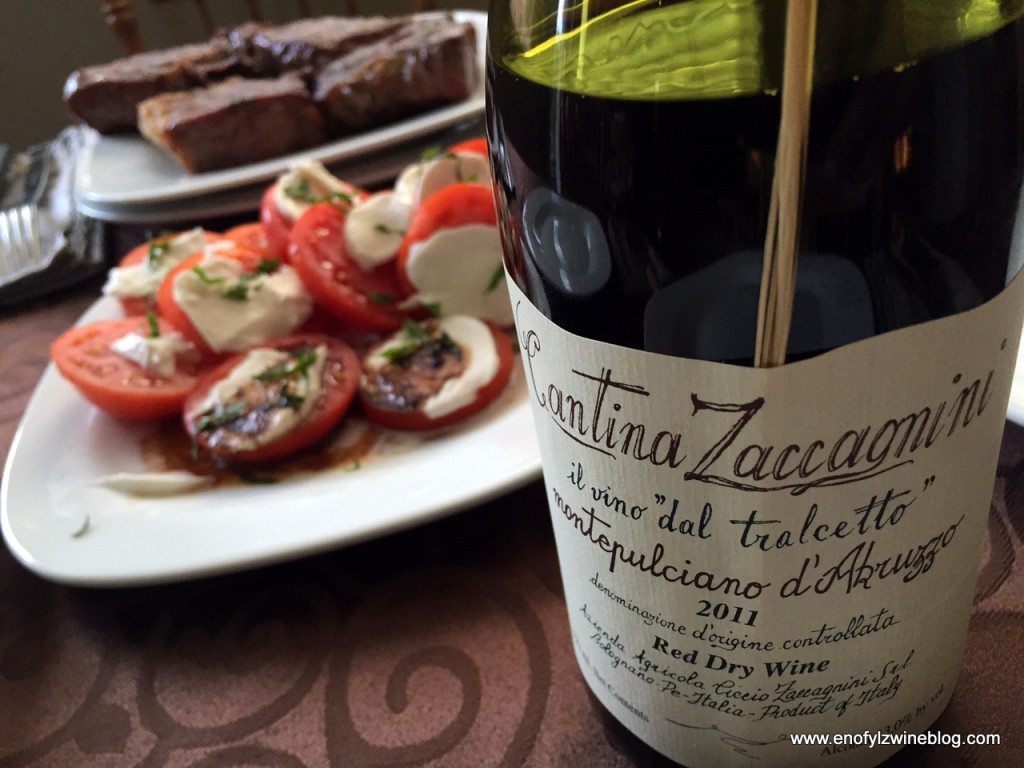 In My Glass
My wine was the 2011 Cantina Zaccagnini Montepulciano d'Abruzzo Tralcetto Riserva.
The first thing I noticed about the wine was its unique packaging.  It has what looks like a piece of a grape-vine attached via straw to the bottle.
Very charming….
And the wine was equally as charming!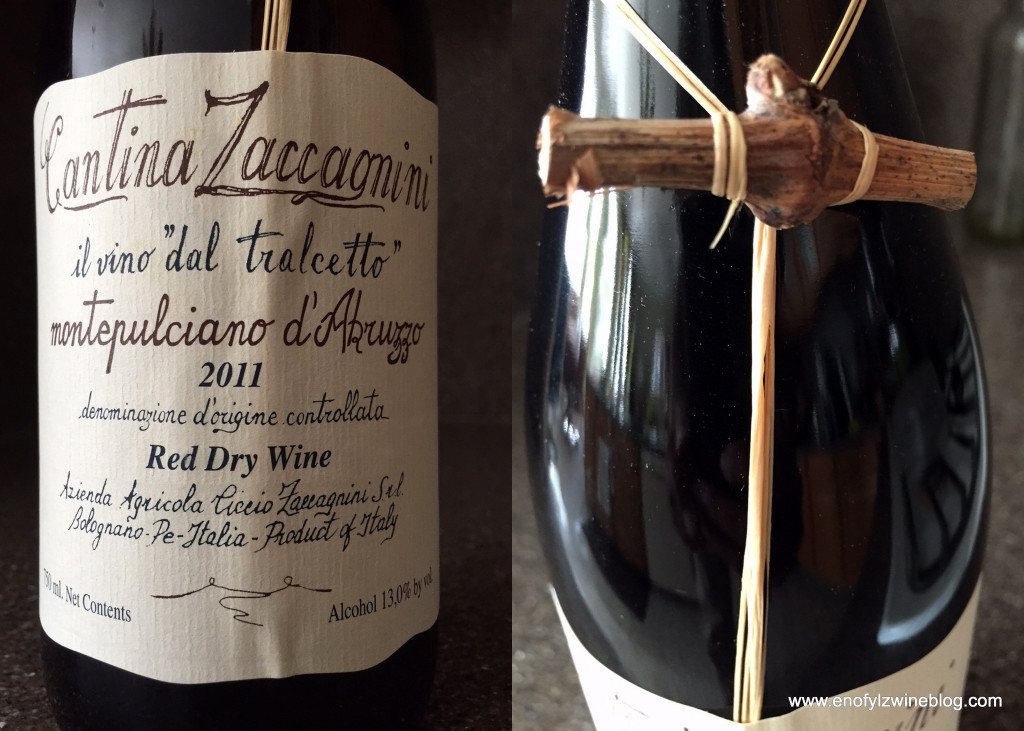 My tasting notes follow:
Dark ruby color with cherry, violet, vanilla and a hint of tar aromas. On the palate, it approaches medium -bodied, with a very appealing mid-palate richness.  It has a harmonious character with vibrant acidity, dusty tannins and ample fruit. It shows dark cherry, vanilla, plum and a hint of mocha flavors with a satisfying sweet finish.
The wine was very good, and one that I would definitely purchase again.  It's offers very good value at $15.  It showed more character than most of the Sangiovese I've had in the same price range.
The wine, which is very food friendly, paired wonderfully not only with the lamb lollipops, but also with the rest of our meal.
Don't stop here! Check out what my fellow #ItalianFWT friend are dishing up this week!
If you're seeing this early enough make sure to join us live on twitter at 8am PDT.Follow #ItalianFWT. Tell us your food, wine or travel stories of Abruzzo. We look forward to chatting with you. Next month October 3rd we'll feature the region of Umbria.  Let me know if you'd like to join our group.  Ciao ciao for now!
________________________________________________________________
Martin Redmond is a Financial Executive by day, and a certified wine geek with latent foodie tendencies the rest of the time. In addition to the wine lifestyle and food he enjoys family, fitness and traveling. He likes to get thoughts of wine off his mind by sharing experiences on his ENOFYLZ Wine blog, which features wine reviews, wine country travel, and wine and food pairings.
Follow me on Twitter @martindredmond for all things wine. Since I'm a wino with latent foodie tendencies, you'll also find food and wine pairings, and food related stuff! Become a fan and join ENOFYLZ Wine Blog on Facebook. Cheers! This article is original to ENOFYLZ Wine Blog.com. Copyright 2015 ENOFYLZ Wine Blog. All rights reserved.