My wife and I do more than our fair share of wine tasting.  We've hit all the major wine regions in California (and a few minor ones too;-), along with some tasting in Oregon, Spain and Champagne.  From time to time we have a wine tasting experience that stands above the rest, and is everything we're looking for – great wine and commendable service in a relaxed unpretentious environment. It's those such experiences that are the focus of this "No Reservations" series.  Why "No Reservations"? Because I can honesty say I have "No Reservations"  about recommending the winery anyone who is looking for a great wine tasting experience.
The latest in this series features an East Bay urban winery Stage Left Cellars.  My complete review of Stage Left Cellars, including history, a recap of the tasting experience, reviews of wines tasted, and insider tips may be found on the American Winery Guide's website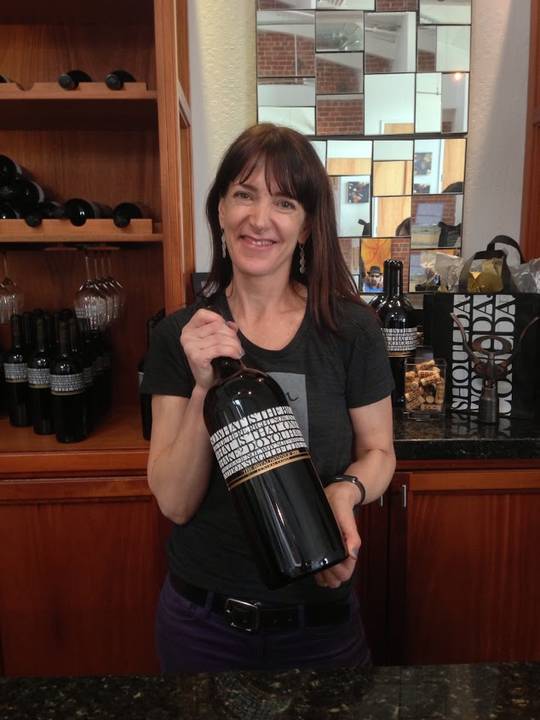 Here's a profile from the East Bay Vintner's Association:
Stage Left Cellars' backstory:
Melinda and her husband Rich Williams collaborate to make wine for Stage Left Cellars. When they first met he was a wine collector and she just tasted the wine. Eventually she drank through his collection and said, "We need to start making wine". They began commercially in 2004 in Paso Robles. When they began looking for a new space in 2009 they chose the urban setting of Oakland.
Their fruit sources:
They work with 10 different growers to bring in fruit from Santa Maria, Russian River, Napa, Mendocino, Santa Ynez, Paso Robles, Russian River, Napa, Mendocino, Rogue Valley (Oregon) and Del Rio. Melinda says that one of the greatest things about the business is being able to use different vineyards and having a choice.
That first wine:
It was a Spanish-style wine called the day job made in 2004. Following that they are currently focused on Rhone varietals and on single vineyard designate varieties as well as blends: Syrah, Grenache, Petite Sirah, Mourvedre, Carignane, Viognier, Grenache Blanc, Roussanne.
There are no shortcuts at Stage Left Cellars:
Their wines aren't found on every grocery shelf or every wine shop. Visits (by appointment) are encouraged in order to really understanding and enjoy the breath of what they do. They are so passionate and don't take shortcuts; they sort clusters, de-stem, do tons of berry sorting. They barrel ferment their whites with meticulous temperature control. Each wine is developed to bring out different characteristic and to naturally build complexity. 
What is behind the name?
"Stage left is our exit strategy! We believe life is about balance. What's keeping you from doing what you want? Where are the answers? They think if you keep drinking it'll come to you."
What they love about Oakland and the East Bay:
They live in Jack London Square, and feel Oakland is the perfect setting for them and their winemaking. Oakland is a little gritty but super diverse and has so many great restaurants. It is a place to discover little pockets of greatness. Often visitors to the winery will come in from an East Bay wineries bike tours. After growing up in Indiana, Melinda wanted to live in a big city, and together they wanted to raise their daughter in a diverse communal place.
_________________________________________________________________
Martin Redmond is a Financial Executive by day, and a certified wine geek with latent foodie tendencies the rest of the time. In addition to the wine lifestyle and food he enjoys family, fitness and traveling. He likes to get thoughts of wine off his mind by sharing experiences on his ENOFYLZ Wine blog, which features wine reviews, wine country travel, and wine and food pairings.
Follow me on Twitter @martindredmond for all things wine. Since I'm a wino with latent foodie tendencies, you'll also find food and wine pairings, and food related stuff! Become a fan and join ENOFYLZ Wine Blog on Facebook. Cheers! This article is original to ENOFYLZ Wine Blog.com. Copyright 2015 ENOFYLZ Wine Blog. All rights reserved.