Over the course of a week, my wife and I drink a bunch o'wine – almost always with food. Since I've always been fascinated by wine at the table with food, I thought it would be fun to recap not only the wines we've been drinking, but also how they pair (or don't pair) with the foods at our table.  It features my pick for Wine of the Week (WoW) – a  wine I particularly enjoy, whether it's something new and different, is a great value, or from a producer worth checking out for the week ended August 30th, 2015.
2013 Broc Cellars Mourvedre Martian Vineyard – Retail $27
Purple-cranberry color with pleasing blueberry, cola, and a bit of smoked meat aromas. On the palate, it's light-bodied, and persistent with harmonious fruit, dusty soft tannins and acidity. It shows blueberry, cola, black cherry, charred meat and a bit of spice flavors. Lingering finish. A delicious well crafted wine. 12% alcohol Very Good to Outstanding; 89-91pts
2010 Carlisle Petite Sirah Dry Creek Valley – Retail $38
Opaque violet black color with mixed blackberry and blueberry compote aromas intermingles earth, iron and white pepper aromas. On the palate it's shows an opulent, harmonious character with a supple texture, good acidity, and soft well-integrated tannins with concentrated blueberry, blackberry, vanilla and a hint of sweet spice flavors. Long finish. 15.2 alcohol. Delicious stuff! Outstanding; 92-95 pts
2007 Iron Horse Vineyards Brut Rosé – Retail $50
Strawberry color with a persistent bead of tiny bubbles and yeasty tart red fruit, dried rose and a hint of mineral aromas. On the palate it shows a moderately creamy mousse with intense cherry, raspberry blood orange flavors. 63% Pinot Noir 37% Chardonnay. 13.5% alcohol Very Good to Outstanding; 89-91pts
2010 Dashe Cellars Zinfandel Florence Vineyard – Retail $38
Opaque garnet color with complex and very appealing kirsch, lavender spice, and brambly aromas. On the palate, it's elegant, and round with mouth watering acidity, and a smooth silky texture with black raspberry, black cherry, orange rind, and sweet spice flavors. Medium long finish. 14.1% abv Very Good to Outstanding; 89-91pts
2014 J. Rochioli Pinot Noir Rosé – Retail $28
Vivid pink red color with strawberry, rose petal, and a bit of stonefruit aromas complemented by a savory herbal note. On the palate, it's between light and medium-bodied, and fresh with a robust, harmonious character with delicious strawberry, cherry and a bit of spice flavors and a lingering finish. A delightful rose! Very Good to Outstanding; 89-91pts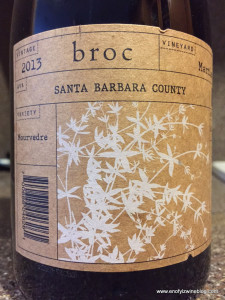 Wine of the Week:  It turned out to be a Sonoma County kind of week on the wine tasting front (completely unplanned).  All the wines, with one exception, were from Dry Creek Valley or the Russian River Valley in Sonoma County! 
Thinking about the wines we enjoyed this past week, I'm a little surprised my highest rated wine the Carlisle Petite Sirah isn't my Wine of the Week.   I guess it's because I've come to expect outstanding wines from Carlisle. But unless you're on the list they can be a challenge to procure and they certainly cost more.  The Iron Horse Brut Rose is a winner, but pricey at $50.  I've actually have a few Rose Champagne I enjoy as much, if not more that are under $40 (hit me up if you want some recs).  The Rochioli Rose of Pinot Noir was likewise delicious, but pricey.  The Dashe Florence Zinfandel is a perennial favorite Zinfandel – Great fruit, in the hand of a great winemaker that one!  But my wine of the week is the Broc Cellars Mourvedre Martian Vineyard. Broc Cellars is an urban winery located in Berkeley, CA.  I've visited a few times, and each time I've been more impressed.  The fruit is from Santa Barbara County. And it's definitely not your typical big bad Mourvedre.  Instead, it's light-bodied, with an elegant character.
More about Broc Cellars
Broc Cellars, the vision of Chris Brockway, is one of the young, dedicated wineries changing the way wine is made in California. He doesn't come from a winemaking family. He owns no vineyards. He farms no grapes. What he does do on a very small scale from his urban winery, is carefully source grapes from ancient vineyard sites located in geographic outposts of California to create delicious, naturally made wines that flaunt balance above all else.
Chris doesn't do anything new in the cellar. In fact, his techniques are a throwback to the way wines have been made for centuries in Europe and in California 30 to 40 years ago before the 'chemical revolution' changed the game. A true minimalist in his winemaking, he ferments and ages in a blend of old wood barrels, steel tanks and concrete, and does little beyond crushing the grapes. "The way we make wine, the most important thing we do is decide when to pick the grapes," he said. "No adjusting, no adding, if we don't pick at the right time there's not much we can do." (Source)
What was your Wine of the Week?  Any killer Food and Wine pairings?
Follow my reviews on Vivino and Delectable
Note. All wines were purchased for review unless otherwise indicated
_________________________________________________________________
Martin Redmond is a Financial Executive by day, and a certified wine geek with latent foodie tendencies the rest of the time. In addition to the wine lifestyle and food he enjoys family, fitness and traveling. He likes to get thoughts of wine off his mind by sharing experiences on his ENOFYLZ Wine blog, which features wine reviews, wine country travel, and wine and food pairings.
Follow me on Twitter @martindredmond for all things wine, and since I'm a wino, with latent foodie tendencies, you'll also find food and wine pairings, and food related stuff! Become a fan and join ENOFYLZ Wine Blog on Facebook. Cheers! This article is original to ENOFYLZ Wine Blog.com. Copyright 2015 ENOFYLZ Wine Blog. All rights reserved.