Over the course of a week, my wife and I drink a bunch o'wine – almost always with food. Since I've always been fascinated by wine at the table with food, I thought it would be fun to recap not only the wines we've been drinking, but also how they pair (or don't pair) with the foods at our table.  It features my pick for Wine of the Week (WoW) – a  wine I particularly enjoy, whether it's something new and different, is a great value, or from a producer worth checking out for the week ended August 23rd 2015.
N.V. Emilio Lustau Jerez-Xérès-Sherry Dry Amontillado Los Arcos Solera Reserva – Retail $17
Tawny color with roasted nuts, spiced orange peel, toffee,dates, and coffee aromas. On the palate it's between medium and full-bodied, dry and rich with wonderful fruit and good acidity. It shows molasses, spiced orange peel, hazelnut flavors with a bit of salinity and a lingering sweet finish. Very Good; 87-88pts
Pale salmon color with aromas of my favorite summertime red fruits – strawberry and raspberry with hints of watermelon. On the palate it's medium-bodied with refreshing acidity and strawberry, raspberry, watermelon and mixed citrus of orange and lemon flavors with an appealing mineral note and a satisfying finish.Very Good to Outstanding; 89-91pts
2014 Alloy Wine Works "Tin City" Central Coast Grenache Rose – Retail $7
From Field Recordings coral color with strawberry, watermelon, blood orange aromas with hints of guava and mint. On the palate it's medium- bodied, fresh, juicy and dryish with ample strawberry watermelon, a bit of peach and a hint of blood orange peel on the back end. A seriously fun Rosé that's oh so portable. $7 for a 500 ml can. Are you freaking kidding me? Will buy more! Very Good; 87-88pts
2011 Cantina Zaccagnini Montepulciano d'Abruzzo Tralcetto Riserva – Retail $15
Dark ruby color with cherry, violet, vanilla and a hint of tar aromas. On the palate, it's light-bodied and harmonious with vibrant acidity, dusty tannins and ample fruit. It shows easy dark cherry, vanilla, and a hint of plum flavors with a satisfying sweet finish. Very Good; 87-88pts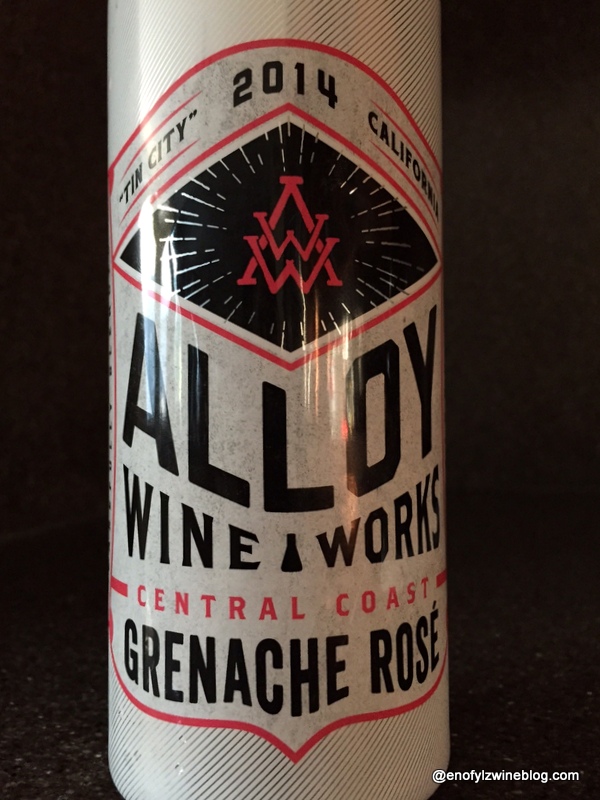 Wine of the Week ("WoW") – It's always a good week when I get to try, a new to me wine. This week there were actually two new to me wine (well one completely new and one sort of new)  I've never tried Montepulciano d'Abruzzo. And my choice turned out to be a very good one that's offers damned good too!  The "sort of new"  was the Emilio Lustau Dry Amontillado Sherry.  I'm actually a big fan of Sherry. I don't drink it often though. That's probably because my wife is not a fan of Sherry. In fact, one of the most memorable wines I've ever had was a Palo Cortado.  I've enjoyed Amontillado before, but they've not been dry.  The Lustau was also very good, offers great value, and is very food friendly. But after all was said and sipped, my Wine of the Week is the 2014 Alloy Wine Works "Tin City" Grenache Rose.
It's Rosé in a can! I picked up at my favorite wine merchant –  K&L Wine Merchants on a whim. Here's what the producer say about it…
Alloy Wine Works is the perfect balance of inventive spirit and rural charm. In this can is pure craft wine, not because we want to seem "hip" or "relevant, but because we want to.  Made from wine that was sourced from the most unique and unexpected lots, the grapes were hand harvested and carefully blended to create something truly Californian.
It' definitely over delivered (though I must confess my expectations were fairly low).  It too, was a new for me experience, because I've never had wine in a can before. I've already purchased a few more cans!  The producer Field Recordings has very good reputation. They also make Pinot Noir in a can under the Alloy Wine Works label and a red blend called Fiction under the Field Recordings label.  I'm looking forward to giving both a try!
More about Field Recordings
Field Recordings  is 34-year old winemaker Andrew Jones' personal catalog of the people and places he values most. Spending his days as a vine nursery fieldman planning and planting vineyards for farmers all over California, Andrew is sometimes offered small lots of their best fruit on the side. Having stood in just about every vineyard on the Central Coast, he has a keen eye for diamonds in the rough: sites that are unknown or under-appreciated but hold enormous untapped potential. As friendships are made and opportunities are embraced, Andrew produces small quantities of soulful  wine from these unusual, quiet vineyards.
What was your Wine of the Week?  Any killer Food and Wine pairings?
Follow my reviews on Vivino and Delectable
Note. All wines were purchased for review unless otherwise indicated
_________________________________________________________________
Martin Redmond is a Financial Executive by day, and a certified wine geek with latent foodie tendencies the rest of the time. In addition to the wine lifestyle and food he enjoys family, fitness and traveling. He likes to get thoughts of wine off his mind by sharing experiences on his ENOFYLZ Wine blog, which features wine reviews, wine country travel, and wine and food pairings.
Follow me on Twitter @martindredmond for all things wine. Since I'm a wino with latent foodie tendencies, you'll also find food and wine pairings, and food related stuff! Become a fan and join ENOFYLZ Wine Blog on Facebook. Cheers! This article is original to ENOFYLZ Wine Blog.com. Copyright 2015 ENOFYLZ Wine Blog. All rights reserved.