From time to time, I receive wines samples from wineries or their public relations agencies for review.  I feature such samples on here on #WineWednesday Review. This week I'm featuring two distinctive wines from Silver Trident Winery.
The Winery
Silver Trident Winery is a Napa Valley based winery located in Yountville that offers a completely different and singular wine tasting experience. Its Tuscan style "tasting home" offers a sit down tasting in a setting featuring Ralph Lauren furniture, home decor, and other accessories. In fact, it is the only Ralph Lauren outlet combined with a winery in the world!  Not only that,  but everything in the tasting room, which is one of a kind (not sold in any Ralph Lauren shops or their website), is for sale.
I had a chance to visit a couple of months ago. It truly was a one of a kind, marvelous experience.  Certainly the Ralph Lauren furnishings, decor and accessories were alluring. And you can't beat the combination of comfort, style and hospitality offered.
But I'm more about the wine.
I'm pleased to report the wines are on par with the rest of the experience!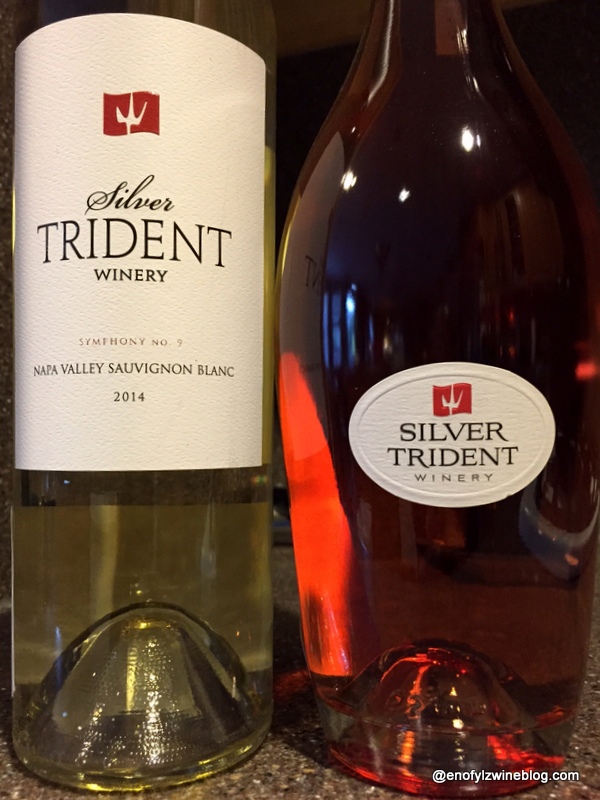 In addition to the two wines tasted here, Silver Trident also 2012 Playing With Fire (A Napa Valley Red Blend, $45), 2013 Benevolent Dictator (Sonoma Coast Pinot Noir, $55) and the 2010 Twenty Seven Fathoms (Napa Valley Cabernet Sauvignon, $90)
The Wines
2014 Silver Trident Sauvignon Blanc Symphony No. 9 – USA, California, Napa Valley, St. Helena
Very pale straw color with appealing grapefruit, lemon peel, tropical fruit and a hint of chalk aromas. On the palate it's medium-bodied with a great texture, depth and bright acidity. It shows grapefruit, lemon peel, and white peach flavors with a mineral note and a lingering satisfying finish. Fermented in 70% Stainless steel, 30% Neutral French oak. 14.2% alcohol. Retail -$28 Very Good to Outstanding; 89-91pts
2014 Silver Trident Pinot Noir Rosé Apollo's Folly – USA, California, Sonoma County, Sonoma Coast
Pretty salmon color with strawberry, raspberry, stone fruit, and a hint of floral aromas. On the palate, it's medium-bodied, and fresh with juicy strawberry, raspberry, stone fruit, and a hint of savory spice with a mineral element and a lingering finish. 14.1% alcohol. Barrel fermented in 80% stainless and 20% neutral French oak. Retail $28 Very Good to Outstanding; 89-91pts
If you're looking for a one of a kind Napa Valley wine experience, check out Silver Trident!
Follow my wine reviews on Vivino and Delectable
Wines provided as a sample for review.  Many thanks to Bob Binder of Silver Trident Winery  and Julie Ann Kodmur

_________________________________________________________________
Martin Redmond is a Financial Executive by day, and a certified wine geek with latent foodie tendencies the rest of the time. In addition to the wine lifestyle and food he enjoys family, fitness and traveling. He likes to get thoughts of wine off his mind by sharing experiences on his ENOFYLZ Wine blog, which features wine reviews, wine country travel, and wine and food pairings.