Over the course of a week, my wife and I drink a bunch o'wine – almost always with food. Since I've always been fascinated by wine at the table with food, I thought it would be fun to recap not only the wines we've been drinking, but also how they pair (or don't pair) with the foods at our table.  It features my pick for Wine of the Week (WoW) – a  wine I particularly enjoy, whether it's something new and different, is a great value, or from a producer worth checking out for the week ended August 16th 2015.
Veuve Clicquot Ponsardin Champagne Brut – Retail $47
Very pale yellow color with tiny bubbles and a fine bead. Offers aromas of fresh biscuit dough, grapefruit, lime cream, with hints of quince and white flower. On the palate it shows soft creamy mousse with clean well delineated apple, peach, lime, lemon and grapefruit flavors underscored with an appealing minerality. Seems much improved to my palate over a few years ago – cleaner more complex Very Good to Outstanding; 89-91pts
2013 Trivento Amado Sur – Retail $15
Opaque violet color with mixed black fruit, licorice, and low-key spice and cedar wood aromas. On the palate it's medium-bodied with good acidity, ample fruit, and soft tannins with black currant, black cherry, plum, vanilla and a hint of spice flavors. Medium finish. Very Good; 86-88 pts
2013 Domaine des Costes Rouges Marcillac Tandem – Retail $17
Dark violet color with promising red currant and raspberry aromas with low-key spice and dried herb notes. On the palate it's light-bodied, fresh and well structured with charming, easy-going cassis, raspberry, and spice flavors with supple tannins and an enticing minerality. Very Good; 86-88 pts
2014 Copain Pinot Noir Tous Ensemble Rosé – Retail $17
Pretty salmon color with watermelon, red berry and a hint of earthy aromas. On the palate, it's between light and medium-bodied and fresh with an especially nice mid palate weight. It shows strawberry blood orange, cherry and raspberry flavors with a nice spice note. Medium long finish. Very Good to Outstanding; 89-91pts
2014 Dashe Cellars Grenache Les Enfants Terribles – Retail $24
Ruby color with appealing strawberry cream, sour cherry jolly rancher aromas with light spice, and mineral notes. On the palate, it's light-bodied with vibrant acidity, a juicy texture underscored  some dusty tannins with strawberry, sour cherry, plum, spice and a bit of earthiness on the finish. Medium plus finish. Very Good to Outstanding; 89-91pts
2009 Ridge Merlot – Retail $45
Dark ruby color with aromatic black cherry, blueberry, cassis and a kiss of vanilla, and baking spice aromas. On the palate, it's medium-bodied, balanced and elegant with black cherry, blueberry, cassis and vanilla flavors. Long finish. 14.2% alcohol.The Merlot is made from two parcels planted at 1,300 and 2,000 feet of elevation in the Jimsomare property, which is now part of the Ridge estate. 2009 was their first bottling of a varietal Merlot since 1997.Very Good to Outstanding; 89-91pts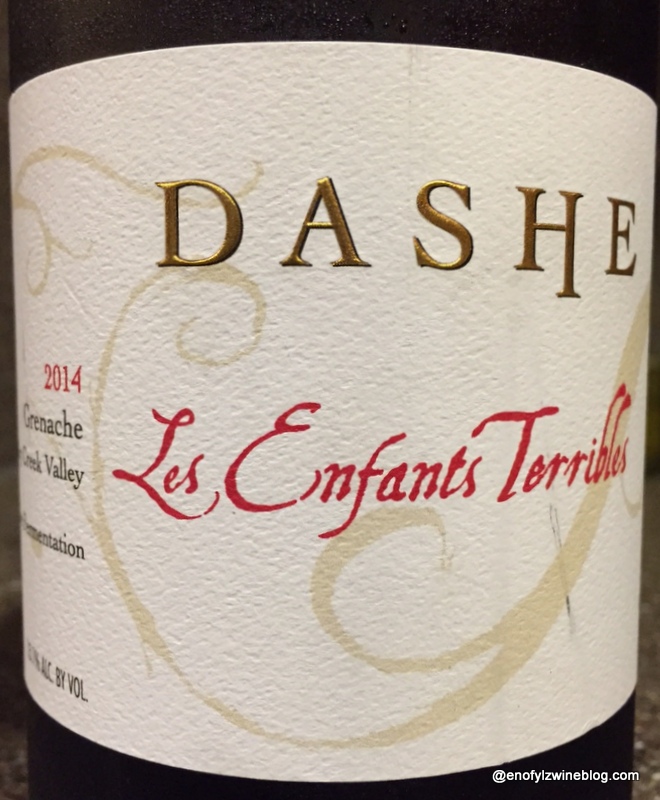 Wine of the Week ("WoW")  Any week that includes some Champagne is a very good week indeed!  Not only that I tried a completely new to me grape – Fer Servadou (2013 Domaine des Costes Rouges Marcillac Tandem)
For quite a few years I was not a fan of Veuve Clicquot.  In my opinion, not only was it ubiquitous, but I thought it was overrated in relation to its quality.  I think it's improved over the last few years though, and it's back in my good graces (though there are still quite a few Champagne that I enjoy just as much if not more for less.  It's definitely a quality bottle of Champagne that's on par with many in the same price range.  The Ridge Merlot was a treat. As paraphrase a cliché goes…I don't drink Merlot often, but when I do I drink Ridge😉
My WOW is the 2014 Dashe Cellars Grenache Les Enfants Terribles.  It's one of my favorite summertime reds wines. It's take a chill very well, and its lively acidity make it a wonderful partner at the table with a variety of dishes.  Highly recommended!
More about Dashe Cellars
Dashe Cellars, founded by Michael and Ann Dashe in 1996, is an urban winery located near Jack London Square in Oakland, CA.   Michael Dashe is the Winemaker, and Anne Dashe is the General Manager.  Between the two, they have 40-plus years experience in the wine business, including experience at  some big-time wineries such as Ridge Vineyards, Far Niente, Chappellet, Schramsberg Wine Cellars in California;  Château Lafite-Rothschild, Château La Dominique in France,and  Cloudy Bay in New Zealand.   The winery produces about 10,000 cases annually.
From the start we always wanted to make this Grenache almost in a Grand Cru Beaujolais style: a serious wine that offers bright, lively fruit but with a great structure and balance.  Dashe Cellars
From Dashe Cellars…In 2014, low yields and perfect ripening weather created a lovely Grenache, a bit softer and more delicate than previous vintages. Because of the way we make this wine—fermented with the native yeasts on the grapes; aged in large French oak barrels; unfined; and bottled with low SO2 levels—we felt that it deserved to be labeled with our other wines in the Les Enfants Terribles (the "Wild Children") series made in a more Old World style.  The resulting purity of flavor, velvety texture, and lush midpalette is a break from the brash, fruit-forward style of many Californian wines.
What was your Wine of the Week?  Any killer Food and Wine pairings?
Follow my reviews on Vivino and Delectable
Note. All wines were purchased for review unless otherwise indicated
_________________________________________________________________
Martin Redmond is a Financial Executive by day, and a certified wine geek with latent foodie tendencies the rest of the time. In addition to the wine lifestyle and food he enjoys family, fitness and traveling. He likes to get thoughts of wine off his mind by sharing experiences on his ENOFYLZ Wine blog, which features wine reviews, wine country travel, and wine and food pairings.
Follow me on Twitter @martindredmond for all things wine. Since I'm a wino with latent foodie tendencies, you'll also find food and wine pairings, and food related stuff! Become a fan and join ENOFYLZ Wine Blog on Facebook. Cheers! This article is original to ENOFYLZ Wine Blog.com. Copyright 2015 ENOFYLZ Wine Blog. All rights reserved.