Welcome to this month's French Winophiles!  We're group a food and wine bloggers pulled together by Christy of Adventures of a Culinary Diva.  We're taking a virtual tour of France region by region and learning about French cuisine, wine and travel.  This month we're exploring the Sud-Ouest (South West) region of France
Sud-Ouest (South West) Region
The South West region of France is a relatively large territorial zone that lies between – and does not include – the wine regions of Bordeaux and Languedoc-Roussillon.  The region includes eighteen appellations denoted as either AOP or IGT.  It also includes the iconic Armagnac brandy-producing area.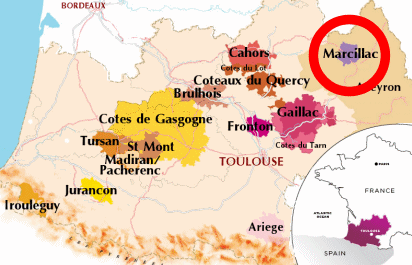 According to the Wines of Southwest France website (a wonderful resource) the region has a feel and a lifestyle all its own. Located off the beaten path from the bustle of Paris or Lyon, life in the southwest is more relaxed. For the French who live in other parts of the country, the southwest is the place to go for a relaxing weekend getaway.Here they can explore vineyards, enjoy the celebrated regional cuisine (think foie gras and duck confit), shop at local markets, fish in the Pyrenees, tour hilltop castles, admire prehistoric cave paintings or the art of Toulouse-Lautrec, or hike the Lot River valley. And for those who want sand and surf, the Atlantic coast offers 100 miles of beach, ending at the luxury resort city of Biarritz.
In My Glass
Given the region's size and vinous diversity, I decided to focus on one specific appellation, with an eye on trying a new to me grape variety. My search lead me to the 2013 Domaine des Costes Rouges "Tandem" from the Marcillac AOP.
The Marcillac appellation, which is largely overlooked, covers 420 acres devoted almost exclusively to a single type of vine: Fer Servadou, or Mansois as it is known locally. The grape variety is found throughout the Sud-Ouest wine region, but Marcillac is its spiritual home.  No other appellation uses Fer as the key grape variety.
Fer is native to the País Vasco, the Basque area of Spain on the French border.  It's a member of the Carmenet family, which includes Cabernet Franc, Cabernet Sauvignon, Carmenère, Merlot, and Petit Verdot.
The grape  thrives on the stony, iron-rich soils known locally  les rougiers (due to their reddish color) in the hills surrounding the town of Marcillac.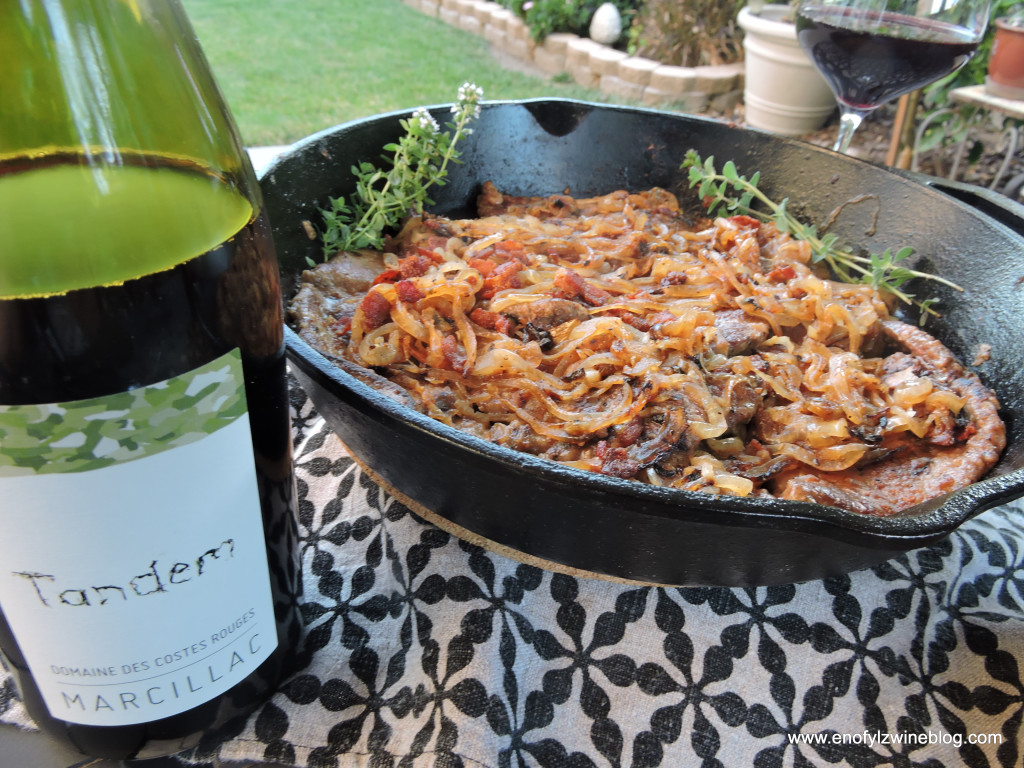 The producer, Domaine des Costes vineyards are 100% Mansois and organically farmed.  All fermentation and elevage is done in concrete tanks.  Their wines are bottled unfiltered.
My tasting notes:
Dark violet color with promising red currant and raspberry aromas with low-key spice and dried herb notes. On the palate it's light-bodied, fresh and well structured with charming, easy-going cassis, raspberry, and spice flavors  with supple tannins and an enticing minerality.  Stylistically the wine falls between a Loire Cab Franc and Gamay. 12%; Retail-$17
On My Plate
The challenge with selecting a wine produced from a new to me grape is determining what kind food with make a harmonious pairing with the wine.
As I was researching pairing options I came across Seared Calves Liver and Marcillac.
Wow! It's been a seriously long time since I've had liver, which of course I held in contempt for many years.
What changed?
I worked my way through college as a cook in a restaurant.  One day, in desperate need of something different to eat, I threw a piece of liver dusted with some flour into some bacon grease and sautéed some onions in the same.
My contempt for liver disappeared with the first fork full of offal yumminess that is liver and onions.
I checked out some recipes and found a Calf's Liver With Bacon, Caramelized Onions and Sherry from Emeril Lagasse.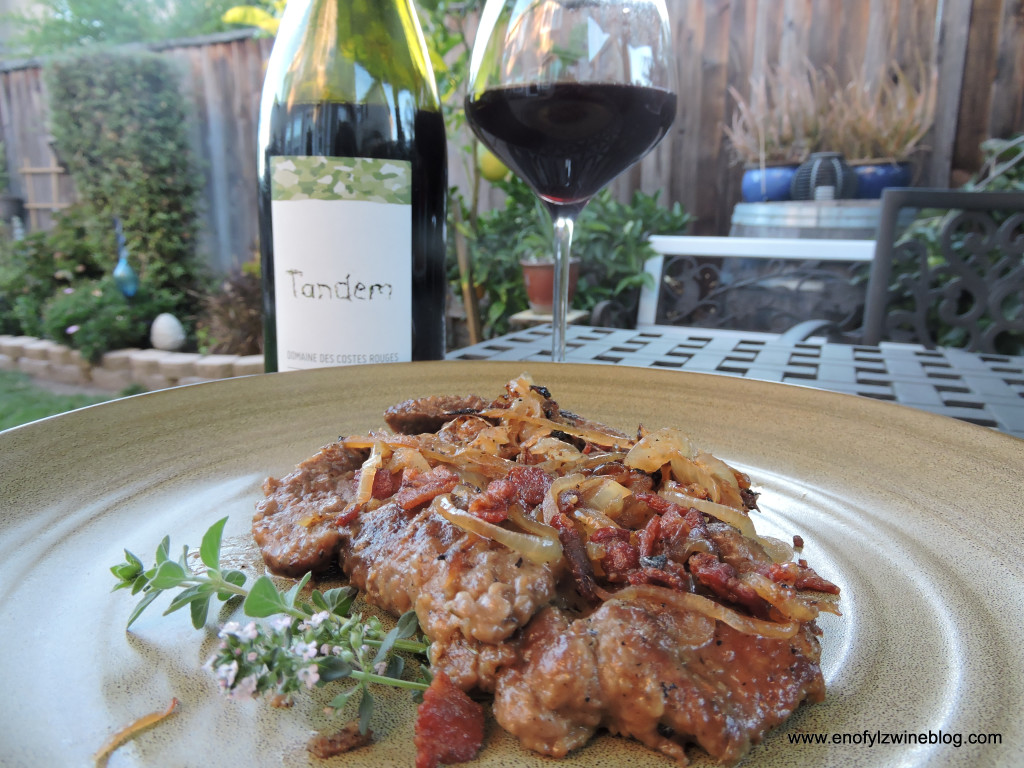 The recipe was definitely an upgrade over my relatively simple and quick liver preparation.
One of the key steps in recipe is to soak the liver in milk for at least 20 minutes.  I'd never done that before. But I certainly think it paid off – the dish was utterly delicious – with a  hint of sweetness I'd never before tasted when eating liver.  The sherry pan sauce was a very nice compliment to the sweetness of the caramelized onions. And hey…you can't go wrong with bacon bits!
As for the pairing? It was wonderful!  The wine was made the liver taste better, and vice versa. This is a combination I'll be repeating!
There's plenty more food and wine deliciousness from Sud-Ouest.  Check out what my fellow French #winophiles have in store for you!
Join us Saturday, August 15th at 11 am ET/8 am PT for a live Twitter Chat sharing wine, food and travel stories from Sud-Ouest. Follow us on #winophiles.
Next month we explore the wine and cuisine of  the Languedoc-Roussillon region of France on Saturday, September 19th 
_________________________________________________________________
Martin Redmond is a Financial Executive by day, and a certified wine geek with latent foodie tendencies the rest of the time. In addition to the wine lifestyle and food he enjoys family, fitness and traveling. He likes to get thoughts of wine off his mind by sharing experiences on his ENOFYLZ Wine blog, which features wine reviews, wine country travel, and wine and food pairings.
Follow me on Twitter @martindredmond for all things wine. Since I'm a wino with latent foodie tendencies, you'll also find food and wine pairings, and food related stuff! Become a fan and join ENOFYLZ Wine Blog on Facebook. Cheers! This article is original to ENOFYLZ Wine Blog.com. Copyright 2015 ENOFYLZ Wine Blog. A