Wine Pairing Weekend is a monthly collaborative event for wine/food bloggers started by David Crowley of Cooking Chat.  It's a great way to find food and wine pairings that work (or learn from the ones that don't); along with tips on how to create your own food and wine pairing magic.  Christy Majors of Confessions of a Culinary Diva is hosting this month's theme where we're sharing pairing food and wine from Portugal!
About a month ago, myself and a half-dozen or so other wine bloggers were invited to tasting hosted by Alleah Friedrichs, co-founder of Bliss Wine Imports. The tasting featured wines from France, Spain and Portugal. I was very impressed with the wines we tasted.
Since I hadn't settled on a wine or a dish for our Portugal theme,  and I typically pick my wine first, I reached out to Alleah and inquired about which Portuguese  wines she had in stock.
She mentioned  several wines, including a few that I enjoyed at the tasting. But what caught my attention was her comment about an "unfiltered white"…of 100% Encruzado that "is off the hook- Michael Mina bought this"
I adore unfiltered white wines!  And I get a chance to discover a new to me, grape variety indigenous  to Portugal?  My inner wine geek did a break dance!  Of course, the Michael Mina endorsement certainly helped…Sold!
In my Glass
My wine is the 2008 Torre de Tavares Dão.  As previously noted, it's made with 100% Encruzado.
Oh…you've ever heard of the grape variety? Neither had I!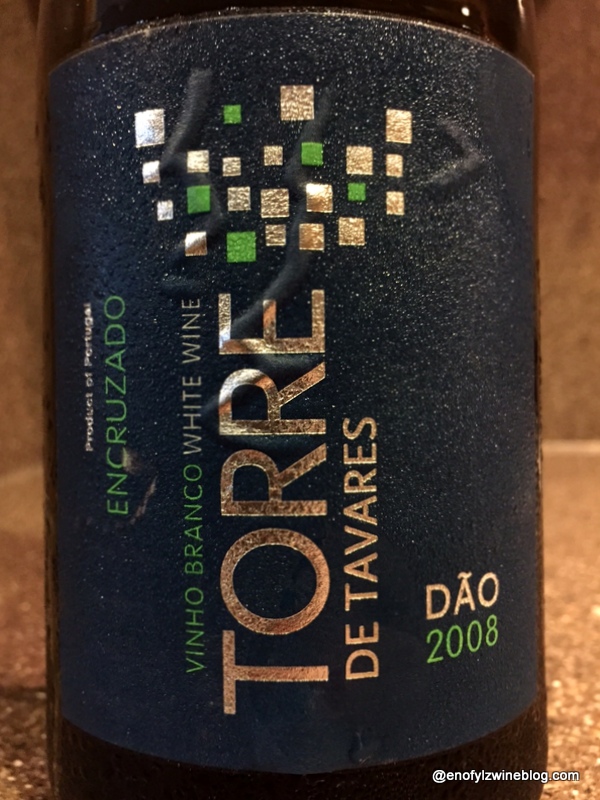 According to Winesearcher.com…Encruzado is arguably Portugal's finest white grape variety, although far from its most famous. Planted mainly in the granite hills of Dão in the center of the country, Encruzado makes rich, full-bodied wines with aromas of lemon, woody herbs, stone fruit and melon, often with floral overtones. These wines are prized for their waxy, textural mouthfeel and well-made examples can be cellared for many years.
It's certainly the leading light-skinned grape variety in the Dão (where it's almost exclusively grown). There it's often blended with Bical or Arinto.
 Amongst its virtues is the ability to maintain almost perfect balance between sugar and acidity, making serious, rich, structured wines with extraordinary ageing potential. It is used both as a single variety and as a star ingredient in many Dão blends…can be viewed as a melding of a Burgundian Chardonnay's texture and terroir with the aromatics of the Portuguese grape Fernão Pires. (Source)
The grapes for this wine were harvested by hand. The wine was not fined or filtered. It went through malolactic fermentation in a steel tank, then was aged on its lees in oak for 1 year. It then spent another 6 months in the tank before bottling. It was aged in the bottle for 5 years.
I aerated the wine (as recommended by Bliss Wine Imports) for about  30 minutes in a decanter.  Aerating the wine also provided an opportunity to let the wine come up to the appropriate serving temperature of  50-55°F.
My tasting notes follow:
Hazy yellow tinged gold color with aromatic, appealing quince, pear, orange marmalade, and wet stone aromas with an appealing oxidized note. On the palate it's well structured, full-bodied, and very fresh, yet voluptuous with a very appealing hint of tannins. It shows tart quince, orange and vanilla flavors, with a hint of baked nectarine and a long mineral driven finish. 12.5% alcohol  Retail $42
This was a remarkable bottle of wine. It will most certainly be in the conversation if you ask me "What's the best bottle of white wine you've ever had"?
On My Plate
After choosing my wine, and poking around for a recipe, I settled on Grilled Fish Setúbal Style.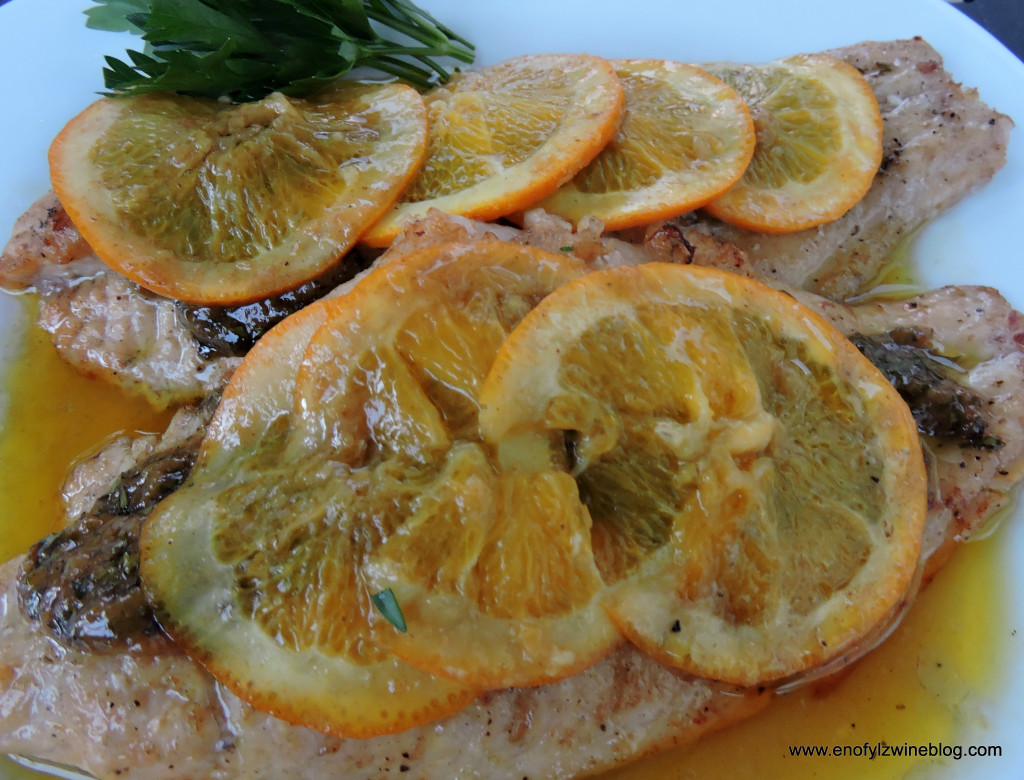 I modified the recipe a bit because I wanted to actually grill the fish (in the recipe the fish is broiled).
Grilling the fish turned out to be a great idea, though my coals were quite hot enough to get some nice grill marks.
The sauce for the dish is just so damned delicious. Essentially, it's a citrus browned butter reduction.  I might double it next time!
It's the kind of sauce that when you taste it, you immediately begin to consider what  other dishes you might put it on!
Oh…and those oranges on top, which I thought were just there for show?  On a whim, I tried one and….
Deeeelicious!
The recipe is definitely a do over…and over…and over!
The Pairing
This was a fantastic pairing!. The wine's vibrant acidity cut through the butter and the sauce of the dish, while the weight of the wine was a great match for the weight of the dish. Additionally, the citrus notes in the wine perfectly complimented the citrusy flavors in the dish.
If you're considering checking out an Encruzado, you'll find some great pairing suggestions here.
Check out what my other food and wine loving friends have in store for you:
Please join us this morning at 8 am PST on Twitter for a fun and lively discussion on Portuguese food and wine pairings at #WinePW. Also, join us Saturday, September 12 as we explore volcanic wines and food pairings! _________________________________________________________________
Martin Redmond is a Financial Executive by day, and a certified wine geek with latent foodie tendencies the rest of the time. In addition to the wine lifestyle and food he enjoys family, yoga, hiking, and traveling. He likes to get thoughts of wine off his mind by sharing experiences on his ENOFYLZ Wine blog, which features wine reviews, wine country travel, and wine and food pairings.
Follow me on Twitter @martindredmond for all things wine. Since I'm a wino with latent foodie tendencies, you'll also find food and wine pairings, and food related stuff! Become a fan and join ENOFYLZ Wine Blog on Facebook. Cheers! Follow my reviews on Vivino and Delectable This article is original to ENOFYLZ Wine Blog.com. Copyright 2015 ENOFYLZ Wine Blog. All rights reserved.