Over the course of a week, my wife and I drink a bunch o'wine – almost always with food. Since I've always been fascinated by wine at the table with food, I thought it would be fun to recap not only the wines we've been drinking, but also how they pair (or don't pair) with the foods at our table.  It features my pick for Wine of the Week – a  wine I particularly enjoy, whether it's something new and different, is a great value, or from a producer worth checking out; plus my Food and Wine pairing of the Week for the week ended August 2nd 2015.
2012 Bedrock Wine Co. Zinfandel Old Vine – Retail $19
Garnet color with dried cherry, black raspberry, and sweet spice aromas. On the palate it's between light and medium-bodied, and well structured with soft well-integrated tannins and wonderful acidity with cherry, black raspberry, sweet spice, a hint of strawberry and very appealing spice. Medium-long finish. Great value at $20! Very Good to Outstanding; 89-91pts
2014 La Bastide Blanche Bandol Rosé – Retail $22
Salmon color with lifted red berry, melon, blood orange, wet stone, ocean breeze and a hint of damp dusty earth aromas. On the palate it's medium-bodied, layered and fresh with fine concentration and mixed melon, stone fruit, red berry, flavors with and herbal note and a very giving mineral driven dry finish. Very Good to Outstanding; 89-91pts
2010 Carlisle Syrah Papa's Block – Retail – about $60 now, but purchased for $38
Opaque violet-purple color with very appealing bacon fat, mixed blackberry and blueberry compote with a hint of floral aromas. On the palate, it's medium-bodied and focused, with ample fruit deftly counter-balanced with very good acidity and a supple texture and well integrated tannins. It shows blackberry, blueberry, vanilla, peppery spice flavors with hints of red currant, bittersweet chocolate and plum. Long finish. 95%
Syrah, 4% Mourvèdre. 1% Viognier. 15.5% alcohol Outstanding; 92-95 pts
2014 Bedrock Wine Co. Albariño Abrente – Retail $22
Pale yellow color with appealing green apple, lime, cantaloupe, ocean breeze aromas complemented by hints of tropical fruit and orange blossom. On the palate, it approaches medium bodied, and persistent with crackling acidity, and a wonderful texture. It shows green apple, lime a bit of stone fruit and a bit of melon flavors with a giving finish. Very Good to Outstanding; 89-91pts
Louis Roederer Champagne Brut Premier – Retail $47
Pale yellow color with plentiful active tiny bubbles and fresh bread, almond, apple, subtle citrus and a hint of smoke aromas. On the palate, it's refined, lively and fresh with a delicate creamy mousse. Mixed tart apples, pear and lemon curd flavors dominate but hints of grapefruit, black currant and an appealing smoky minerality play in the background. Long finish.Very Good to Outstanding; 89-91pts
2001 Casanova di Neri Brunello di Montalcino Tenuta Nuova – Retail about $90 per Cellar Tracker
Very dark red brick violet color with very appealing, mature, dried cherry, cherry liqueur, leather, and vanilla with a hint of balsamic aromas. On the palate it's light-bodied, complex and, elegant with a silky texture. It shows dried mixed red berries, leather, and spice flavor. Long finish. A distinguished beautiful wine! Outstanding; 92-95 pts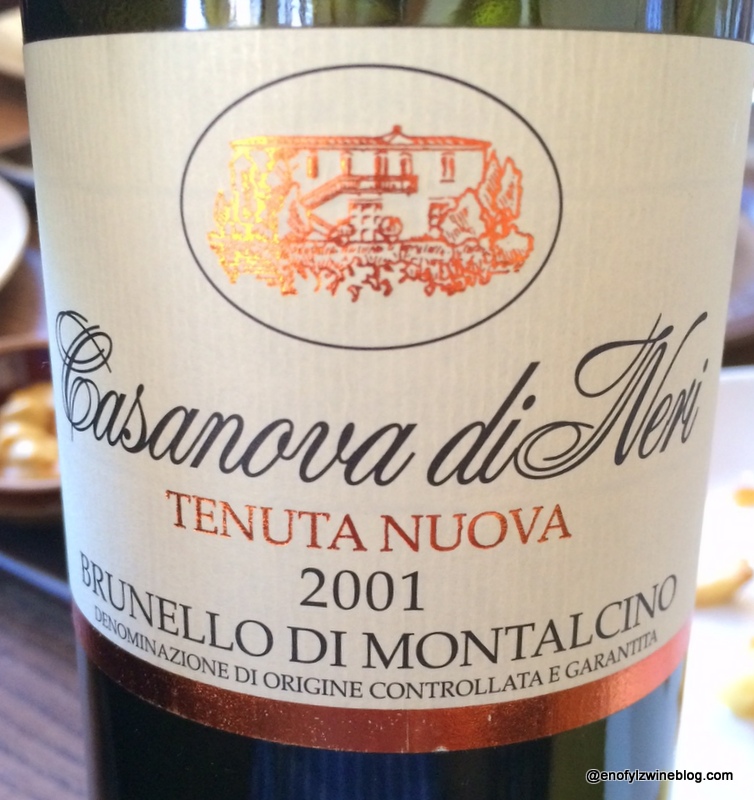 Wine of the Week (WoW) – It was a wonderful week for wine. I tend to drink a lot of California wines because that's what I have the most of (I like to try before I buy), but since I've been participating in a few food and wine pairing groups, I've been tasting more Italian and French wines.
Not a dud in the bunch this week.  The Bedrock Old Vine Zinfandel offers remarkable value at $19. Likewise for the La Bastide Blanche Rosé, and the Bedrock Wine Co. Albariño Abrente. Both are offer a lot of bang for the buck.  I'm glad I've got a couple of more bottles of the Albariño, and I've already purchased more of the Bandol, which I think is comparable to the Domaine Tempier Bandol at about half the price!  The Carlisle Papa's Block Syrah is such a delicious and well structured wine.  I wish I had more.
Ultimately though my WoW is the 2001 Casanova di Neri Brunello di Montalcino Tenuta Nuova.  My good friend Enrique and his wife brought the bottle for a very memorable brunch with my wife and I at Nopa in San Francisco last weekend.
The 2001 is its best Tenuta Nuova ever, delivering the depth, richness, freshness and unique character expected of such a great vintage—Wine Spectator
While we went to brunch, ostensibly, to see if their burger lived up to the hype (it did), Enrique brought this fabulous bottle of wine (#1 on  the 2006 Wine Spectator's Top 100 Wines) kick off my birthday month celebration (not my idea – I'm cool with a day;-).  I won't be able to think of this bottle of wine without thinking of the remarkable day shared with good friends, or vice-versa.  And isn't that what makes wine such a beautiful thing?
For my Food and Wine Pairing of the week, we paired the Bedrock Albariño with Shrimp Ceviche Tostadas from our favorite local taqueria.  Just a remarkable pairing!  And the Albariño has great acid making it a very versatile wine at the table.
What was your Wine of the Week?  Any killer Food and Wine pairings?
Follow my reviews on Vivino and Delectable
Note. All wines were purchased for review unless otherwise indicated
_________________________________________________________________
Martin Redmond is a Financial Executive by day, and a certified wine geek with latent foodie tendencies the rest of the time. In addition to the wine lifestyle and food he enjoys family, fitness and traveling. He likes to get thoughts of wine off his mind by sharing experiences on his ENOFYLZ Wine blog, which features wine reviews, wine country travel, and wine and food pairings.
Follow me on Twitter @martindredmond for all things wine. Since I'm a wino with latent foodie tendencies, you'll also find food and wine pairings, and food related stuff! Become a fan and join ENOFYLZ Wine Blog on Facebook. Cheers! This article is original to ENOFYLZ Wine Blog.com. Copyright 2015 ENOFYLZ Wine Blog. All rights reserved.