One of the things I love most about food and wine is their ability to transport one to a different place.  And a  place's people, culture, and customs are reflected in its food and wine.  In that sense, one can virtually travel the world through food and wine.  And that is exactly what we are doing through Italian Food Wine and Travel (#ItalianFWT).  We taking a virtual tour of Italy by exploring its food and wines.  This month we're exploring Sardinia (known as Sardegna to its Italian-speaking inhabitants)!
About Sardinia
Sardinia,  located in the middle of the Mediterranean Sea, is 150 miles off the west coast of mainland Italy. It is the second-largest island in the Mediterranean Sea, and only marginally smaller than Sicily.  The island has belonged to various empires and kingdoms over the centuries. This is reflected in its place names, architecture, languages and dialects, along with its unique portfolio of wine grapes.
I love how author Kerry Christiani describes her love of the island…
Sardinia was love at first sight for me. No matter how often I return, I find new coastal trails to explore and mountains to climb, hidden bays to kayak to and little-known agriturismi tucked away in the silent hinterland. The island is deceptive – it looks small on paper, but unravel it and it is huge. It's like a continent in miniature, shaped by its own language and fierce traditions, its own cuisine and culture, its own history and the mystery that hangs over it like a shroud. Sardinians are proud of their island, and so they should be.
The island is, of course, most renown for its beaches and coastline including Costa Smeralda.  But there is much more to see including the recently unveiled stone sculptures of Giants of Monte Prama.
Nowhere does slow food like Sardinia. Throw in views of mountains and sea, some fine home-produced Vermentino or Cannonau wine and fresh farm produce and you are looking at a great culinary experience — simple but great. (Source)
On My Plate
I adapted a recipe for Shellfish Paella with Fregola for my Sardian Style Seafood Paella. Food and Wine magazine describes the recipe as follows:
Fregola replaces rice in this Sardinian paella; the chewy, dot-shaped semolina pasta comes from the western part of Sardinia, near Oristano, where more than four centuries of Spanish occupation left Catalan influences that are still prominent today. In another change from the traditional Spanish recipe, this version is made with only seafood (no chorizo).
The primary changes I made to the recipe were mostly driven by ingredients I wan't able to find, including fregola and fava beans.  Instead I substituted pearl couscous and baby lima beans respectively.  But I also changed up the seafood a bit, substituting scallops for the monkfish in the recipe.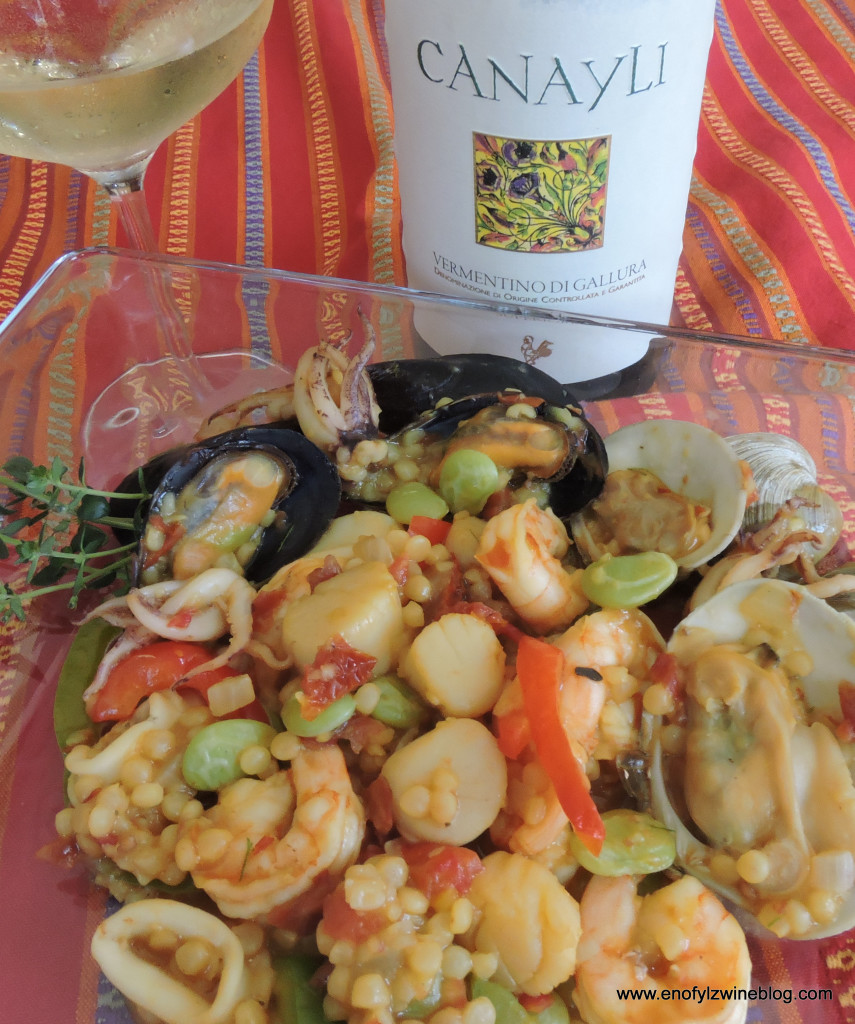 My wife and I adore paella!  We've had it in Spain, and cooked it a home, including cooking it on our Weber grill. We mostly prefer Paella Mixta, but we were eagerly anticipating this all seafood version.
While I was a little disappointed I wasn't able to find any fregola (a.k.a. fregula), the recipe turned out fabulously. It was a very nice change of pace from rice based paella.

Sardinia Style Seafood Paella
Prep time:
Cook time:
Total time:
Ingredients
INGREDIENTS
1 quart fish stock or bottled clam juice
¼ teaspoon saffron threads
1 c frozen baby lima beans (thawed)
¼ cup extra-virgin olive oil
1 medium onion, finely chopped
2 cups pearl couscous (11 ounces)
16 littleneck clams, scrubbed and rinsed
16 mussels, scrubbed and debearded
1 cup dry sherry
1 red bell pepper, thinly sliced
1 green bell pepper, thinly sliced
3 plum tomatoes—halved, seeded and coarsely chopped
½ cup drained sun-dried tomatoes, coarsely chopped
5 thyme sprigs
2 bay leaves
1 rosemary sprig
4 ounces medium shrimp, shelled and deveined
4 ounces squid, bodies cut crosswise into 1-inch rings, tentacles left whole
4 ounces bay scallops
3 tablespoons chopped dill
Salt and freshly ground pepper
Instructions
In a medium saucepan, bring the fish stock to a simmer. Transfer 1 cup of the hot cooking liquid to a measuring cup and crumble in the saffron. Cover the remaining stock; keep warm over low heat.
In a large, deep skillet, heat the olive oil. Add the chopped onion and cook over moderate heat, stirring occasionally, until softened, about 7 minutes. Add the pearl couscous and cook over moderately high heat, stirring frequently, until it is well coated with the oil, about 2 minutes. Add the clams, mussels and 1 cup of the hot stock and stir constantly until the shellfish start to open, about 4 minutes; discard any clams or mussels that don't open.
Add the sherry and simmer until reduced by half, about 3 minutes. Stir in the baby lima beans, sliced red and green bell peppers, plum tomatoes, sun-dried tomatoes, thyme, bay leaves and rosemary. Add the remaining 2 cups of hot fish stock and the saffron-infused stock to the pearl couscous. Lower the heat to moderate and cook, stirring frequently, until the couscous is just tender, about 10 minutes.
Add the shrimp, squid and bay scallops to the couscous and cook over moderate heat, stirring a few times, until the seafood is just cooked through, about 5 minutes. Discard the bay leaves and thyme and rosemary sprigs. Stir in the dill and season with salt and pepper. Serve the paella immediately in shallow bowls.
NOTES
The original recipe called for Fregola, a toasted pearl-size Sardinian pasta that is quite similar to couscous. It's available at specialty food shops and some supermarkets. Since I was unable to find I subbed pearl couscous
 In My Glass
2013 Cantina di Gallura Vermentino di Gallura Canayli – Retail $18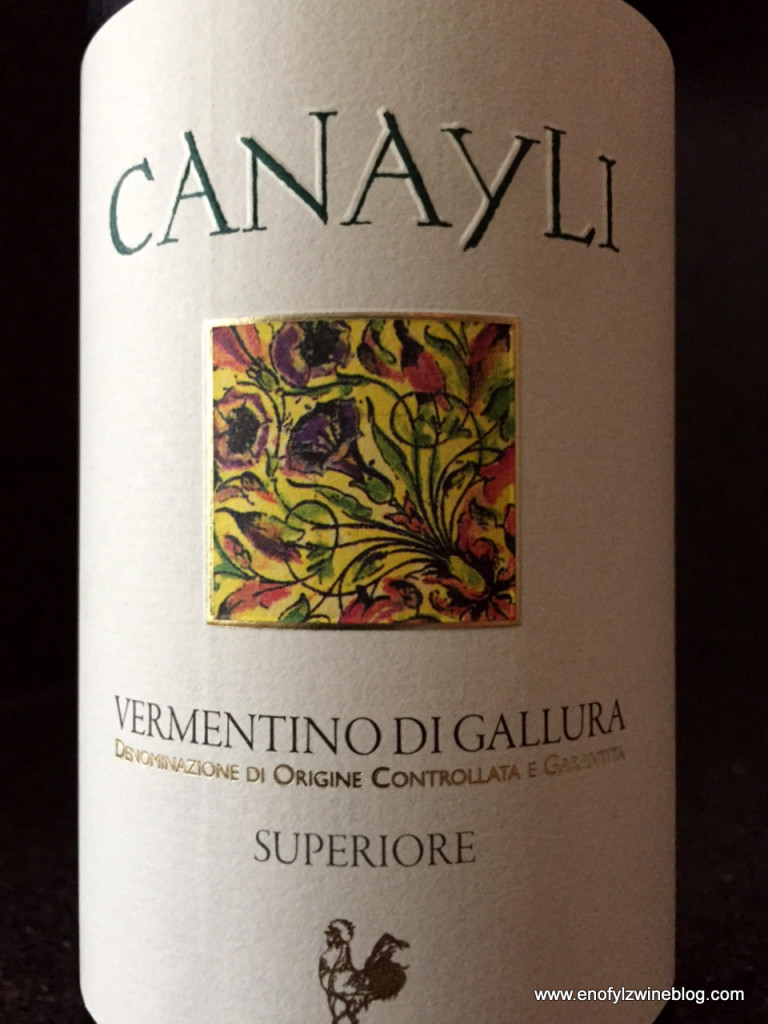 As I usually do, I picked my wine first. Then I chose a dish I thought it make for a harmonious pairing.  When I saw that this wine was described as "one of the most popular Italian whites" at my favorite wine shop K&L Wine Merchants I was sold. So far during our virtual tour of Italy I'm finding the Italian white more interesting and appealing than the reds for the most part.
It's from Sardinia's only DOCG appellation – DOCG Vermentino di Gallura. It's produced in the province of Olbia-Tempio, which is a large area at the northern end of the island that's incessantly swept by the salty Mediterranean air.
The origins of the Vermentino grape variety are not clear. It commonly thought to be native to Spain, then brought to the Ligurian coast of northwest Italy during the Middle Ages. It is also possible that a variant of Malvasia migrated from the island of Madeira to Spain and then to Corsica. Italians would tell you the grape has been cultivated in Gallura, often under the name Arratelau, since the fourteenth century.  My tasting notes follow:
Very pale yellow green color stone fruit, lemon thyme, wet stone and a hint of green pepper aromas. On the palate, it's dry medium-bodied and fresh with an abundance of mixed stone fruit, clove, and a hint of almond flavors with a lingering saline minerality.
The wine was a very harmonious pairing with the Sardian Seafood Paella.  The saline minerality of the wine was a nice compliment to the paella, while at the same time the citrus notes of the wine was a refreshing contrast…sort of like a spritz of lemon on seafood!
Wait……there's more!  My fellow bloggers have lots more to share with you so check out their blogs below.  If you're reading this in time also you can join us live on Twitter at 11am EST at #ItalianFWT and tell us all about your experiences with the island of Sardegna or come and learn something new about this region.
If you're seeing this early enough make sure to join us live on twitter at 8am PDT. Follow #ItalianFWT. Tell us your food, wine or travel stories of Sardegna. We look forward to chatting with you. Next month September 5th we'll feature the region of Abruzzo.  Let me know if you'd like to join our group.  Ciao ciao for now!
________________________________________________________________
Martin Redmond is a Financial Executive by day, and a certified wine geek with latent foodie tendencies the rest of the time. In addition to the wine lifestyle and food he enjoys family, fitness and traveling. He likes to get thoughts of wine off his mind by sharing experiences on his ENOFYLZ Wine blog, which features wine reviews, wine country travel, and wine and food pairings.
Follow me on Twitter @martindredmond for all things wine. Since I'm a wino with latent foodie tendencies, you'll also find food and wine pairings, and food related stuff! Become a fan and join ENOFYLZ Wine Blog on Facebook. Cheers! This article is original to ENOFYLZ Wine Blog.com. Copyright 2015 ENOFYLZ Wine Blog. All rights reserved.