Last week I participated in an online tasting featuring three summer red wines from Ferrari-Carano Vineyards and Winery.  The virtual tasting featured Rebecka Deike, associate winemaker for all red wines at Ferrari-Carano, moderator Chelsea Kurnick of McCue Communications, and a select group of wine bloggers.
"As winemaker for our red wines, I love the seasonal experiences and connection between seeing the vines develop in the vineyards, the grapes ripening and witnessing the transformation of grapes into wine. Our wines are reflective of the terroir they come from." – Rebecka Deike
The virtual tasting featured three summer reds from Ferrari-Carano:
2013 Ferrari-Carano Pinot Noir Anderson Valley
2012 Ferrari-Carano Siena Sonoma County Red Wine
2012 Ferrari-Carano Zinfandel Dry Creek Valley
Recommended serving temperature for the wines was between 62-68 degrees F.   It was a nice reminder that serving wines at the correct temperature makes a world of difference to its taste.  While not an exact science (and personal preference is always a factor) chilling a bottle of red wine down for 10-15 minutes in a bucket of ice (especially during summer when much warmer) will help you maximize your enjoyment of  wine.
I always enjoy such virtual tastings because they are informative (for example, there are always great suggestions for foods that pair well with the wines being tasted) and fun (it's a virtual hangout with fellow wine enthusiast all tasting the same wines and sharing their thoughts about the wines)
And hey…there's free wine!
Note: Click here to see a video of the live tasting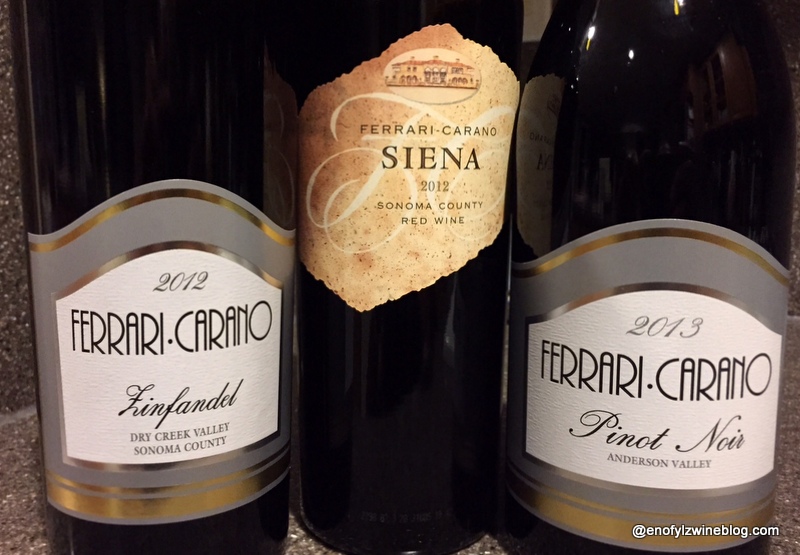 My tasting notes follow:
2013 Ferrari-Carano Pinot Noir Anderson Valley
Ruby color with appealing cherry, pomegranate, warm spice, damp earth and sandalwood aromas. On the palate it's medium-bodied and fresh with cherry, raspberry, pomegranate and spice flavors. Medium finish Aged 10 months in 37% new French oak, and 63% older French oak. 14.4 alcohol. Approachable now, would benefit from further aging SRP $36 Very Good; 86-88 pts
2012 Ferrari-Carano Siena 
Dark ruby color with earthy mixed black and red fruit, dark chocolate and spice aromas. On the palate it's medium-bodied with mouth-watering acidity,and fine well-integrated tannins with sour cherry,plum, black currant and spice flavors. Medium long finish. Blend of Sangiovese, Malbec, Petite Sirah, and Cabernet Sauvignon Aged in new Hungarian puncheons and older French oak barrels for 12 months. 14.5 alcohol SRP $23 Very Good to Outstanding; 89-91pts
2012 Ferrari-Carano Zinfandel
Violet color with appealing roasted black and red fruit, bacon fat, and melange of spice aromas. On the palate, it's medium-bodied and well-structured with a smooth texture and good acidity with black cherry, blackberry, a bit of plum and vanilla flavors. Lingering finish. Blend of 97% Zinfandel, 3% Petite Sirah. Aged in French Oak (33% new) for 16 months. 14.7% alcohol. SRP $28 Very Good to Outstanding; 89-91pts
It's been a while since I've had these wines, and the tasting was a nice reminder of how very good they are.  My favorites from this tasting were the Siena and the Zinfandel.
Other favorites from Ferrari-Carano I've had over the years include the Fumé Blanc, along with  Trésor, and the PreVail Back West Face.  And I bet if you taste the wines you'll find a favorite or three too!
About Ferrari-Carano
The owners of Ferrari-Carano Vineyards and Winery are Don and Rhonda Carano. Don and Rhonda are natives of Reno,Nevada, and second generation Italian Americans.
Don graduated from the School of Law at the University of San Francisco. In 1959, upon returning to Reno, Don joined the law firm of Bible & McDonald and soon thereafter became partner in what today is known as McDonald, Carano & Wilson, LLC. In 1973, Don established the Eldorado Resort and Casino in downtown Reno.
Don and Rhonda were introduced to the beauty of Northern Sonoma County in 1979 while searching for wines to enhance the wine lists at the Eldorado. They eventually purchased a 60-acre parcel of land in the Alexander Valley. The vineyards that were a part of that property piqued their curiosity about winemaking, and so they began taking classes in enology and viticulture at the University of California,Davis. They made wine in their barn, bottling it under the label Carano Cellars, and gave it to friends and family. Carano Cellars appeared on wine lists at the Eldorado.  Realizing the potential that this area held, the Caranos began to acquire additional vineyard land and in 1981, founded Ferrari-Carano
Vineyards and Winery.
The Ferrari in Ferrari-Carano is in honor of Emelia Ferrari, Don's paternal grandmother. She helped raise him, taught him about cooking, gardening, his Italian heritage, etc. She never saw the winery, but it's named in part to honor her.
Ground was broken for the production facility in 1985 and the first wines bearing the Ferrari-Carano label were released in 1987. Those first wines were a 1986 Fumé Blanc and a 1985 Alexander Valley Chardonnay.
Today, Ferrari-Carano produces those wines as well as a variety of other white and red wines, including Pinot Grigio; single vineyard chardonnays from Russian River Valley; Reserve Chardonnay from Napa Carneros; Siena (a sangiovese-based blend); Russian River Valley Pinot Noir; Sky High Ranch Pinot Noir from Mendocino Ridge; Merlot; Zinfandel from Dry Creek Valley; Cabernet Sauvignon and Reserve Cabernet Sauvignon from Alexander Valley; Trésor (a Bordeaux-style blend); two mountain vineyard cabernet sauvignons from Alexander Valley, PreVail Back Forty and West Face; and three dessert wines, Eldorado Gold (a semillon based wine), Eldorado Noir (from black muscat), and Baci (a zinfandel wine infused with chocolate).
Don and Rhonda Carano own 24 estate vineyards in five different appellations of Napa, Sonoma and Mendocino counties.  Grape source and terroir are emphasized in all Ferrari-Carano wines. Don Carano says "Great wine begins in the vineyard." Ferrari-Carano received its designation as a Certified California Sustainable Winery from the California Sustainable Winegrowing Alliance (CSWA) on March 1, 2015.
The property features five acres of breathtakingly beautiful gardens. The gardens were planned in 1997 by Rhonda Carano and completed 16 months later.  The gardens attract nearly as many visitors as Ferrari-Carano wines. In spring, more than 10,000 tulips grow on the property inspiring a Tulip Hotline to alert tulip tourists when they are in bloom. Guests are free to explore the grounds on their own or guided winery tours may be arranged.
Disclosure of Material Connection:  I received these wines free from Ferrari-Caranoas part of their #FCSummerRedsTwitter Tasting. I was not required to write a positive review and the opinions I have expressed are entirely my own
_________________________________________________________________
Martin Redmond is a Financial Executive by day, and a certified wine geek with latent foodie tendencies the rest of the time. In addition to the wine lifestyle and food he enjoys family, fitness and traveling. He likes to get thoughts of wine off his mind by sharing experiences on his ENOFYLZ Wine blog, which features wine reviews, wine country travel, and wine and food pairings.
Follow me on Twitter @martindredmond for all things wine. Since I'm a wino with latent foodie tendencies, you'll also find food and wine pairings, and food related stuff! Become a fan and join ENOFYLZ Wine Blog on Facebook. Cheers! This article is original to ENOFYLZ Wine Blog.com. Copyright 2015 ENOFYLZ Wine Blog. All rights reserved.