Over the course of a week, my wife and I drink a bunch o'wine – almost always with food. Since I've always been fascinated by wine at the table with food, I thought it would be fun to recap not only the wines we've been drinking, but also how they pair (or don't pair) with the foods at our table.  It features my pick for Wine of the Week – a  wine I particularly enjoy, whether it's something new and different, is a great value, or from a producer worth checking out; plus my Food and Wine pairing of the Week for the week ended July 26th,2015.
2013 Relic Wines Ritual – Retail $50
Violet color with appealing mixed black and blue fruit, dried herb, vanilla, chocolate, and spice aromas. On the palate it's full-bodied, and concentrated with an oh-so supple texture and good acidity. It shows baked blueberry, blackberry, vanilla, chocolate, and cardamom flavor and a lingering finish. Approachable now, but would benefit from further aging. Delicious blend of 41% Mourvedre, 19% Grenache, 19% Syrah, 19% Carignane, 2% Petite Sirah old-vine Carignane and Petite Sirah from Alfred Frediani Vineyard. Very Good to Outstanding; 89-91pts
2013 Cantina di Gallura Vermentino di Gallura Canayli – Retail $18
Very pale yellow green color stone fruit, lemon thyme, wet stone and a hint of green pepper aromas. On the palate, it's dry medium-bodied and fresh with mixed stone fruit, clove, and a hint of almond flavors with a lingering saline minerality. Very Good; 86-88 pts
Drappier Champagne Brut Carte d'Or – Retail $40
Pale gold color with abundant bubbles and a persistent tiny bead with pear red berry, citrus, pie crust and a subtle smoky mineral note. On the palate its light bodied and fresh with a soft creamy mousse. When cold, it shows pear, and yellow apple, but as it warms up red berries come to the fore accompanied by mixed citrus flavors and a subtle minerality. Better as it warmed up…Delicious!  Very Good to Outstanding; 89-91pts
Wine of the Week
For a change, my selection for Wine of the Week was a no-brainer!
While I very much enjoyed the Rhone-inspired 2013 Relic Wines Ritual, and a delightful Vermentino from Sardinia, I'm a Champagne whore, and the Champagne Drappier Carte d'Or is my Wine of the Week.

Champagne Drappier is located in the tiny village of Urville (pop. 151). The history of the house dates back to 1808. But the history of the cellars and vineyards dates back to the 12th century when Saint Bernard had an annex built to Clairvaux Abbey in Urville in 1152! . Part of those cellars still exist and are in use today.
The Drappier vineyard covers 100 hectares and constitutes the House's essential trump card. Since 1808 our family has used its skill to select parcels of land which are particularly well exposed and extremely rich in limestone. For the most part they are located around Urville, where Pinot Noir, the predominant grape variety, finds its loveliest expression and allows the production of very elegant, aromatic wines.

The Carte d'Or cuvée is the very expression of the Drappier style. With its very high proportion of Pinot Noir, one is almost tasting a Blanc de Noirs
This entry level cuvee is a blend of 75% Pinot Noir, 15% Chardonnay and 10% Meunier with about 5% barrel aged reserve wines in the blend.  It went through malolactic fermentation, and with minimal use of sulphur.  7g/L dosage.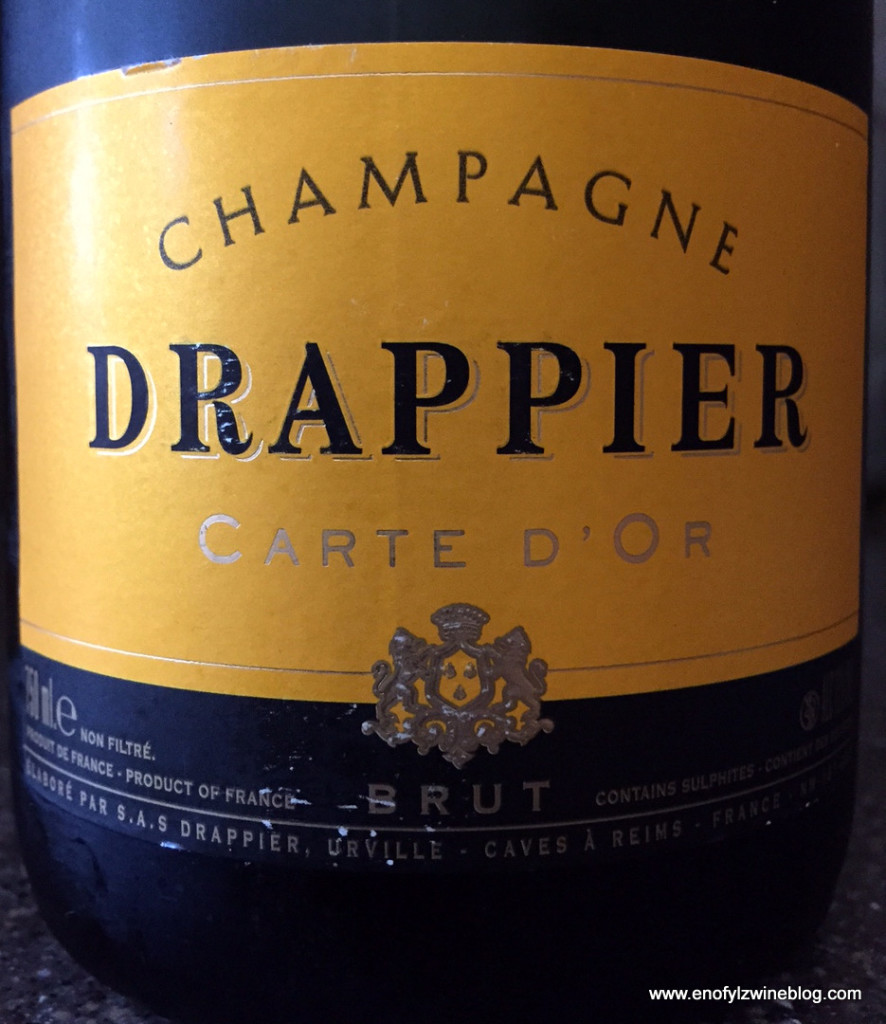 Last year I had the privilege of traveling to the Champagne region in France as a guest ofthe U.S. Champagne Bureau for the 2014 Champagne Harvest Media Trip.  On our last day, we visited the Côte des Bar  in the Aube department of the Champagne region
It's about a two-hour drive south of main Champagne towns of Reims, Epernay, and Aÿ. Our visit included a tour and tasting at Champagne Drappier, which was the highlight of the day for me.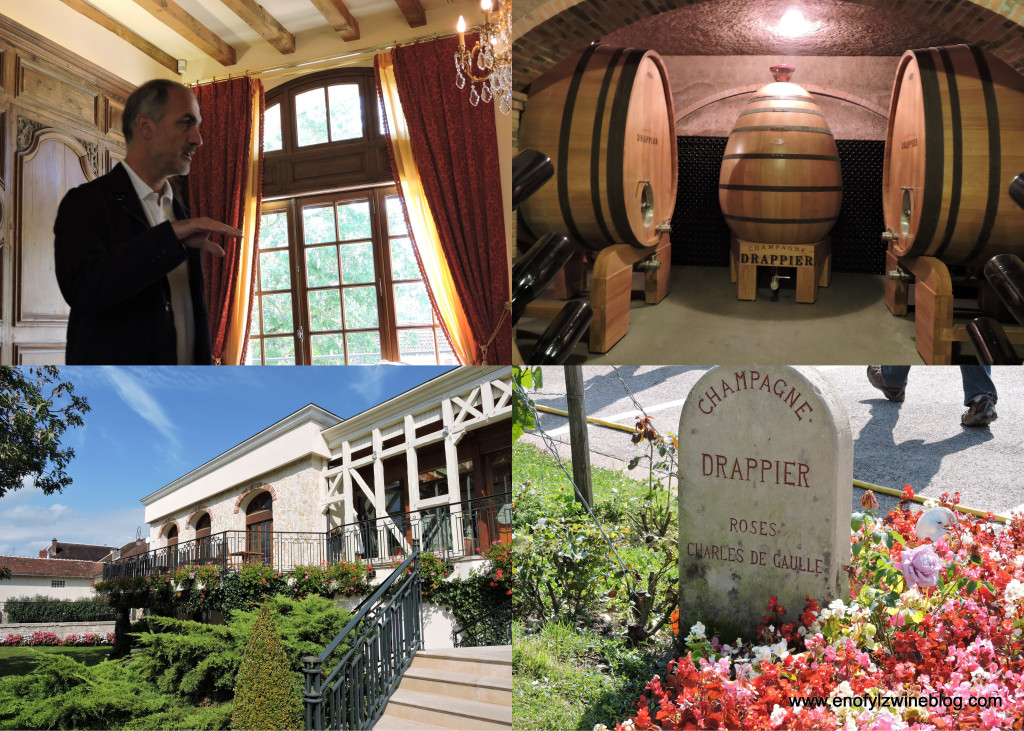 My Food and Wine Pairing of the Week is the 2013 Cantina di Gallura Vermentino di Gallura Canayli with Sardinian Seafood Paella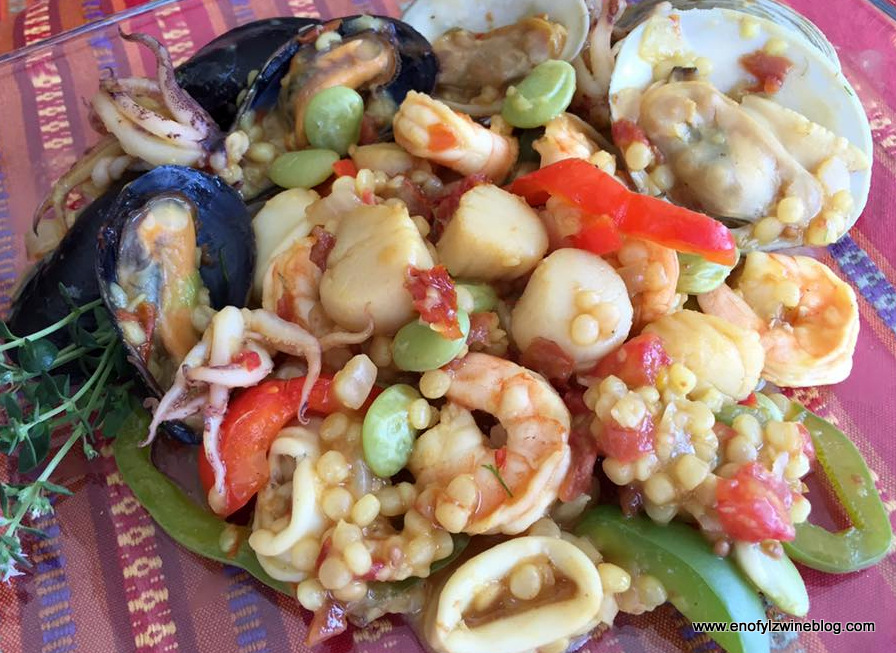 The recipe called for Fregola a chewy, dot-shaped semolina pasta comes from the western part of Sardinia, near Oristano.  I substituted pearl couscous.  This version is     made with only seafood (no chorizo).
What was your Wine of the Week?  Any killer Food and Wine pairings?
Follow my reviews on Vivino and Delectable
Note. All wines were purchased for review unless otherwise indicated
_________________________________________________________________
Martin Redmond is a Financial Executive by day, and a certified wine geek with latent foodie tendencies the rest of the time. In addition to the wine lifestyle and food he enjoys family, fitness and traveling. He likes to get thoughts of wine off his mind by sharing experiences on his ENOFYLZ Wine blog, which features wine reviews, wine country travel, and wine and food pairings.
Follow me on Twitter @martindredmond for all things wine. Since I'm a wino with latent foodie tendencies, you'll also find food and wine pairings, and food related stuff! Become a fan and join ENOFYLZ Wine Blog on Facebook. Cheers! This article is original to ENOFYLZ Wine Blog.com. Copyright 2015 ENOFYLZ Wine Blog. All rights reserved.