Today marks five years since I started sharing my vinous adventures with you here on ENOFYLZ Wine Blog.  What an wonderful and exciting five years it's been!  I have written 630 posts and tasted thousands of wines.
I've had the pleasure of meeting so many wonderful folks along  the way including many wonderful people in the wine industry, as well as fellow wine enthusiasts.  Not to mention the many "virtual"  friends who are also writer/bloggers.  While we've not met yet in real life we share my passion for great wine and food. I sincerely hope we get a chance to share a glass or three of wine and a meal one day!

Over these last five years I've welcomed many opportunities I've had to expand my palate and taste wines from all around the world through private tastings with the Pacific Pointe Wine Club, a multitude of virtual tastings, samples tastings, trade tastings, and other events.
There are many highlights but top of mind for me are:
Media trip to Champagne
Being included in the The 103 Best Wine Blogs That You Can't Miss
I was a the top of Google search results for "Best Wines To Pair with Paella" until Google changed their algorithm to reward mobile friendly sites a few months ago. It's hands-down my most popular post.
Became a correspondent for the American Winery Guide.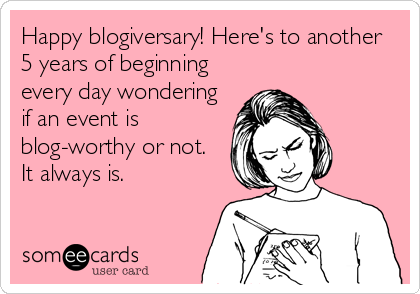 A few thanks:
First and foremost to my wife who has supported my passion for wine and writing. She's has been with me every step of the way. She's offered some great advice, an occasional kick in the butt.  She's also been my photographer and food stylist.  Te amo mi corazon!
Also, I owe a debt of gratitude to the incomparable Richard Jennings who has inspired and encouraged me more than he knows.
And of course…Thank you so much to all of my readers!  I love wine and love sharing that passion with you through this blog.  I am humbled that you care to read what I write.
Here's to another great wine-filled year together!
_________________________________________________________________
Martin Redmond is a Financial Executive by day, and a certified wine geek with latent foodie tendencies the rest of the time. In addition to the wine lifestyle and food he enjoys family, yoga, hiking, and traveling. He likes to get thoughts of wine off his mind by sharing experiences on his ENOFYLZ Wine blog, which features wine reviews, wine country travel, and wine and food pairings.
Follow me on Twitter @martindredmond for all things wine. Since I'm a wino with latent foodie tendencies, you'll also find food and wine pairings, and food related stuff! Become a fan and join ENOFYLZ Wine Blog on Facebook. Cheers! Follow my reviews on Vivino and Delectable
This article is original to ENOFYLZ Wine Blog.com. Copyright 2015 ENOFYLZ Wine Blog. All rights reserved.