From time to time, I receive wines samples from wineries or their public relations agencies for review.  I feature such samples on here on #WineWednesday Review. This week I'm featuring the Barefoot Cabernet Sauvignon.
The Winery
Barefoot Wine is the most awarded wine brand in US competitions. Barefoot's California wines are attractively priced and can be found in bottles bearing the fun, iconic footprint label. Barefoot's still wine portfolio includes 16 offerings and is available for a suggested retail price of $7 for 750-ml bottles, $12 for 1.5-liter bottles. Barefoot Bubbly ($10) is available in 11 offerings, including NEW Barefoot Bubbly Fusions, and is the most awarded Sparkling Wine in US competitions. 
I'm familiar with this seemingly ubiquitous brand (they're hard to miss) owned by E.J. Gallo because a Barefoot Bubbly won our wine tasting club's blind tasting of sparkling wines under $20 a few years back.
The Wine
The wine is a blend of (mostly) Cabernet Sauvignon, Petite Sirah and Alicante Bouschet.  Retail – $7; 13.1% alcohol; Residual Sugar: .8%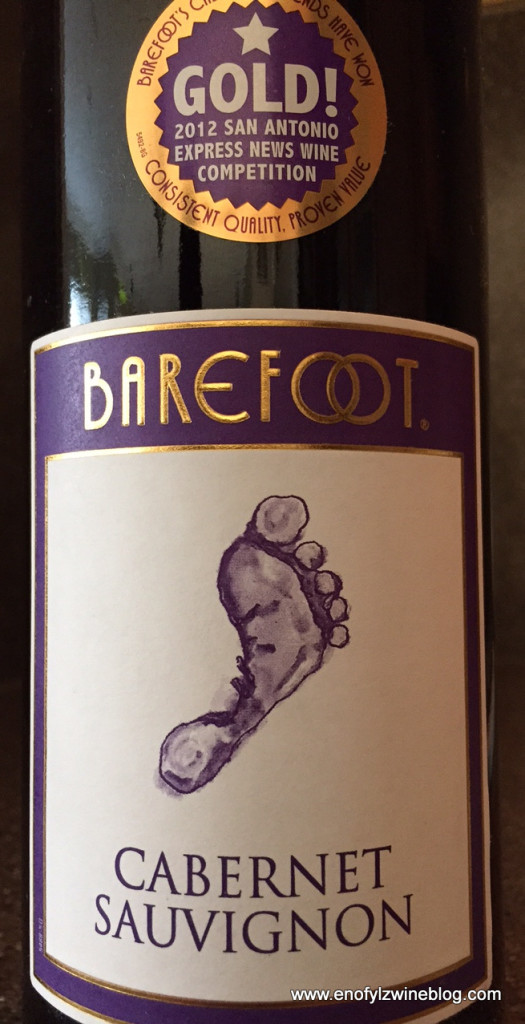 My review notes follow:
Violet color with low-key black fruit, vanilla and a hint of oak aromas. On the palate, it's medium bodied,  with low acidity.  It's soft and fruity with straight-forward but tasty black cherry, blackberry, black currant, plum and spicy vanilla flavors with a medium finish and firm tannins.  Note: I popped and poured upon my arrival home on an unusually warm day. Initially, the wine tasted thin. But I popped the bottle in the fridge for 15-20 minutes and the flavors and  texture improved dramatically.  It was a great reminder that serving temperature matters!
Rating: Good – 85 pts; This is great casual everyday wine that's hard to beat for the price.
Pair with: Gouda cheese, hearty appetizers, burgers, grilled steak, or hearty pasta dishes.
Other thoughts:
For many years my perception of non-vintage (really multi-vintage; produced from more than one harvest) wines is that all were plonk. I've recently had a few non-vintage wines, including this one, that have changed my perception. I've realized there is an opportunity to for the winemaker to choose the best fruit at based on quality and price.
Follow my wine reviews on Vivino and Delectable
Wine provided as a sample for review.  Many thanks to Barefoot Wine and Hunter Public Relations

_________________________________________________________________
Martin Redmond is a Financial Executive by day, and a certified wine geek with latent foodie tendencies the rest of the time. In addition to the wine lifestyle and food he enjoys family, fitness and traveling. He likes to get thoughts of wine off his mind by sharing experiences on his ENOFYLZ Wine blog, which features wine reviews, wine country travel, and wine and food pairings.
Follow me on Twitter @martindredmond for all things wine. Since I'm a wino with latent foodie tendencies, you'll also find food and wine pairings, and food related stuff! Become a fan and join ENOFYLZ Wine Blog on Facebook. Cheers! This article is original to ENOFYLZ Wine Blog.com. Copyright 2015 ENOFYLZ Wine Blog. All 
.