Over the course of a week, my wife and I drink a bunch o'wine – almost always with food. Since I've always been fascinated by wine at the table with food, I thought it would be fun to recap not only the wines we've been drinking, but also how they pair (or don't pair) with the foods at our table.  It features my pick for Wine of the Week – a  wine I particularly enjoy, whether it's something new and different, is a great value, or from a producer worth checking out; plus my Food and Wine pairing of the Week for the week ended July 19th, 2015.
2008 Louise Brison Champagne Brut – Retail $30 – Pale golden-yellow color persistent tiny stream of bubbles and appealing spicy quince, earthy, pear, baguette and a hint of honey aromas. On the palate it shows a vibrant acidity, and a soft creamy mousse with golden raspberry, pear, and a hint of tangerine flavors with a nice minerality. The lingering finish brings to mind tangerine Alka Seltzer. Produced from 50% barrel fermented Chardonnay and 50% stainless steel, skin-contact fermented Pinot Noir from organic estate vineyard in the Aube Very Good; 86-88 pts
2010 JC Cellars Pinot Noir Lancel Creek – Retail $38 – Ruby color with kirsch, pomegranate and spice and a bit of earth aromas. On the palate it's full-bodied, and a bit flabby with black cherry, and spice flavors with a hint of minerality. 14.5 alcohol Very Good; 86-88 pts
2012 La Bastide Blanche Bandol – Retail $25 – Dark red violet color with baked black fruit, graphite, licorice, spice and hints of roast meat aromas. On the palate, it's medium-bodied, fresh, and expressive with a supple texture blackberry, black cherry, spice flavors and an appealing minerality. Long finish. 14.5 alcohol. Organic fruit. Mostly mourvedre with a bit of grenache and cinsault  Very Good to Outstanding; 89-91pts
2012 Domaine du Bagnol Cassis – Retail $24 – Pretty golden-yellow color with sea breeze, stone-fruit, melon bergamot zest, honey and white flower aromas. On the palate, this is a wine about great texture and acidity working in harmony with peach, melon, spiced and orange zest flavors and a satisfying oily finish. Very Good to Outstanding; 89-91pts
2014 Château Miraval Côtes de Provence Rosé – Retail $22 – Pretty salmon color with strawberry, white peach, white flower and a hint of honey aromas. On the palate, it's medium-bodied, fresh, persistent and well structured with strawberry, peach, sweet citrus and spice flavors with a very giving finish. Very Good to Outstanding; 89-91pts
Wine of the Week
This was the most challenging week to pick a wine of the week in a while.  Let's start with the 2008 Louise Brison Champagne Brut. Vintage Champagne for $30!  I couldn't believe it either! It was very good.  After waiting a week or so to taste it, I went back to order more from K&L Wine Merchant, but they were sold out and have been ever since.  Bummer. My three most highly rated wine this week were all from Provence.  I'm participating in a "virtual tour" of France with the French Winophiles (#Winophiles), and our theme this month was Provence.  I love the region's food and wines.
After a less than stellar experience with a Rose from Provence last week, it was Brangelina to the rescue this week.  Forget the celebrity stuff.  Their Chateau Miraval Rose is seriously well crafted rosé that nearly disappeared the night we opened it. I've enjoyed it the last few years, and it seems to get better every year. The price decreased to $22 this year (thanks to the strength of the dollar I believe), so that makes it even better. Will buy more!
While the archetypal Provence wine is a Cotes de Provence rosé, it is the smaller, more peripheral appellations that really make the region interesting to wine enthusiasts.The two most famous individual names from the region are located right on the Mediterranean coast between Marseille and Toulon. Here, the deeply colored, richly flavored reds of Bandol are produced just 12 miles (19km) from the herby, full-bodied whites of Cassis (source).
Both the Bandol and the Cassis were outstanding, but the 2012 Domaine du Bagnol Cassis get the nod for my Wine of the Week.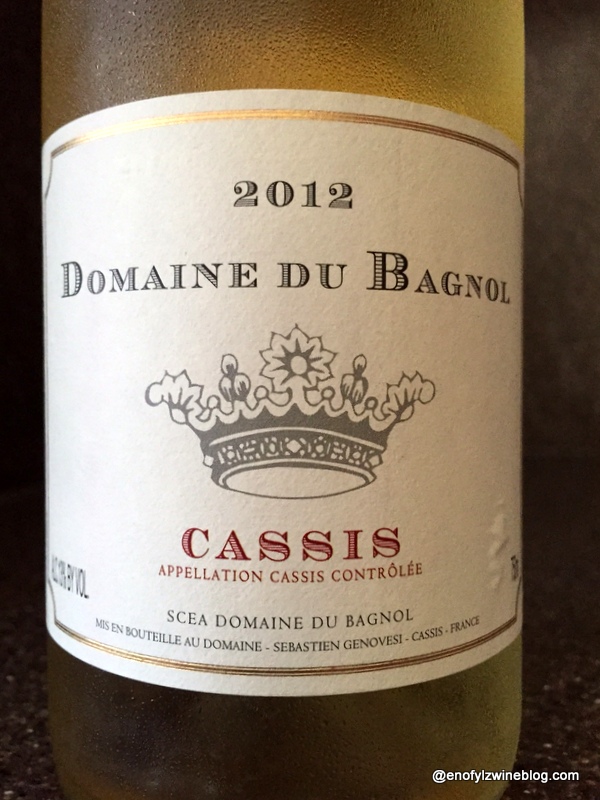 The wine is an intriguing blend of Marsanne (51%), Clairette Blanc (31%) and Ugni Blanc (18%)  I highly recommend the wine. It's very food friendly especially with seafood!
From the importer…Owner Jean-Louis Genovesi , a native of Cassis who had departed for Paris and made his fame (and a few centimes as well) in the capital.  Jean-Louis and his son, Sébastien, have revived the domaine and the wines, both blanc and rosé, are more compelling than ever.  The domaine sits just beneath the imposing limestone outcropping of Cap Canaille and is a mere 200 meters distance from the shores of the Mediterranean.  Thus situated, the Domaine du Bagnol is the beneficiary of the cooling winds from the north, northwest and northeast (Tramontane, Mistral and grégal) as well as the gentle sea breezes that come ashore.
My Food and Wine Pairing of the Week is the 2012 Domaine du Bagnol Cassis paired with Chicken Pan Bagnat
Pan Bagnat which literally means "bathed bread," in the ancient dialect of Provence is a specialty of the region of Nice. It's a popular lunchtime dish made of favorite Provençal ingredients: tomatoes, local bell peppers, black niçoise olives, anchovies and tuna, salt, and pepper—a salade niçoise, effectively, between slices of crusty bread. It's the perfect picnic sandwich!
What was your Wine of the Week?  Any killer Food and Wine pairings?
Follow my reviews on Vivino and Delectable
Note. All wines were purchased for review unless otherwise indicated
_________________________________________________________________
Martin Redmond is a Financial Executive by day, and a certified wine geek with latent foodie tendencies the rest of the time. In addition to the wine lifestyle and food he enjoys family, fitness and traveling. He likes to get thoughts of wine off his mind by sharing experiences on his ENOFYLZ Wine blog, which features wine reviews, wine country travel, and wine and food pairings.
Follow me on Twitter @martindredmond for all things wine. Since I'm a wino with latent foodie tendencies, you'll also find food and wine pairings, and food related stuff! Become a fan and join ENOFYLZ Wine Blog on Facebook. Cheers! This article is original to ENOFYLZ Wine Blog.com. Copyright 2015 ENOFYLZ Wine Blog. All rights reserved.