Last month I received an invitation to attend a Beaujolais Wines & Japanese Cuisine Pairing Dinner.  My first thought was "Huh"?
That's because pairing red Beaujolais and Japanese cuisine had ever occurred to me.
On the other hand, having recently tried a Beaujolais Blanc for the first time on Chardonnay Day, I knew that would have an affinity for traditional Japanese fare such as sushi, sashimi, and perhaps tempura.
Nevertheless, I was eagerly anticipating  the dinner with a "I can wait to see how they pull this off" sense of excitement.
It's not like I didn't know about Beaujolais' affinity for a wide variety of foods.  In fact, it was the first wine I listed in a previously posted "What Are The Most Food Friendly Wines?" piece.
The dinner was held at Pabu San Francisco, a Japanese restaurant that  presents a modern take on traditional Izakaya-style dining (think seasonal small plates, composed entrees, and grilled skewers along with sushi, sashimi, fresh tofu and tempura). 

About Beaujolais
The event was sponsored by InterBeaujolais, the official wine-trade organization of the region
Located north of Lyon in eastern France, Beaujolais overlaps Burgundy (of which it is sometimes considered to be a part) in the north and Rhône in the south. The picturesque Beaujolais vineyards run along the Saône River, where winemakers have crafted deliciously supple and fruity wines since the days of Ancient Rome.
The Gamay grape, a cross between Pinot Noir and Gouais, is used to make  ninety-nine percent with Beaujolais wines. The exception is Beaujolais Blanc, which is made of Chardonnay grapes.
The "Beaujolais" winemaking is unique and original.  Grapes are hand-picked then subjected to semi-carbonic maceration. There are 2600 winegrowers producing red, white and rosé  wines.  There are 12 appellations including 10 crus, which are considered to produces the best Beaujolais wines.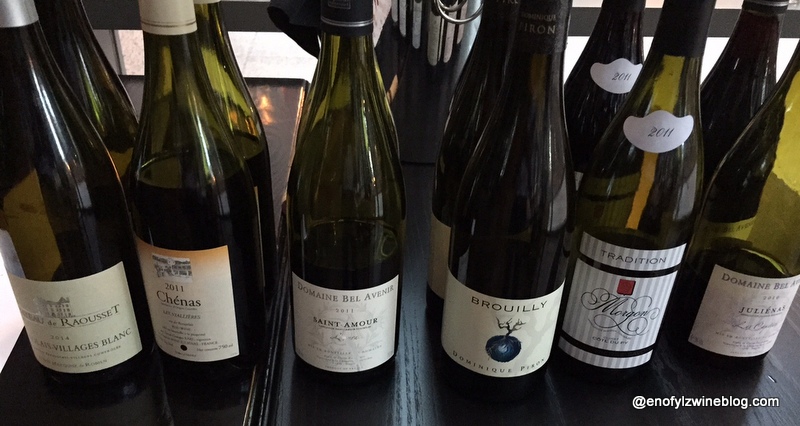 Check out the fun and informative Discover Beaujolais website, including the Top 3 reasons to try Beaujolais for more information.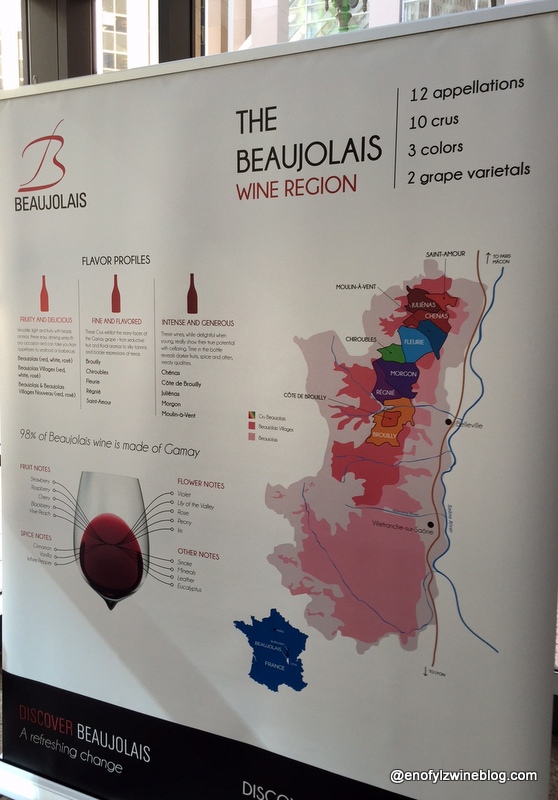 The Food and Wine
Upon arrival we were treated to a glass of the 2014 Château De Raousset, Cuvée Marquise de Robien Beaujolais Villages Blanc (Retail $16), an unoaked Chardonnay. It was paired with two delightful appetizers, "Happy Spoon" with Kushi oyster, Ponzu Crème fraîche, and uni-tobiko ikura, and Poke served on a crispy wonton chip.  The fresh green apple, pear,citrus and chalk character of the wine was wonderful complement to the flavors of both apps, but especially the crème fraîche and raw oyster in the "Happy Spoon"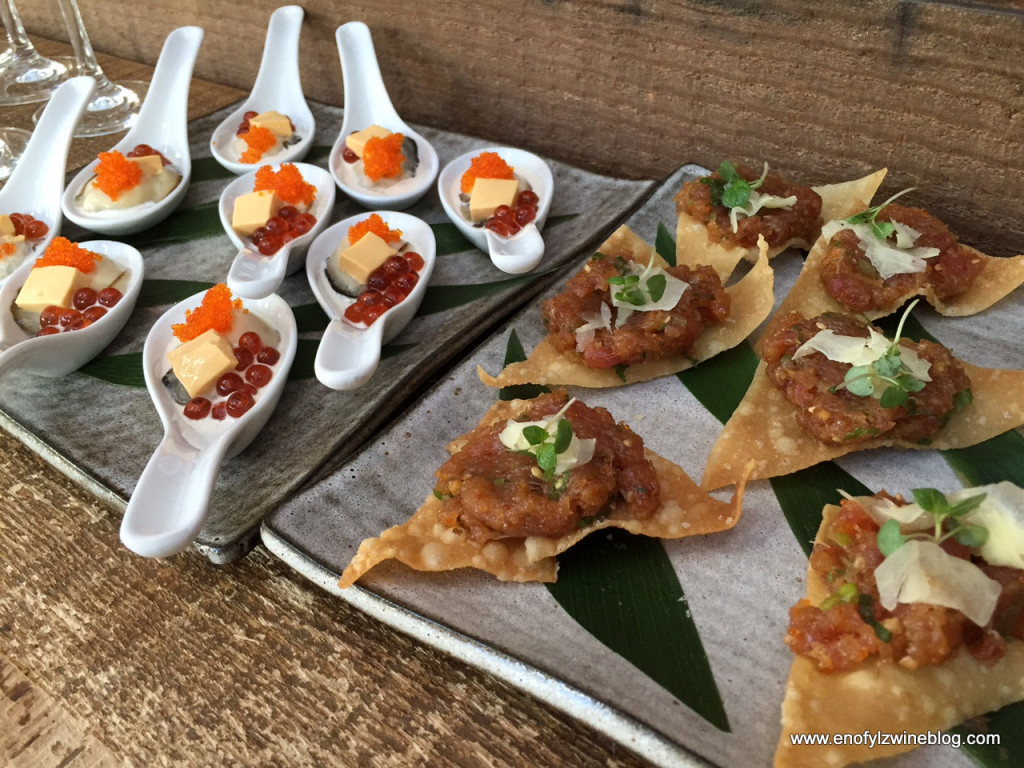 After a bit of socializing, we were seated for dinner.  Check out the menu!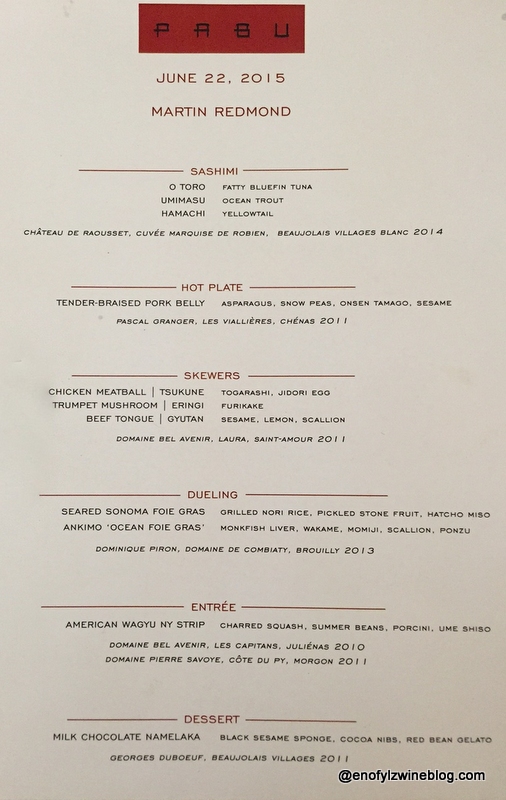 The Beaujolais Villages Blanc was also paired with the first course of Sashimi: O Toro (Fatty Bluefin Tuna), Umimasu (Ocean Trout) and Hamashi (Yellowtail). It was also a superb accompaniment to the sashimi with its citrusy acidity and mineral note.
The second, hot plate course, featured we had the Tender braised pork belly, asparagus, snow peas, onsen tamago (soft quail egg), and sesame .  It was paired with the 2011 Pascal Granger, Les Viallières, Chénas (the smallest of the 10 Beaujolais crus) (Retail $18). The wine has an earthy, floral pomegranate, cherry, graphite character with well-integrated soft tannins.  I'm a sucker for pork belly, and Pabu's was showed a harmonious interplay between the crispness of the pork belly with the soft creaminess of the egg.  And the egg brought the minerality of the wine to the fore.
It should be noted (and this is a small but important detail) the wine was perfectly chilled. It would be the many impressive displays of attention to detail manifest by the Pabu team and sommeliers during our experience. 
Our third course was Skewers: Chicken meatball/Tsukune, Togarashi, Jidori egg; Trumpet mushroom/Eringi, Furikake and Beef tongue/Gyutan, sesame, lemon, scallion. It was paired with 2011 Domaine Bel Avenir, Laura, Saint-Amor (Retail $18), which has a raspberry, dark cherry, spice and subtle brambly character.  The wine from this cru, which sell 20-25% of its production on Valentine's Day is the wonderful companion for the skewer course.
By now it was pretty obvious to me that Pabu was in serious contention for a scrumptious sweep – delectable food, beautifully presented from start to finish….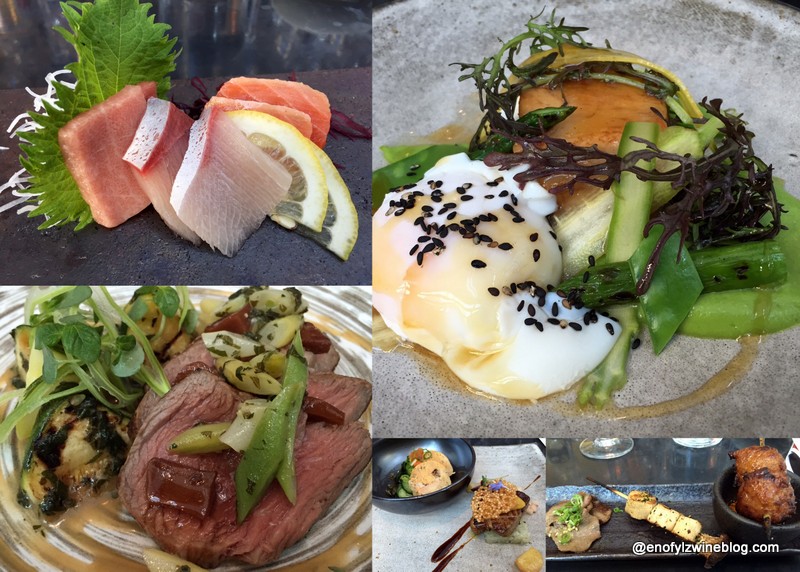 On to the fourth gastronomic delight – a Duo of Foie Gras. Seared Sonoma Foie Gras of duck with grilled Nori rice, pickled stone fruit and Hatcho miso and Ankimo 'Ocean Foie Gras' of monkfish liver, wakame, momiji, scallion, and ponzu . My Lord this was delicious!  It was paired with the 2013 Dominique Piron, Domaine De Combiaty, Brouilly (Retail $18; The largest and most southerly of the Beaujolais crus) This wine showed an elegant, fresh, cherry, raspberry, plum, spice and wet stone character with an appealing savoriness that was a wonderful compliment to the foie gras. In turn the foie gras accentuated the earthy/savory component in the wine.  I appreciated the little slices of cherry on the plate which was a delightful bridge between the wine and food. tour de force for detail
Our entreé course was American Wagyu NY Strip with charred squash, summer beans, porcini, and ume shiso. Two wines were served with the entreé – the 2010 Domaine Bel Avenir, Les Capitans, Juliénas (Retail $17) and the 2011 Domaine Pierre Savoye, CôteDu Py, Morgon (Retail – $19; and my Wine of the Day!)
The Juliénas showed low-key cherry and earthy aromas with ample red fruit and spice flavors. The Morgon showed lifted cherry, wild strawberry, pomegranate, spice and mineral profile with an appealing tannic grip.  I preferred Morgon with the entreé, but both wines were played very well with the tender, succulent beef.
We capped off our dining experience with a dessert course of Milk Chocolate Namelaka, black sesame sponge, cocoa nibs, red bean Gelato.  It was the 2011 George Duboeuf, Beaujolais Villages.  The surprising pairing worked thanks to the ample cherry, strawberry fruit flavors of the wine, and the fact that the delectable dessert was moderately sweet.  It was a good pairing.
My takeaways from the experience were many:
That scrumptious sweep? Mission accomplished! What a memorable food and wine pairing experience.  I highly recommend Pabu!
Cru Beaujolais is a great alternative to under $30 Pinot
If you're looking to try some Cru Beaujolais, consider wine from the glorious 2009, 2010, and 2011 vintages
If you're considering an unconventional pairing of a particular cuisine, go with wine that's a flexible at the table  The experience reminded me  that Beaujolais should be in the Top 5 most food friendly wines along with  Sparkling Wine, Riesling, Pinot Noir and Rosé in my book.
Beaujolais make for great chillable summer red
Keep an open mind when it comes to wine and food pairing, and have fun!
Many thanks to InterBeaujolais, Sodexa USA, and Pabu San Francisco for an amazing and memorable Beaujolais Wines & Japanese Cuisine Pairing Dinner! 
_________________________________________________________________
Martin Redmond is a Financial Executive by day, and a certified wine geek with latent foodie tendencies the rest of the time. In addition to the wine lifestyle and food he enjoys family, yoga, hiking, and traveling. He likes to get thoughts of wine off his mind by sharing experiences on his ENOFYLZ Wine blog, which features wine reviews, wine country travel, and wine and food pairings.
Follow me on Twitter @martindredmond for all things wine. Since I'm a wino with latent foodie tendencies, you'll also find food and wine pairings, and food related stuff! Become a fan and join ENOFYLZ Wine Blog on Facebook. Cheers! Follow my reviews on Vivino and Delectable
This article is original to ENOFYLZ Wine Blog.com. Copyright 2015 ENOFYLZ Wine Blog. All rights reserved.